November 2022: This month was not a busy one for us. A couple outings with the dogs and lots of inside time as the weather went from warm to -40 overnight!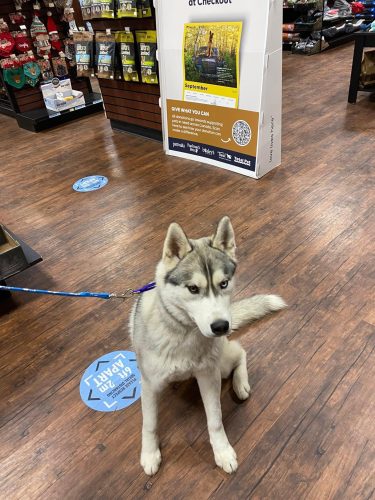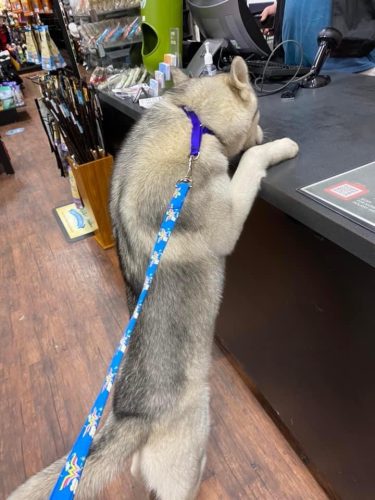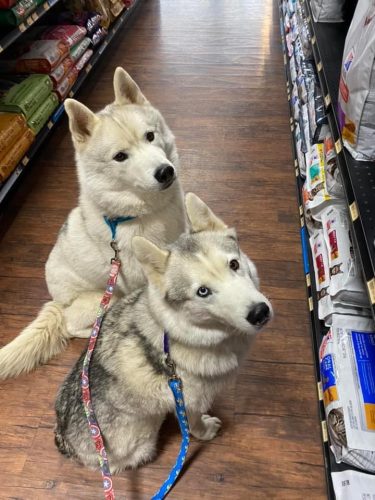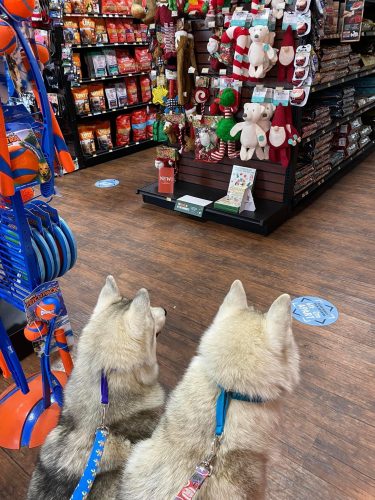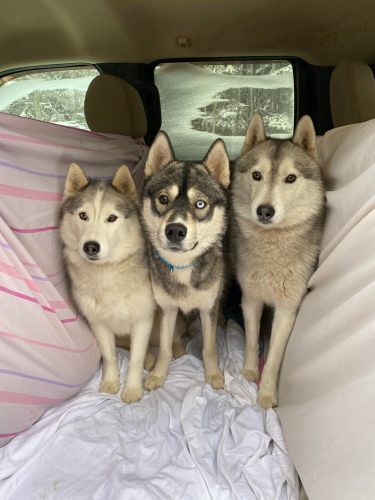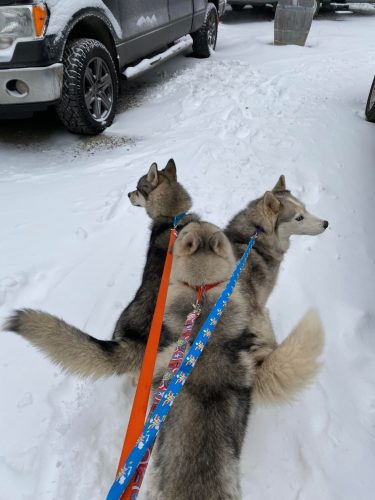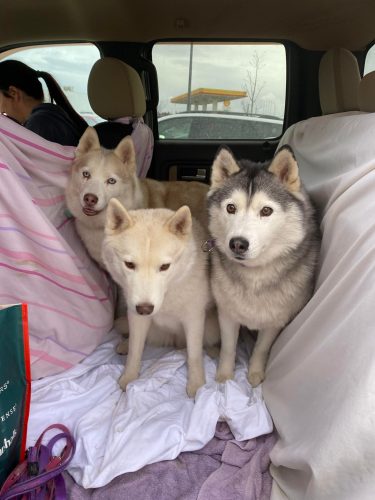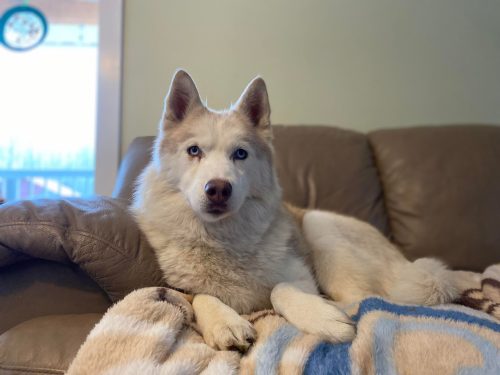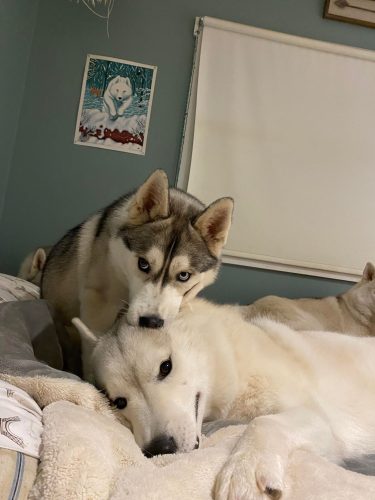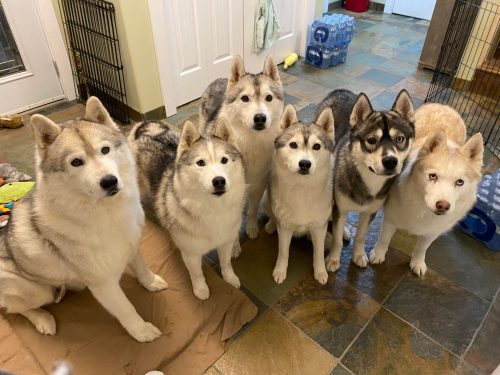 October 2022: October! We attended the Northern K9 Health Clinic in Prince George with 6 dogs and are happy to report all 6 dogs passed their eye exams! Goose & Mystic cleared their eyes for 1st time, Stella, Willow & Iv cleared for the 2nd time and Kindle cleared for the 3rd time! Yay! We bathed, blow dried, and groomed all 19 Siberian Huskies this month! Some days we were even bathing in the dark as it is now the time of year where the light fades quicker. We also got out with our rig a few times and the dogs absolutely love it. It is pretty fast and a little scary lol!! The dogs who do not run went for walks. We did lots of yard work this month as well – filling holes, putting up proper fencing in the puppy yard and putting up perimeter fencing around the play yard to ensure no one jumps out! We held a few meet and greets with the dogs which were a success as always. We finished the month with Halloween, Goose was a good sport and enjoyed handing out candy to the kids! So blessed to have such an amazing pack <3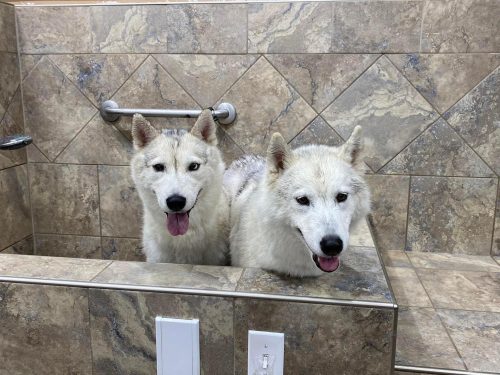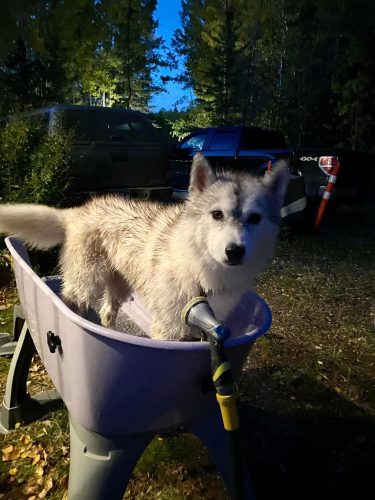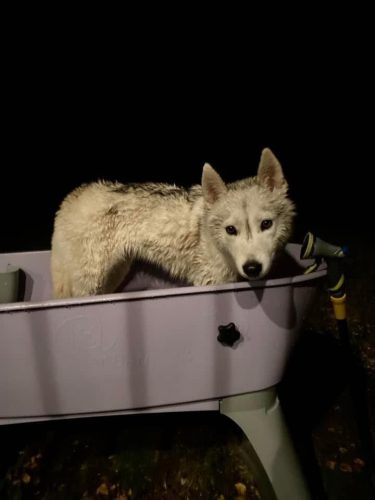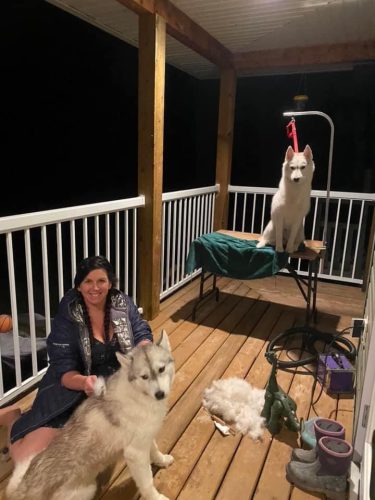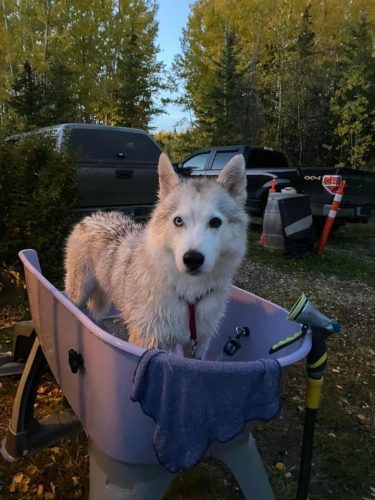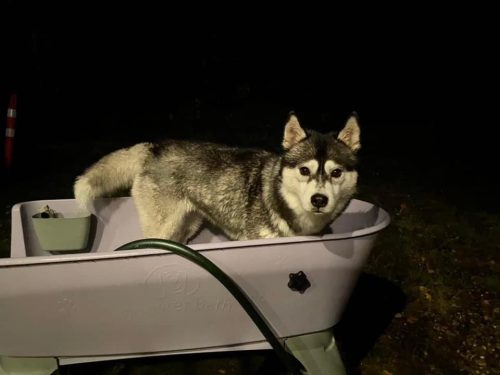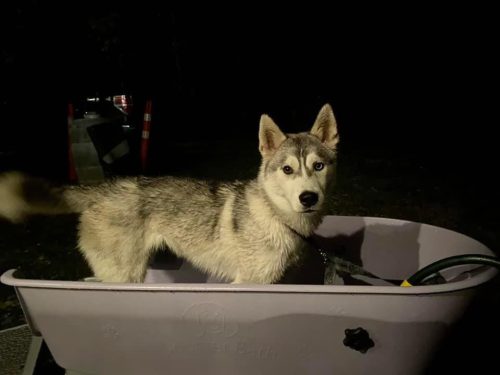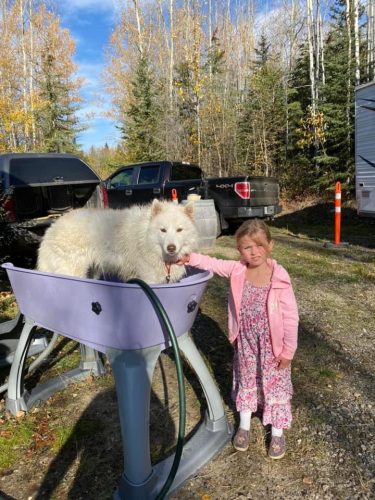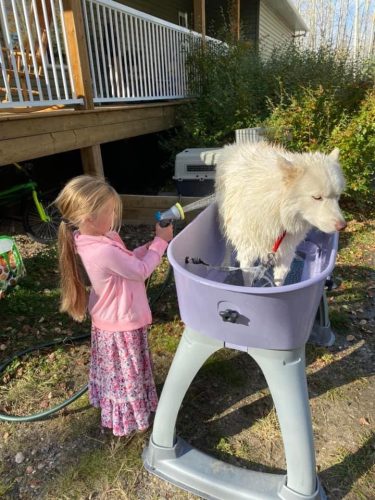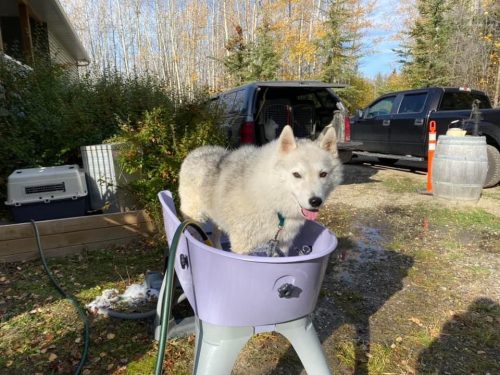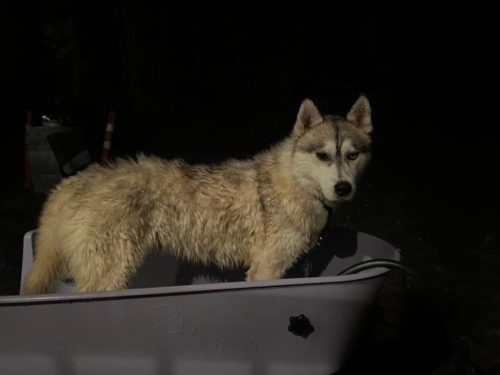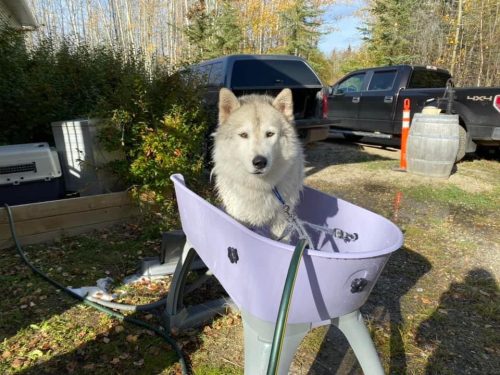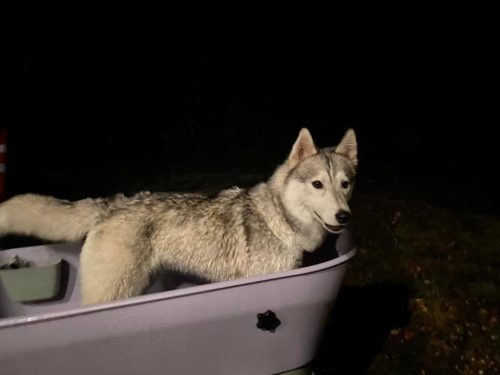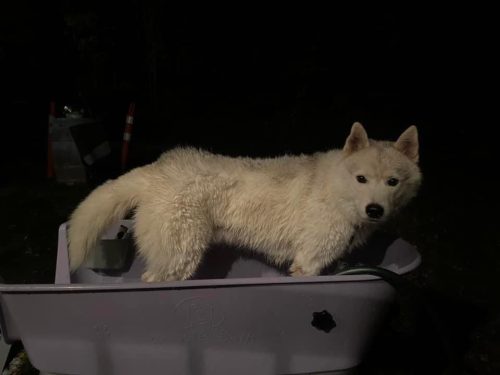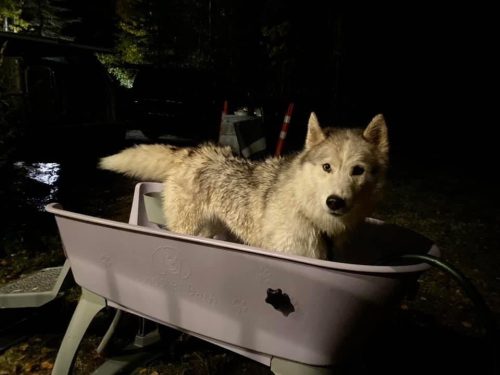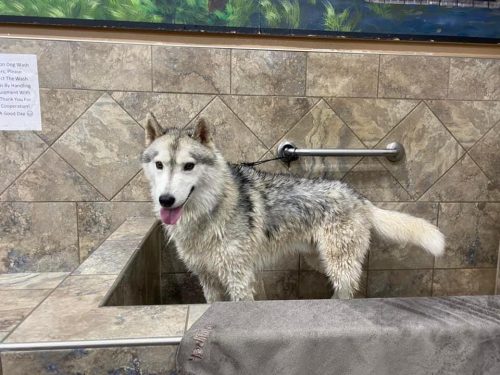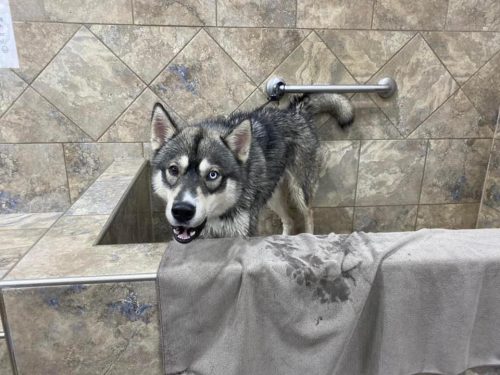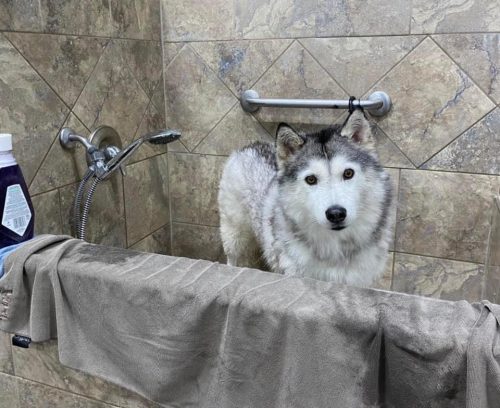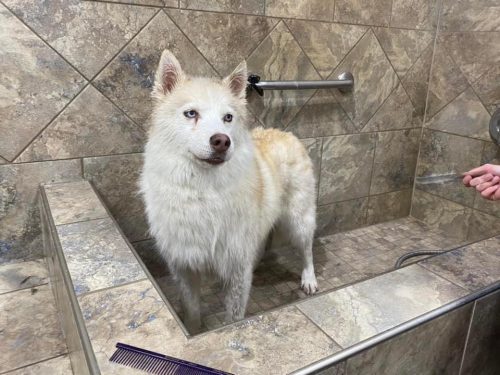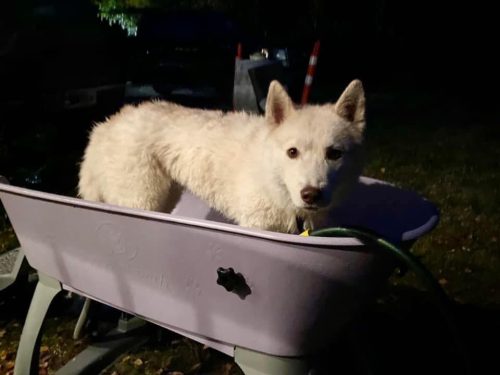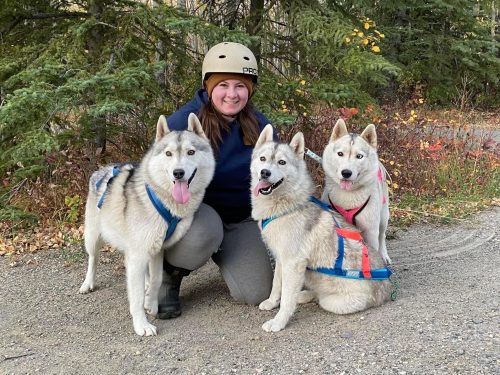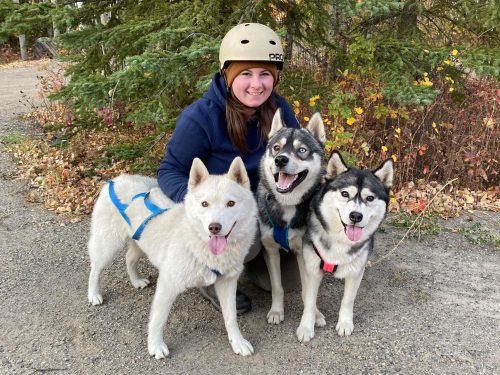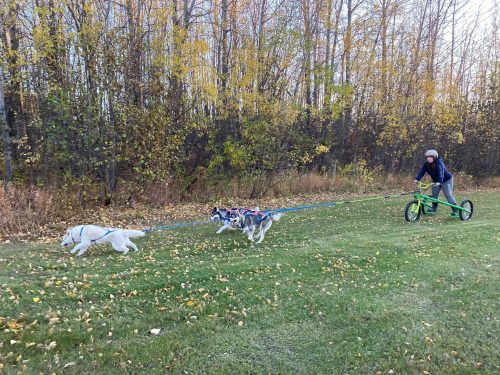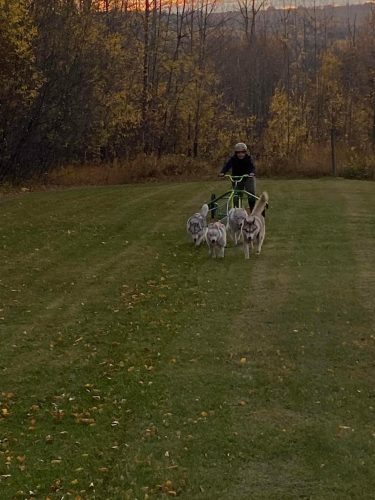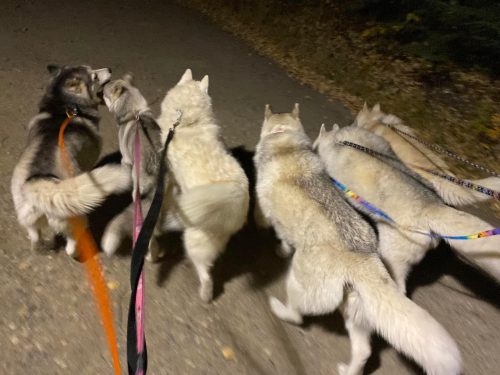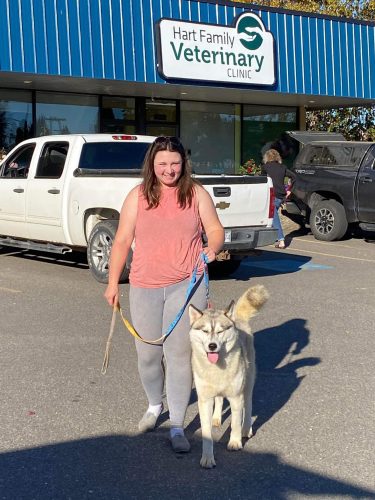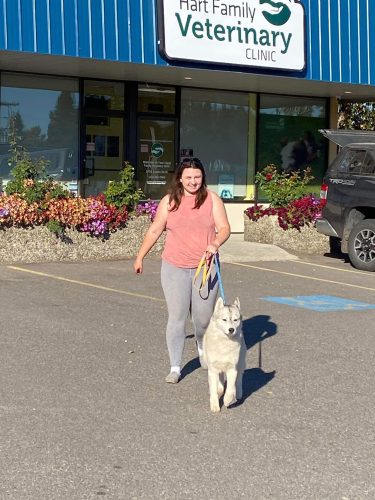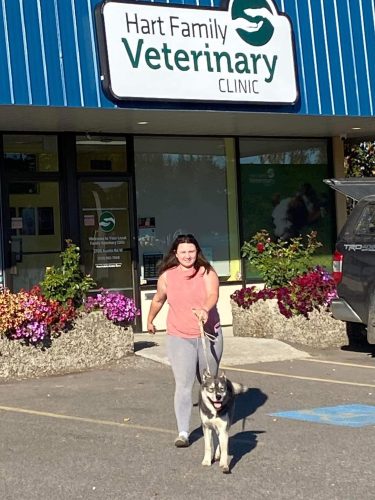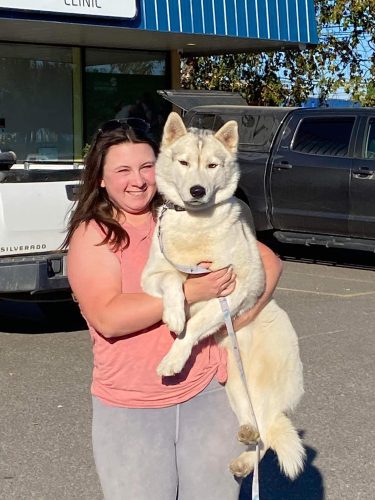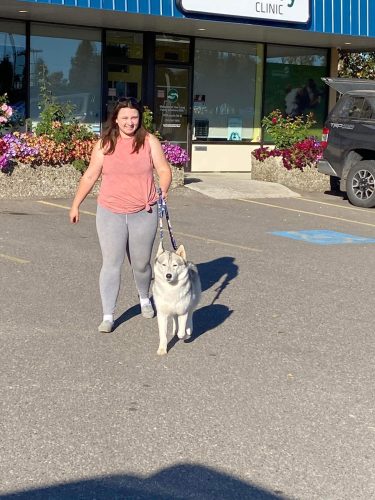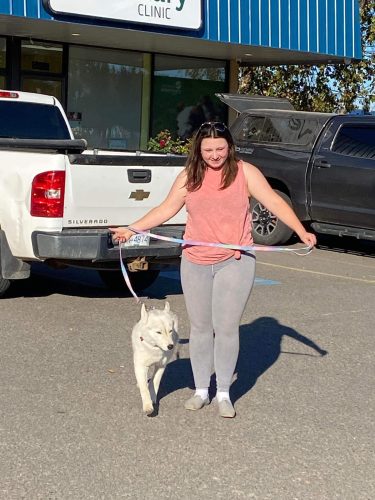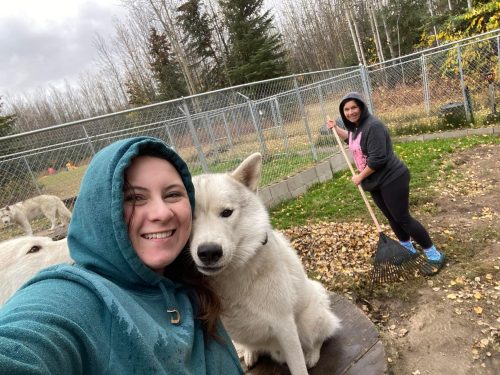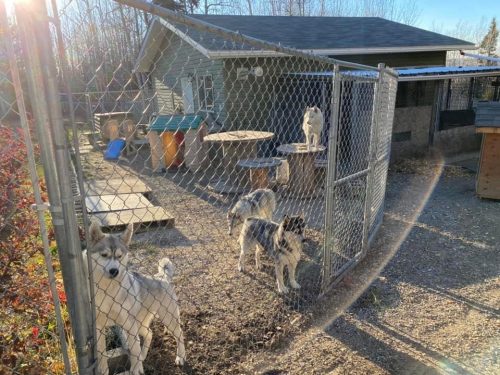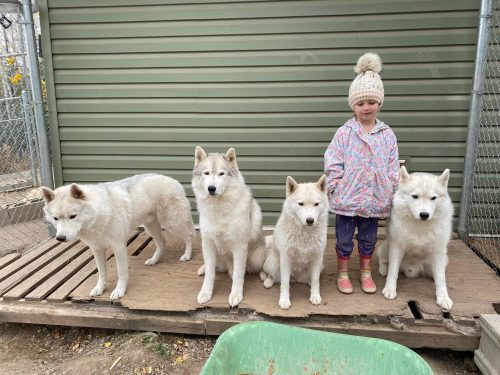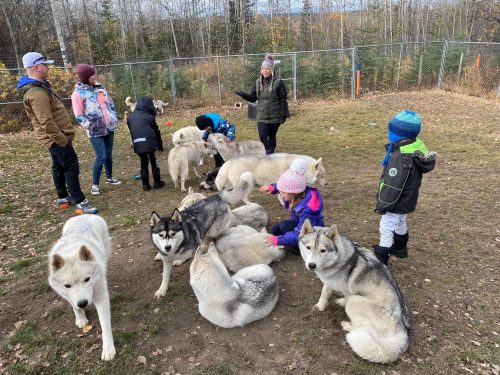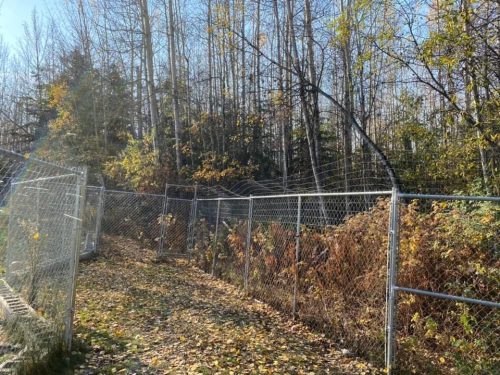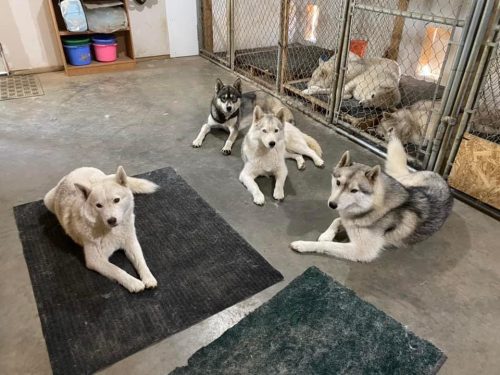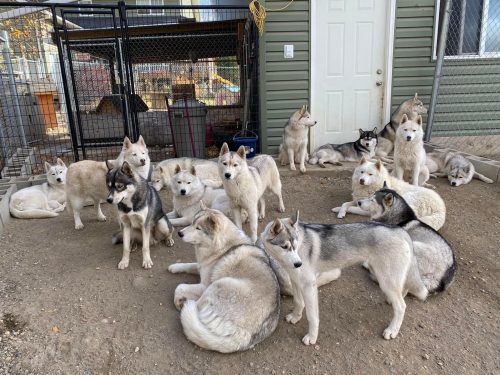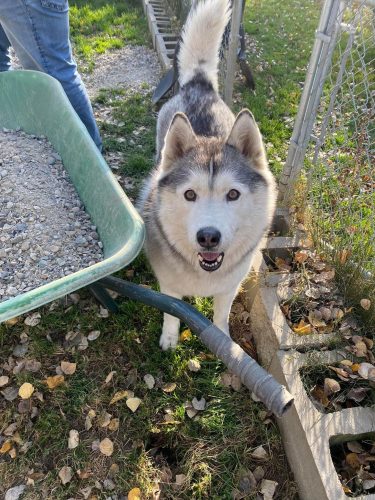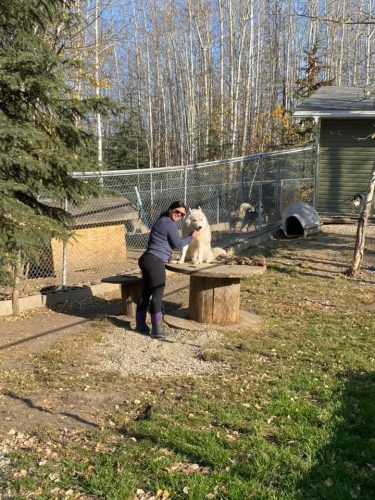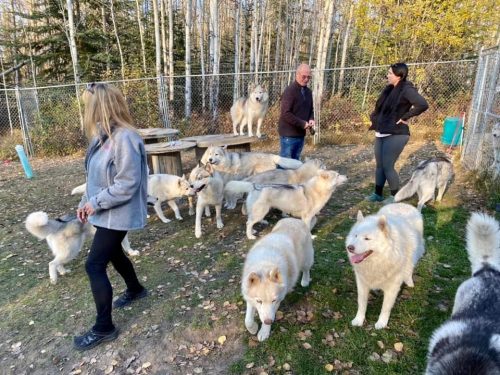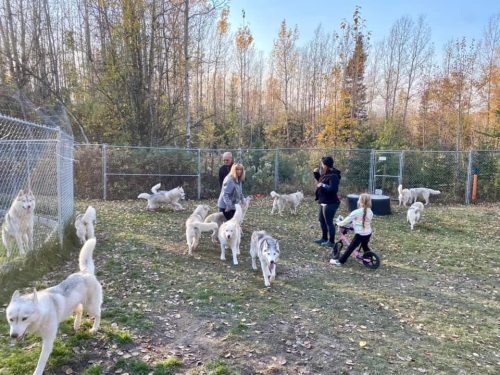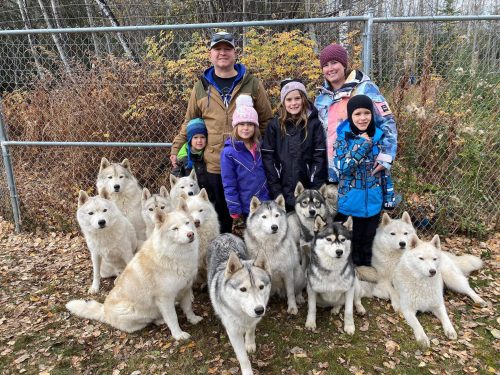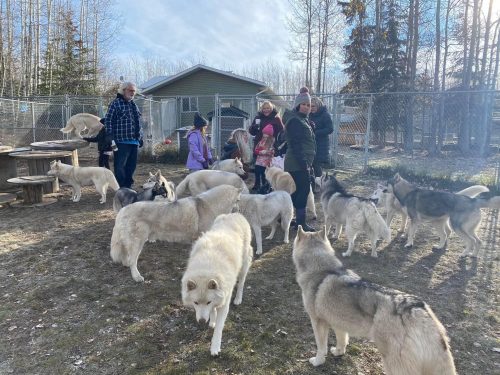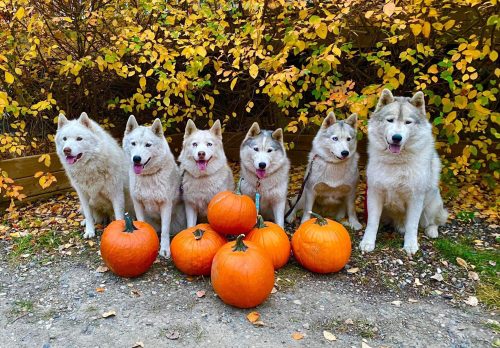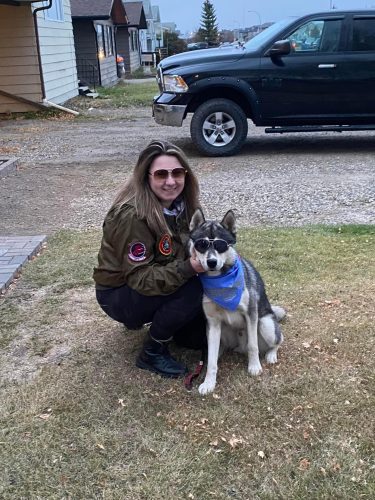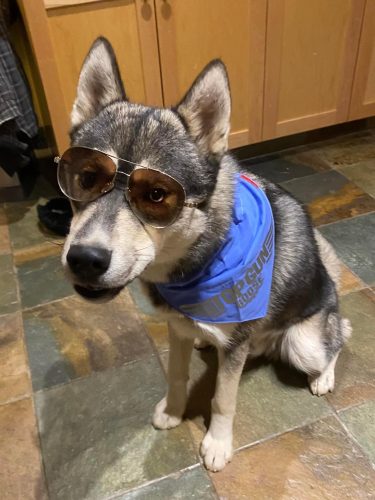 September 2022: September was a busy month for us! We had a wonderful visit with Lola (Axel x Iv puppy) and her amazing family as they stopped in on their way home from the Yukon! It was so nice to see them and see beautiful Lola. The dogs were very excited! We were able to get out camping some more with the dogs and do a few more hikes! We had an evacuee dog stay with us for a few days as the town over from us had to be evacuated due to a wildfire – we actually rescued 6 horses as well! The dogs loved having Ryker visit and play but he was so happy to see his family after a few days away from them! We attended Zoo Foods annual sale and came home with 36 bags of dog food!! We love shopping locally and supporting our local pet store. We did another round of agility with 4 of the dogs – Aura & Faelan did Intermediate and Glisten & Luke did Low Intermediate! They all did amazing. The month ended with us (My mom, Goose, Axel & I) heading up to Whitehorse, Yukon to pick up 'Willow' who will be joining us for the winter to run on our sled teams! 4 days of driving for 5 hours of fun lol!! We had lovely visits with Syvanna of Aurum Siberians, Cindy of Ravenhawk Siberians and Manuela of Muktuk Adventures! These three kennels all have amazing set ups and extremely friendly dogs. It was a blast!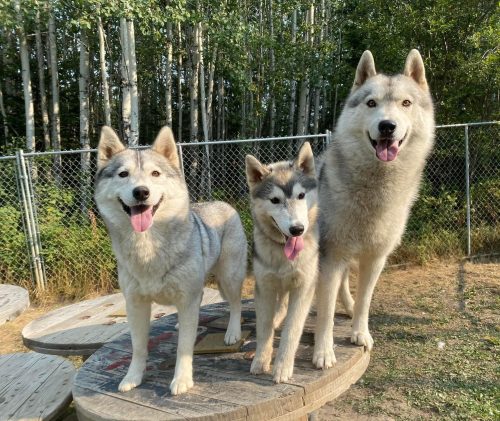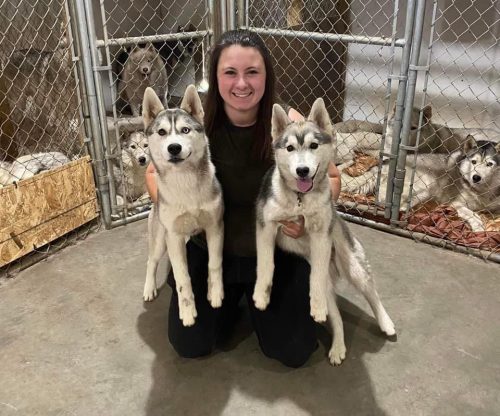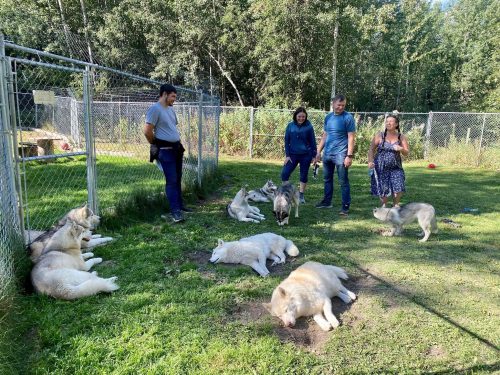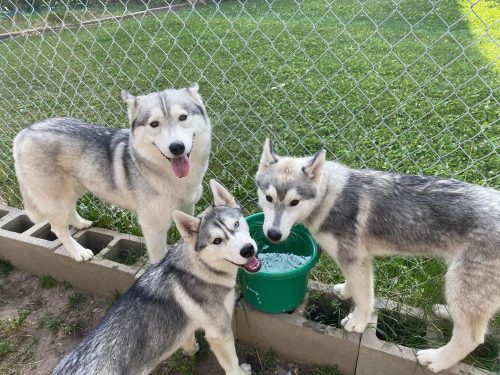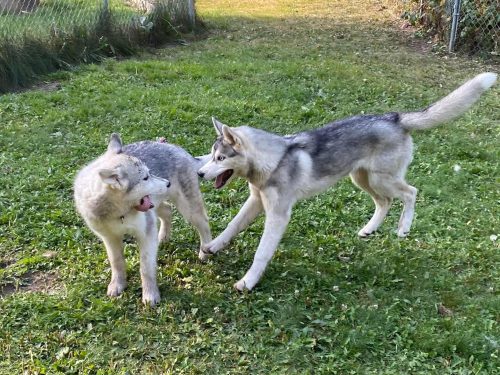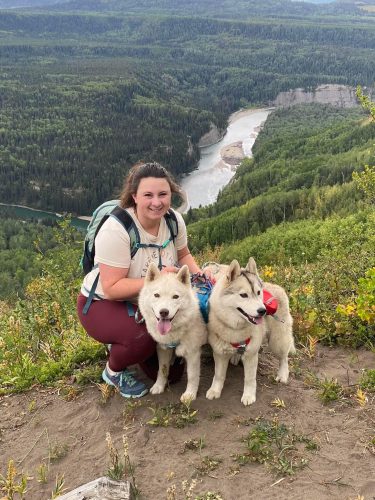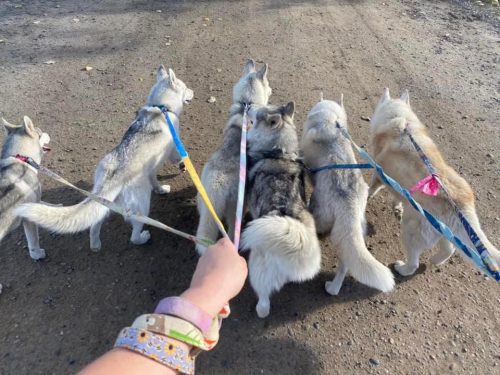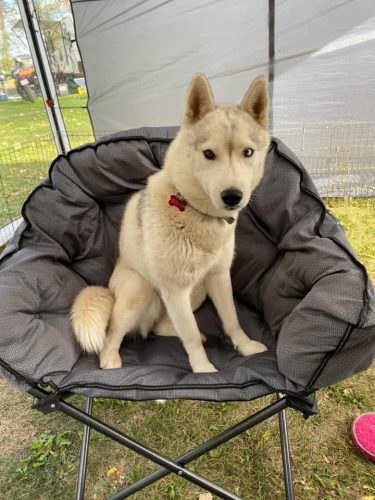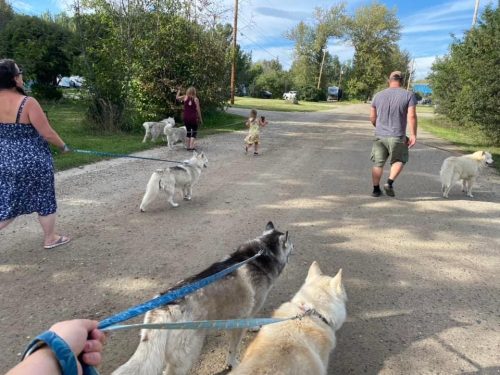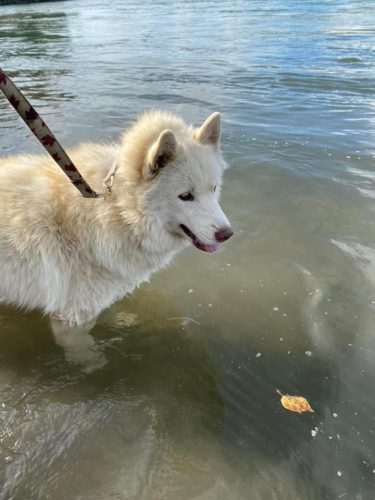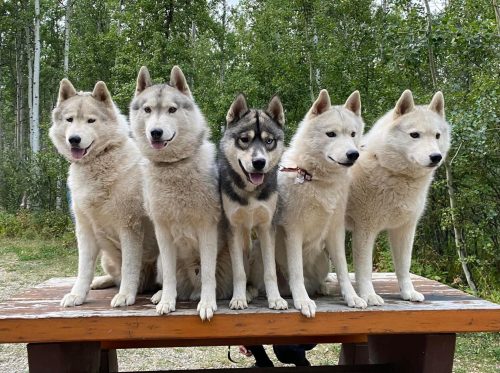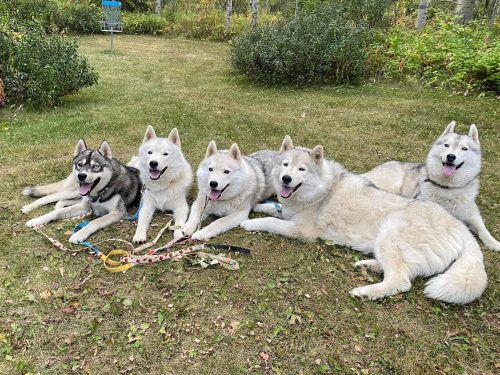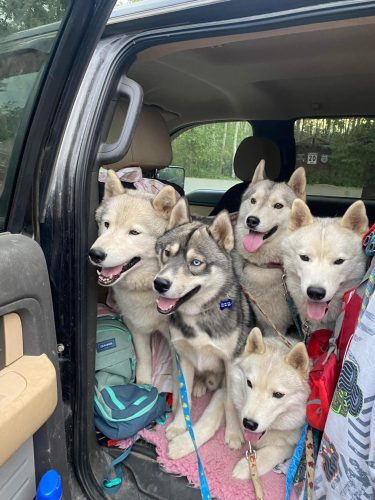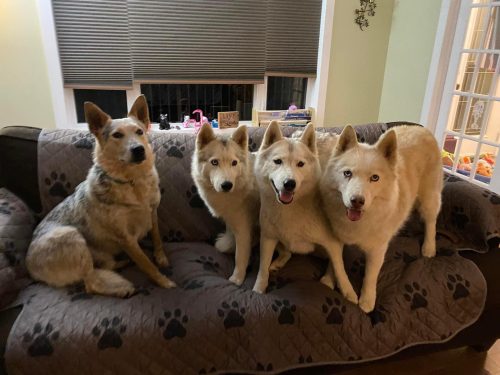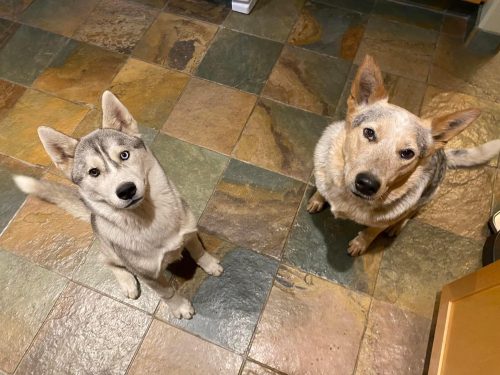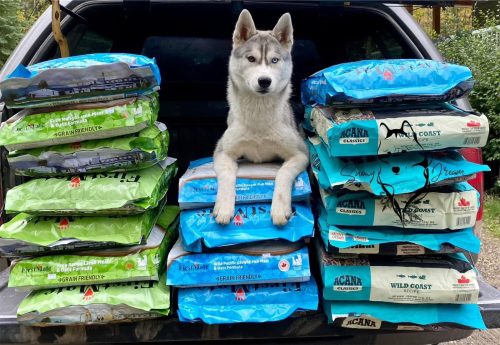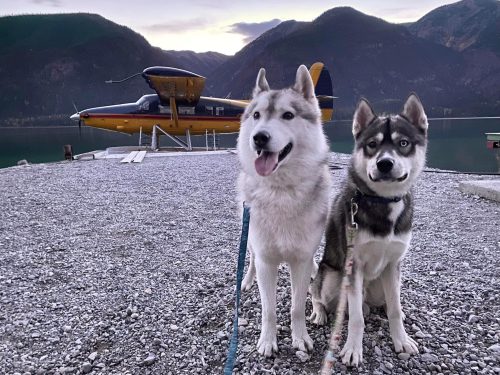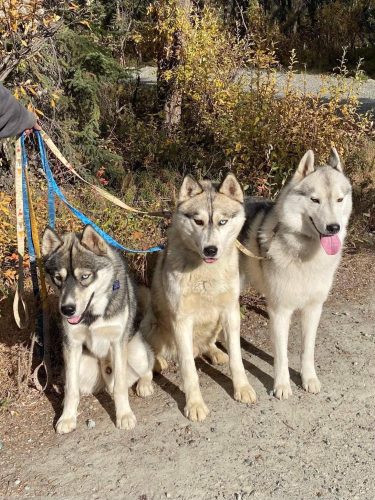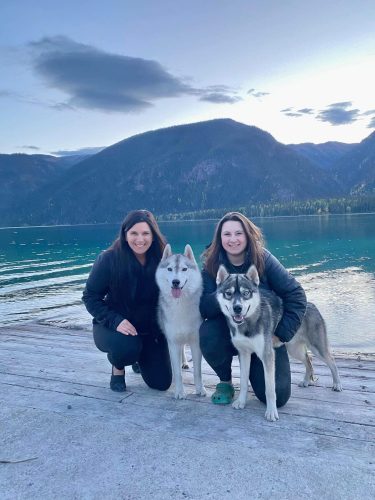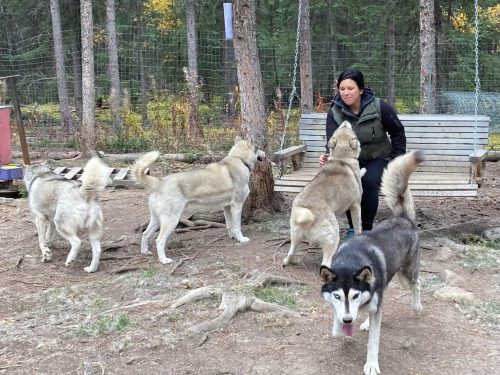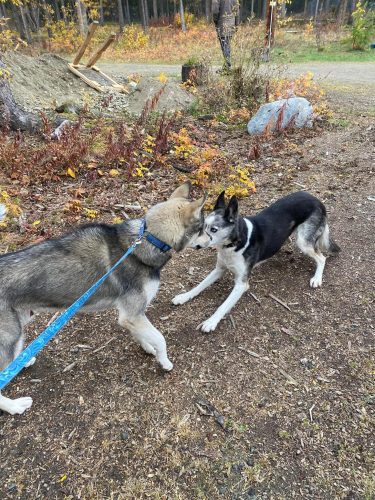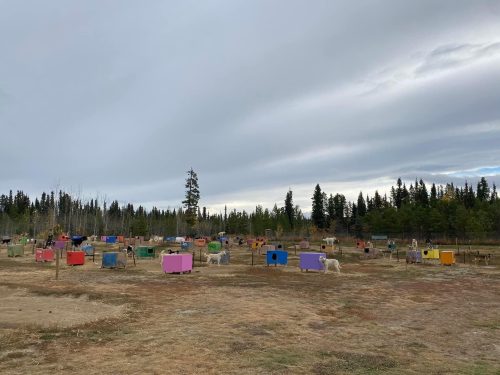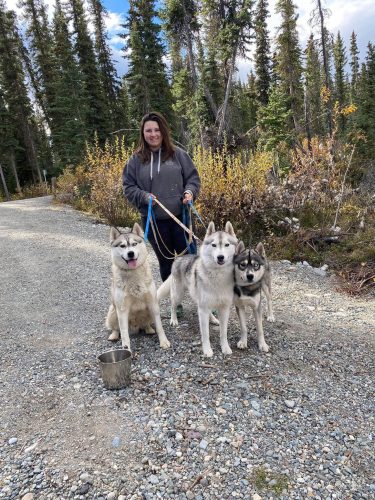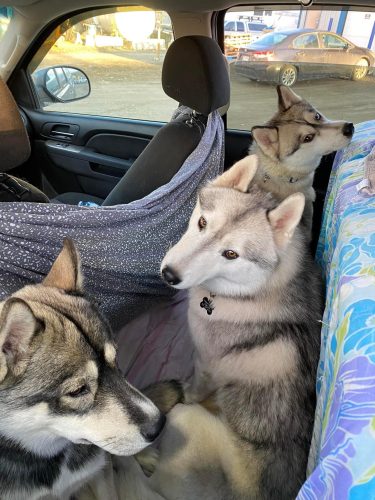 August 2022: Baby Eb earned her Novice Trick Dog title at just over 18 weeks old and is now known as SnowyDreams Believe In Magic NTD!! Super proud of this smart girl!! We went camping with 10 of the dogs and had a great time!! So nice to be able to get out and do things like this with them. The other 8 will be going on long hikes or a trip before summer is over. It is very important to us that all the dogs get equal trips, turns to town and outings! Cannot believe fall is just around the corner!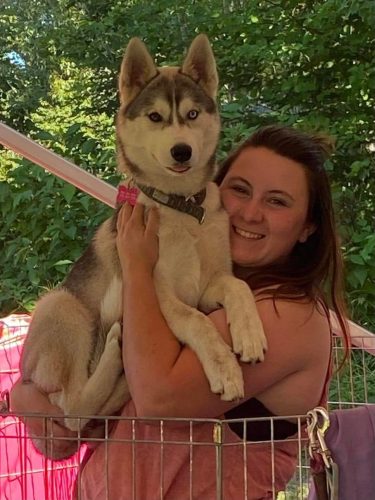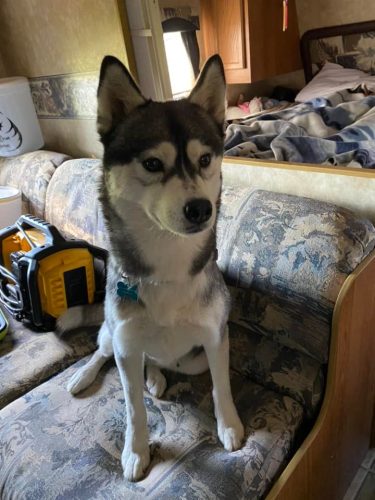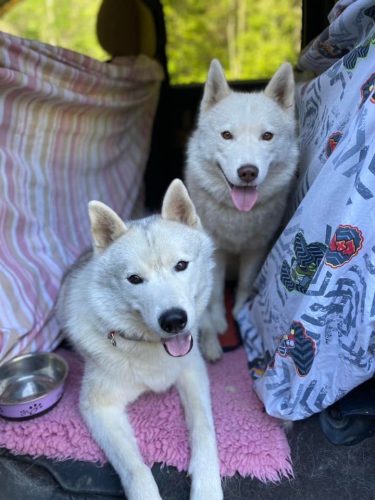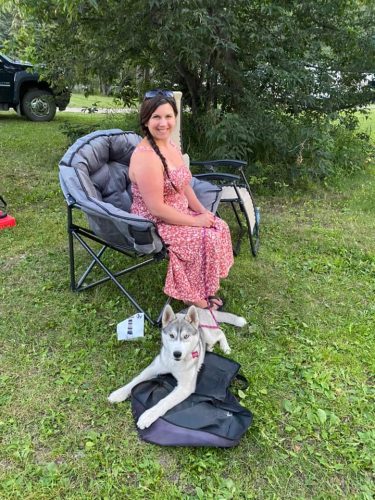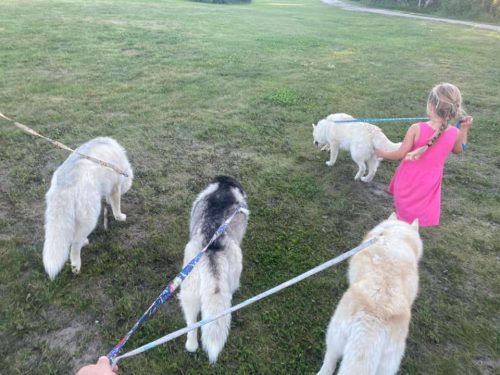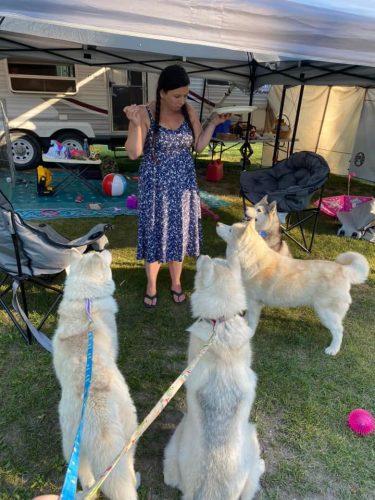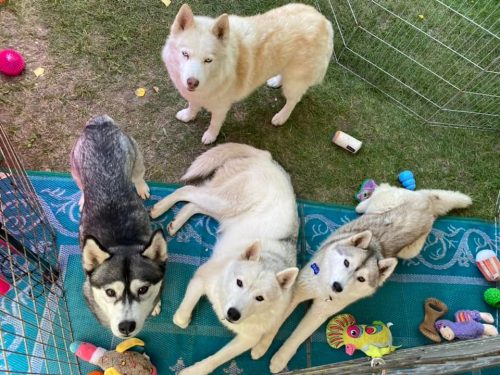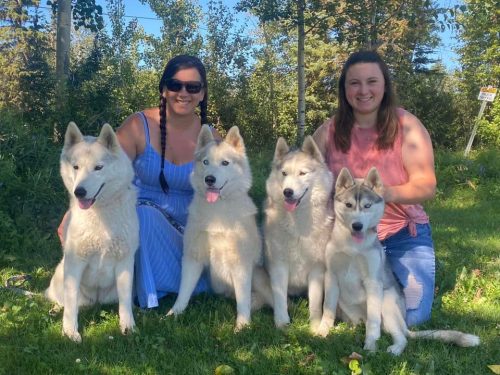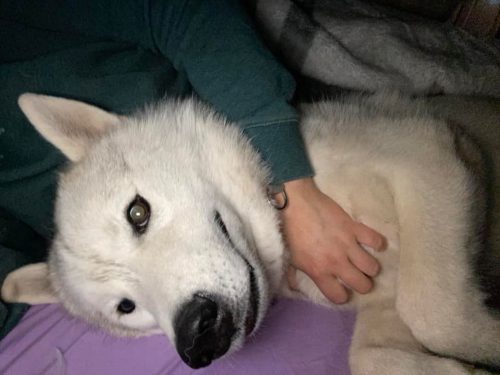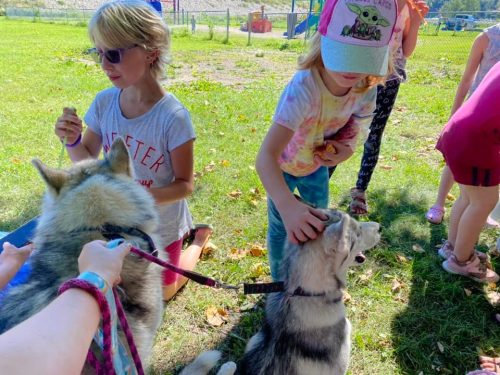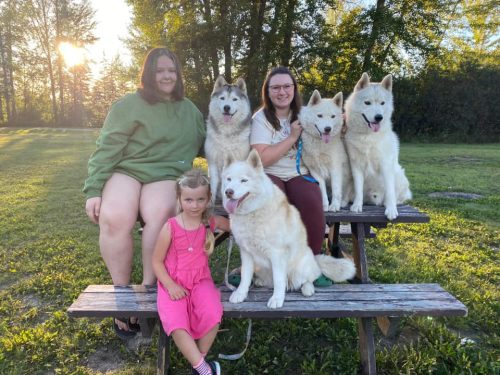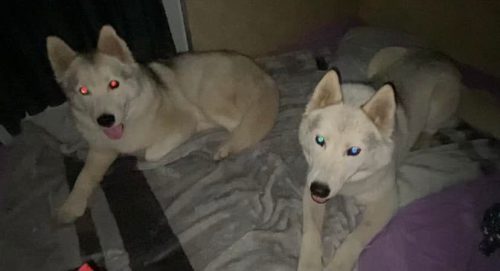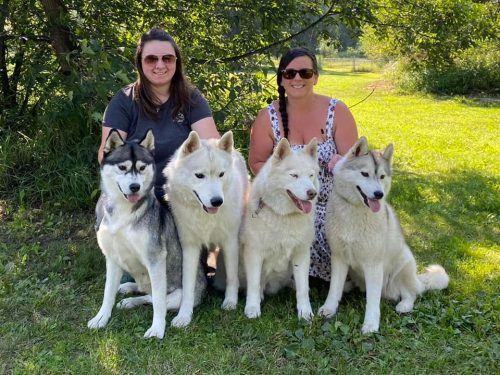 July 2022: July was another busy month for us! The remaining 2 puppies from our Easter litters went to their new homes July 2 when I flew with them to Vancouver to meet up with their families – Simba went to a wonderful family as an only dog and Nova is living with Athena (from our Feb 2015 litter) as well as two Shiba Inu boys! I am happy to say that all 10 puppies are doing amazing and are very happy in their homes <3 We did our second round of agility July 8-10 where Aura & Regal passed beginner and Luke & Goose got to do a session of Low Intermediate! So proud of these kids and cannot wait for more agility September! July 22 weekend we attended our favourite dogshow in Burns Lake and had an amazing time seeing old friends and meeting new ones! We took 4 dogs with us and they made us very proud. Goose showed amazing but did not receive any love from the judges, although he was shown by his new friend Junior Handler Tayanna and they took 1st (out of 3) together! Iv was shown completely naked after having pups in April but still managed to get a Reserve Winners Female and a Winners Female for another point towards her Championship! Kindle was shown 4/8 shows and was awarded 3 Best of Winners/3 Best of Opposite to finish her Canadian Championship undefeated in the classes and was awarded Best of Opposite for her first 2 Grand Champion points! Mystic was also in her underwear but was awarded 4 Winners Female/2 Best of Winners & 4 Best of Opposite to finish her Canadian Championship!! It is such an incredible feeling coming home with 2 New Champions <3 We got our new 3 wheel dog rig in July as well and got to try it out a few times before the weather got too hot – what fun!! So proud of our amazing dogs.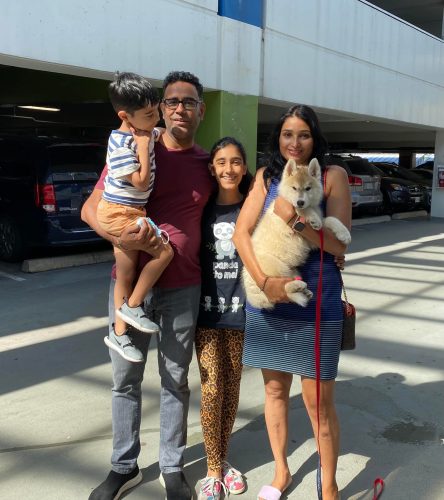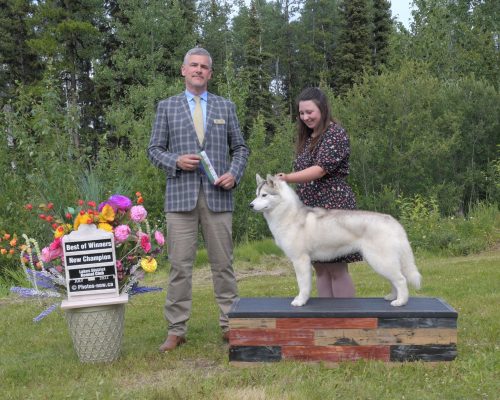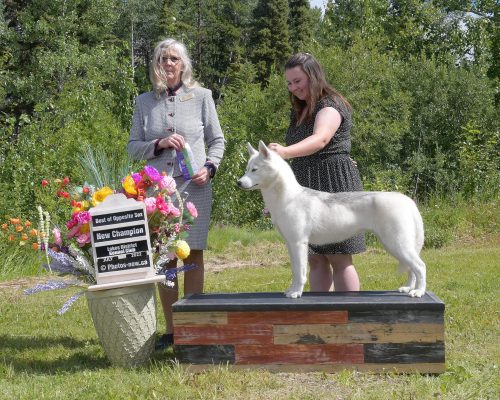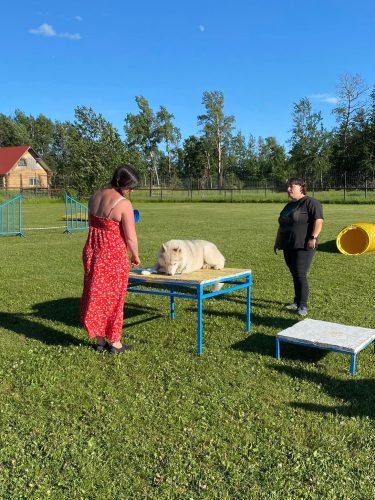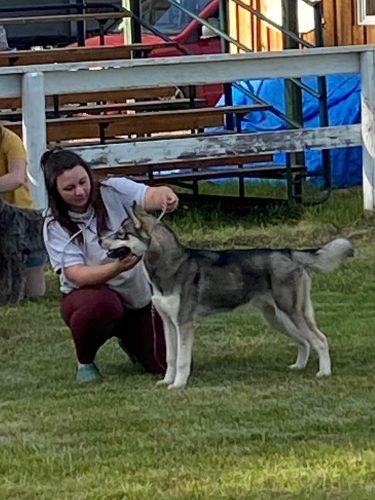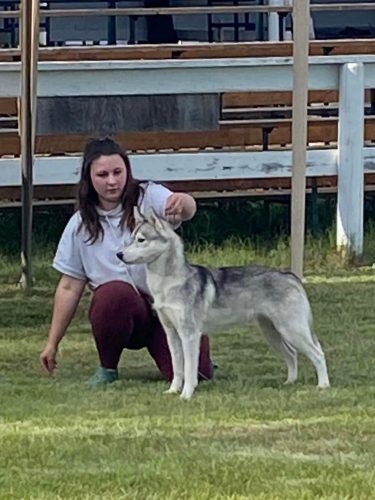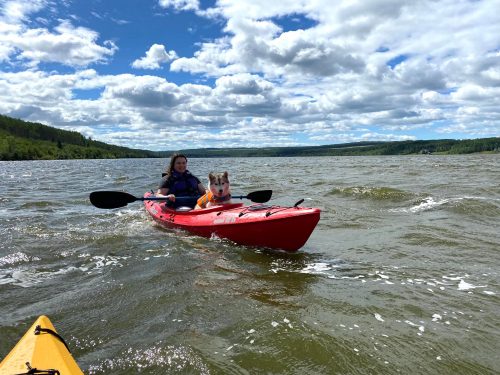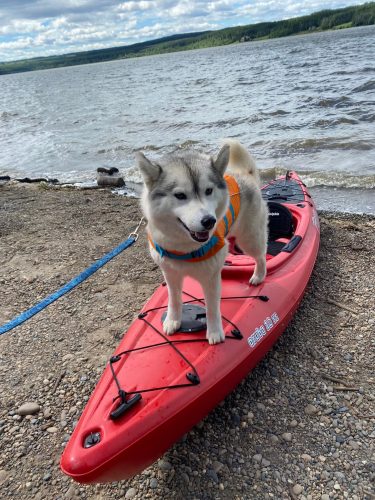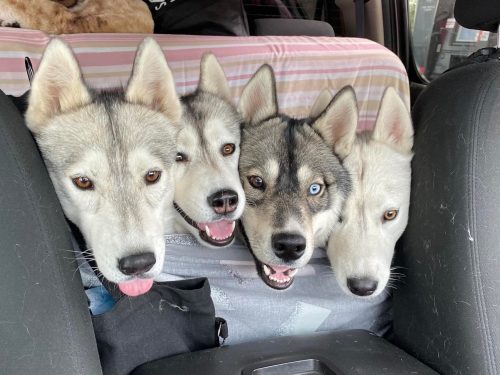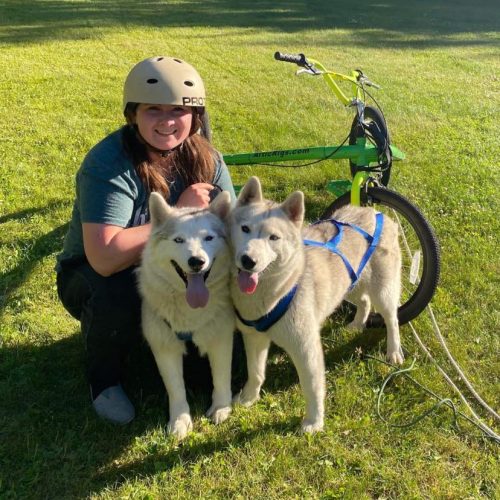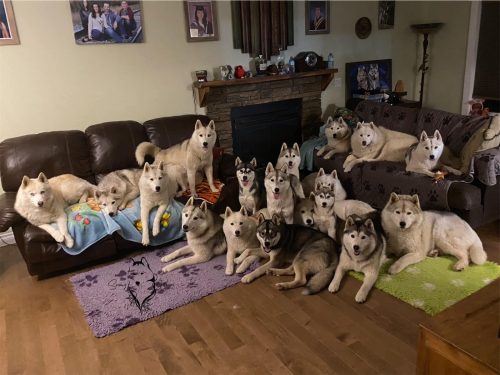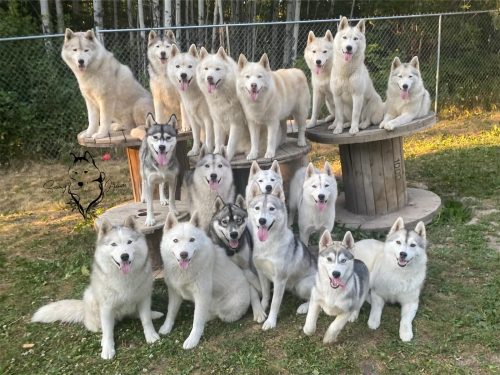 June 2022: Big month for us with lots going on! June 16 the first baby left the pack when our good friends Alana & Matt came to pick up Alpine! Always lovely visiting with them! On June 18 we loaded up two of the puppies along with Iceka, Regal, Iv & Onyx and took a road trip to Grand Prairie to meet up with Peter & Kaido's new families before they travelled the rest of the way to their new homes! We had a good visit and were lucky to be under shelter as it decided to rain! We decided to enter the GP dogshow for the Friday only (before delivering more puppies) and on June 24 we showed 3 of our dogs! Mystic was awarded 1 Reserve Winners Female, Goose had a great time being a crazy puppy and the star of the day was our Kindle who was awarded 2x First in Class, 2x Winners Female, 2x Best of Winners and Best of Opposite Sex (Over Specials) for a total of 5 points towards her Championship her first time in the ring! We are so proud of this beautiful girl! June 26 my mom & I took two separate planes to Vancouver to deliver 4 more puppies and met up with the new families of Luka, Lola, Fynie & Calyx! Had another great visit and were blessed with nice weather! June 27-29 we had beginner agility with Goose & Luke they did incredible! They did so well that they are able to bump ahead of the class and will move up to Low Intermediate for the next session! Good boys!! <3
We made the decision to spay our beautiful Faelan – although not an easy choice as she is close to our ideal Siberian Husky, as breeders sometimes we need to make incredibly hard decisions to do right by the future of the breed. Faelan was the last intact dog we had from this pedigree and we had the opportunity to spay her this month. As much as we love these dogs, the right thing was to alter everything from this pedigree due to health issues that presented themselves. All we can do as breeders is remove the lines that are causing issues and do the best we can to prevent them. Starting over is not easy but we are incredibly excited about the new pedigrees within our kennel and the future ahead of them!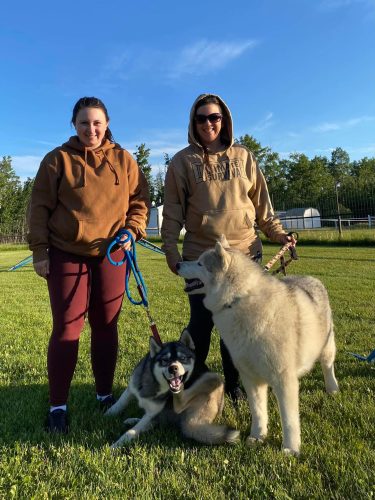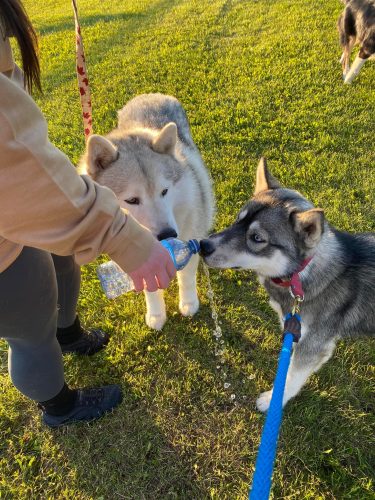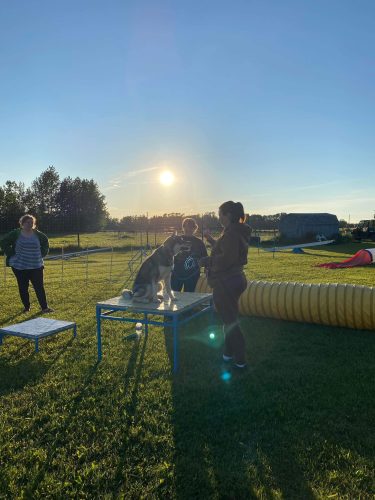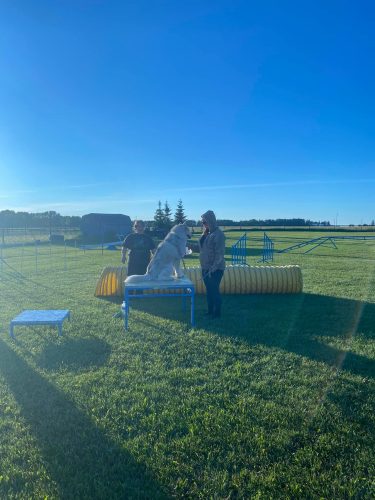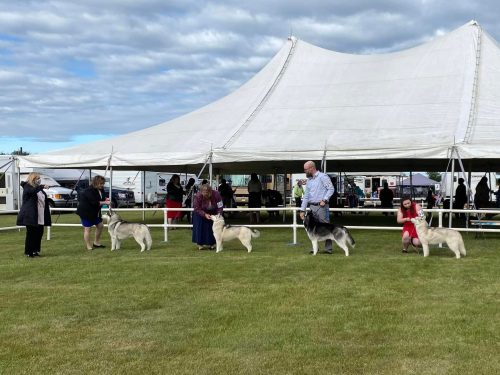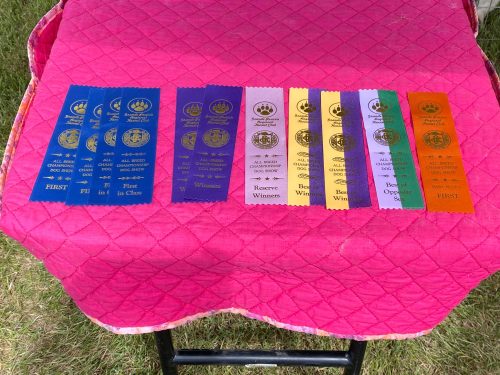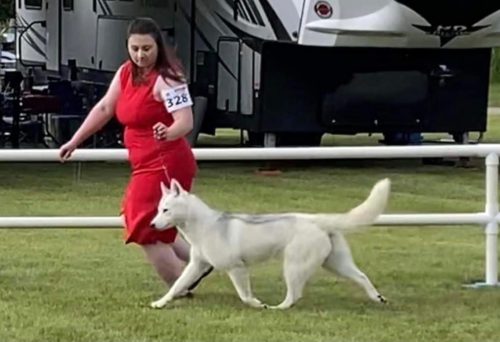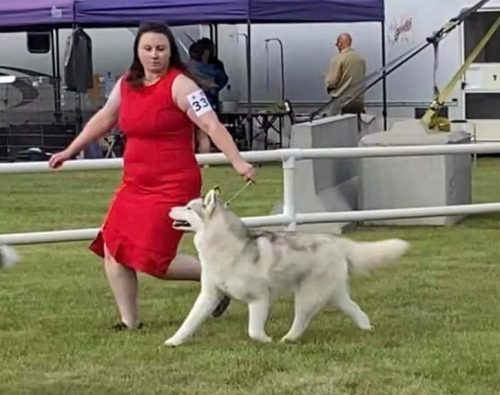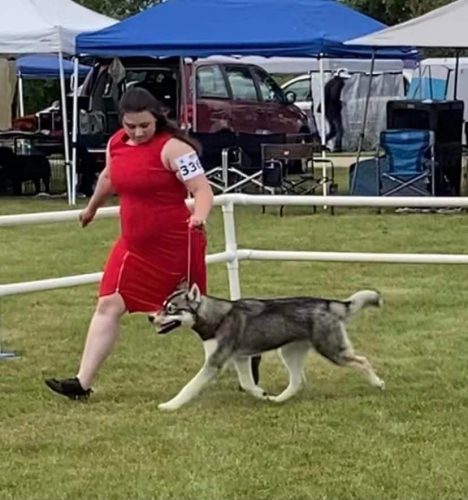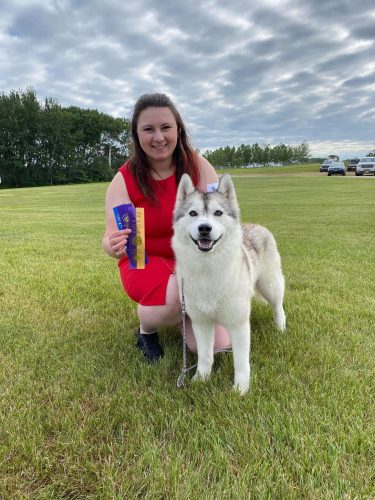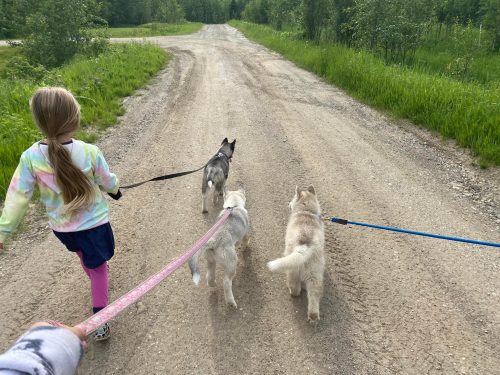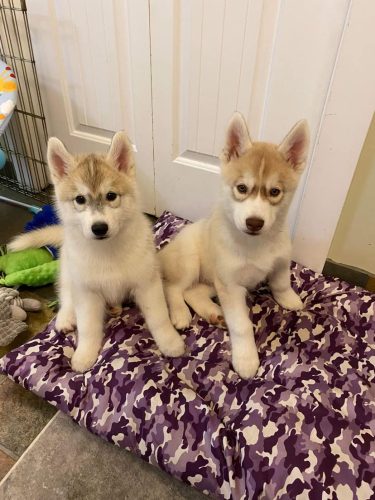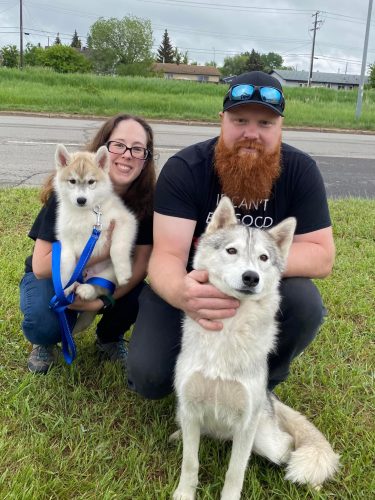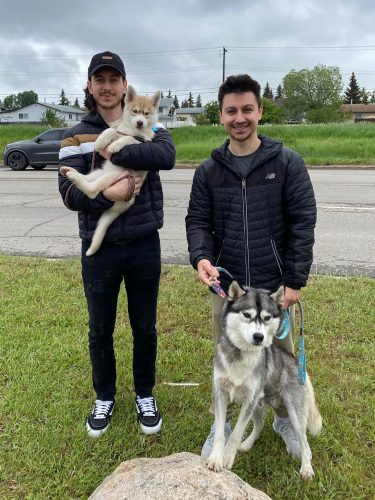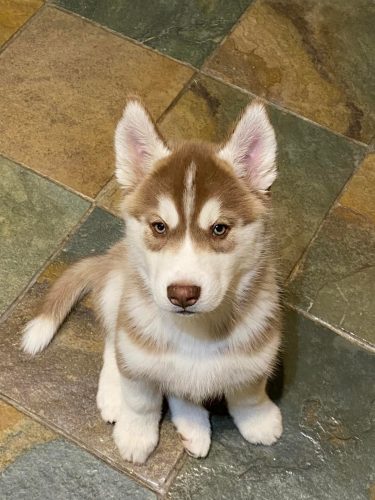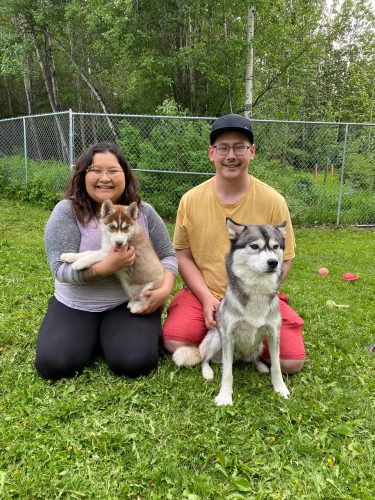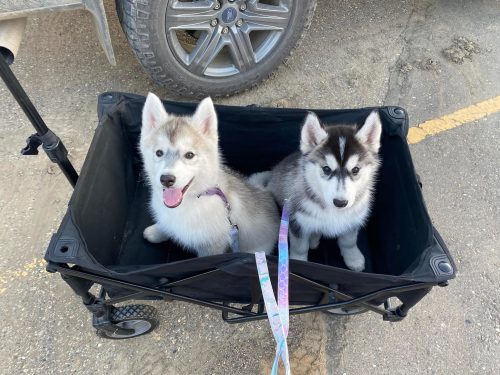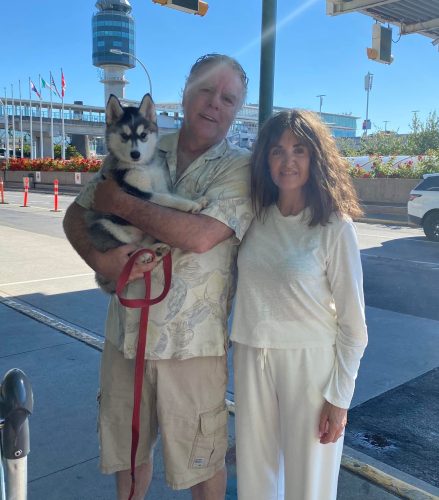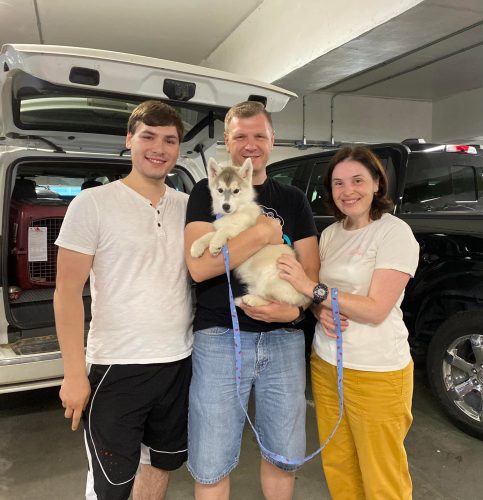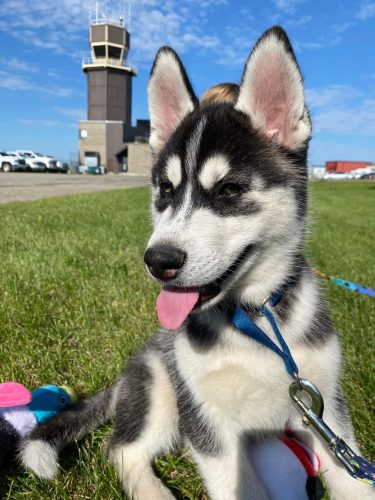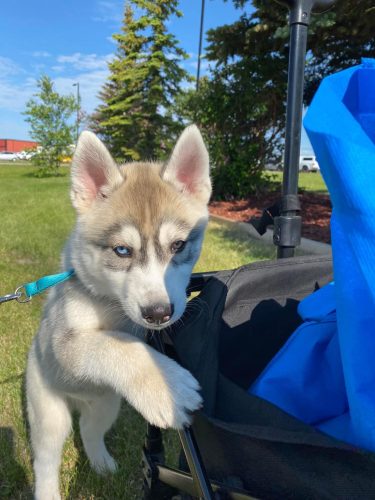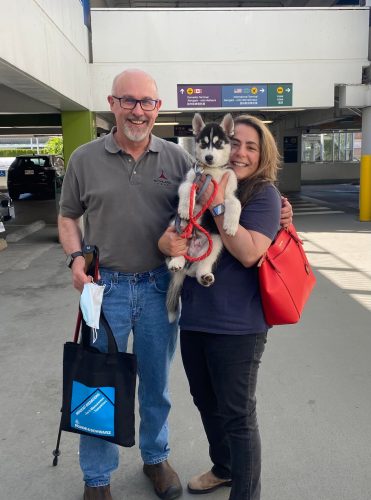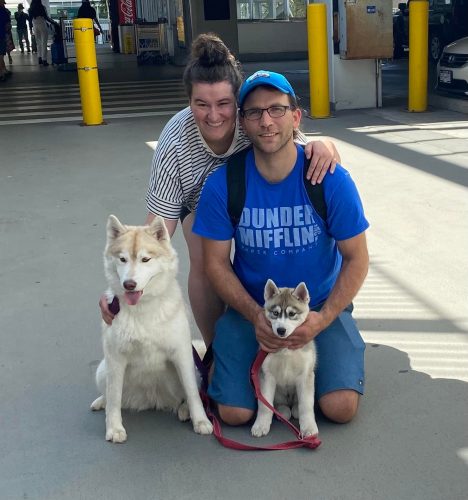 May 2022: May long weekend was our local dogshow where we entered 3 dogs – Iceka, Goosak & Mystic! Iceka was awarded 3 Best Veteran in Breed, 3 Best Veteran in Group and 2 Best Veteran in Show! For nearly 13 years old this girl still has it!! This put Iceka at #1 Siberian Husky veteran in Canada! Goose was awarded 2/3 Best Baby Puppy in Groups and showed amazing! So porud of him his first weekend out! Mystic was awared x3 Winners Female, x2 Reserve Winners Female, x2 Best of Winners & x1 Best of Opposite for a total of 6 points her first weekend out in the classes! This means she is over half way to her Canadian Championship!! Aliyah got to show for the first time in Juniors as a PeeWee and had a great time with Faelan!! So proud of our dogs – so much fun!!! <3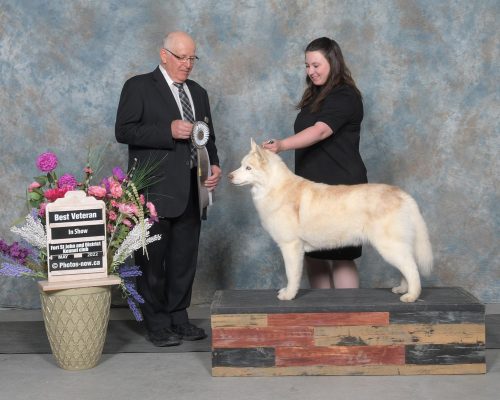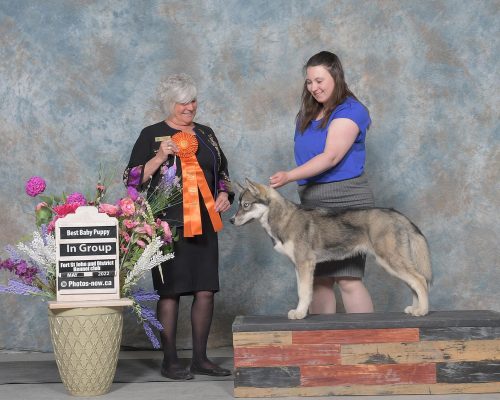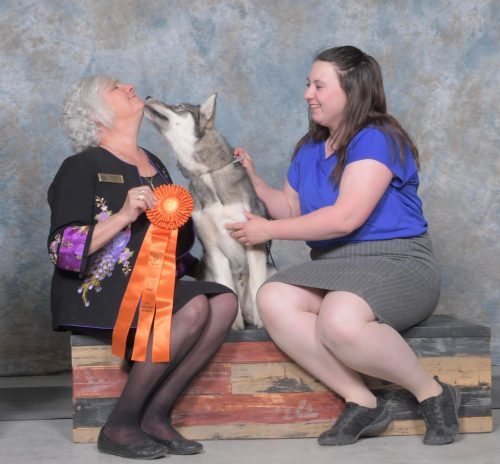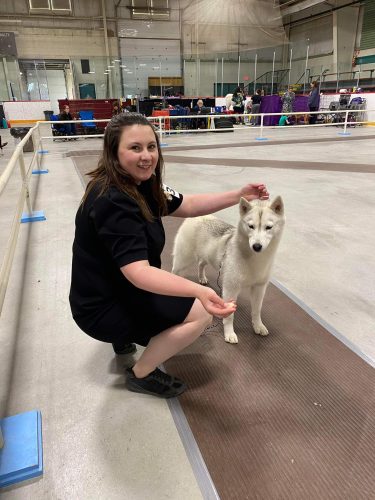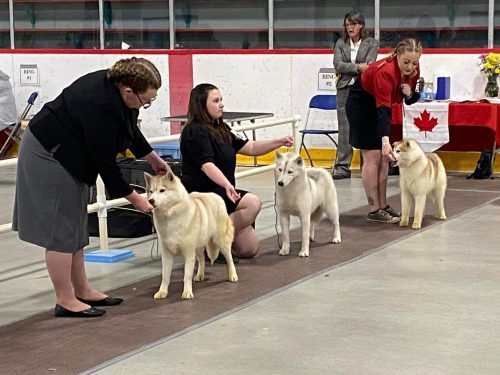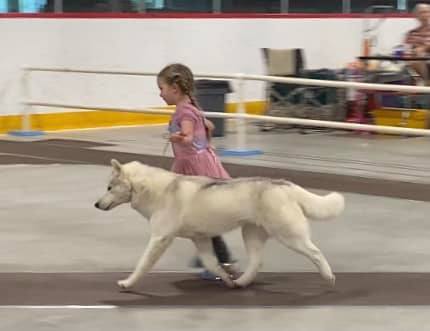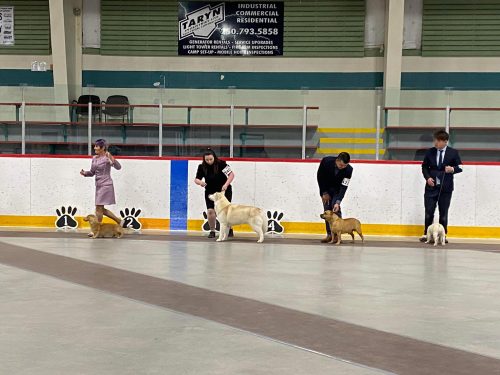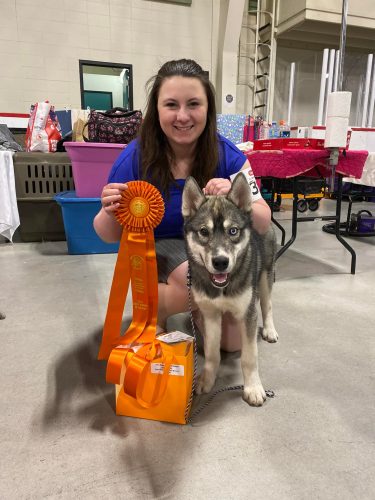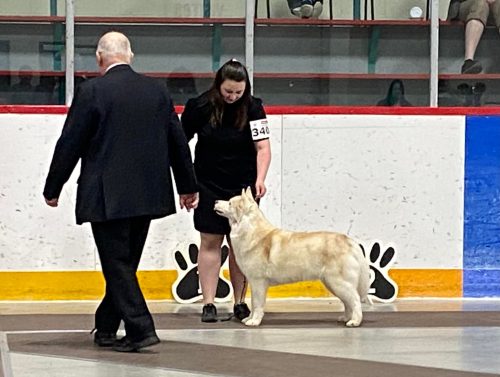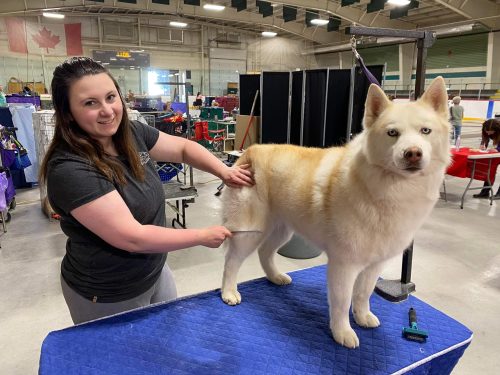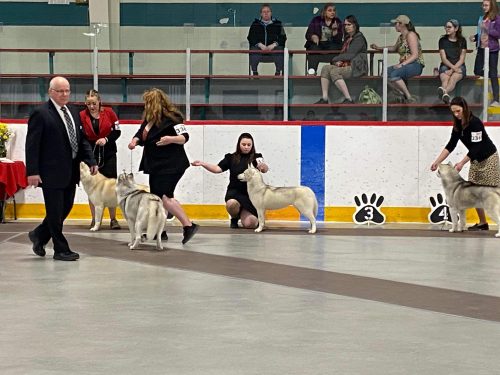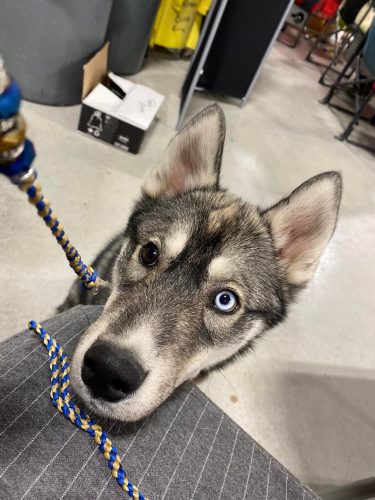 April 2022: On April 7th I hopped on a plane to fly to Cranbrook BC and pick up our newest addition! We are extremely excited to introduce 'Goosak' Yetieska's Running With SnowyDream <3 We have been wanting to add a working line male to the pack for quite some time and when we saw this boy become available we had to jump on the opportunity. Goose is from an amazing breeder in South Dakota and has an exquisite pedigree! Huge thank you to Laurissa & Stan of Yetieska Siberians for this wonderful boy – we love him so much already! Also a HUGE thank you goes out to Margie of Kuvuk Siberians for driving to Montana to meet Stan and pick up Goose and looking after him for a few days before I could fly in and grab him, we are so incredibly grateful for you and all your help! (Photos by Yetieska Siberians) – Photos of his sire Knight & dam Trixie at the end. Easter weekend 2022 we were blessed with 10 beautiful puppies (6 boys & 4 girls). Mamas and babies are doing amazing <3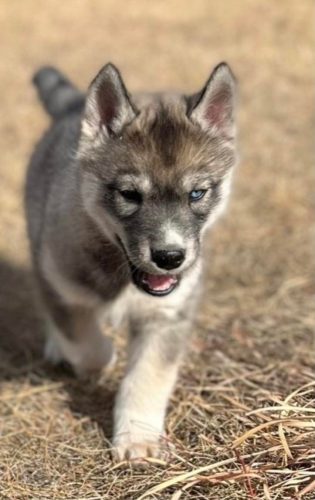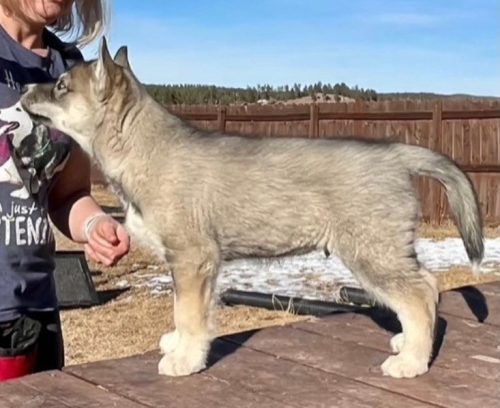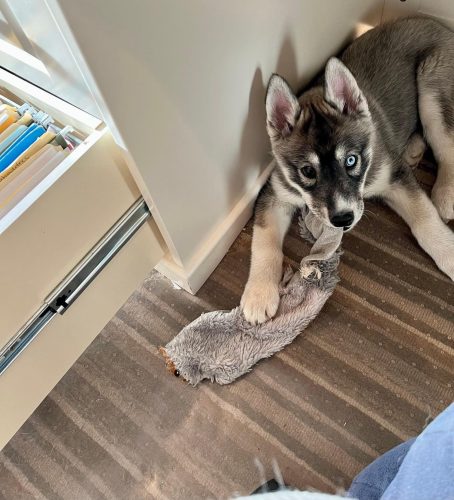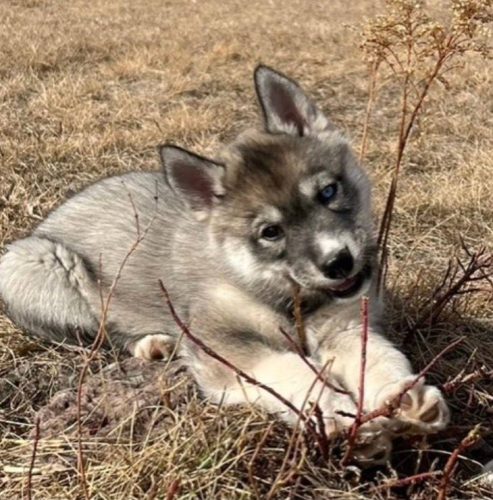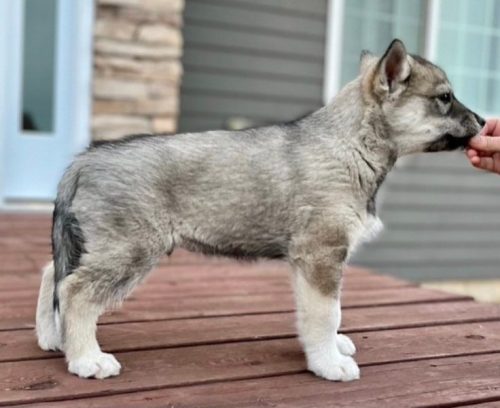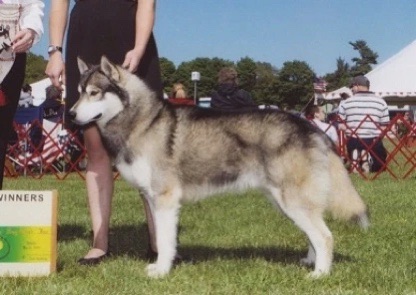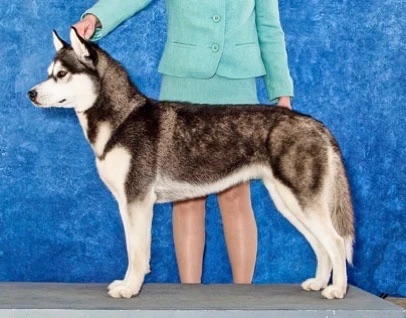 March 2022: Regal, Mystic, Iceka & Luke have all earned their 2-K9 Ruff Run titles – yay!!! Now all 16 dogs have this title as well. Iceka & Luke had extra fun with this title and gave me quite the scare when the leash gave out and they took off at lightning speed down the trail!! Luckily they are amazing dogs and I was using our sledding trail for canicross so I was able to take a short cut and meet them at the end of the trail, funny now but scary then! Always a good time and never a dull moment with this special breed! My mom hosted a few day camps for kids, sharing knowledge and teaching them how to mush! The kids absolutely love it, as do the dogs!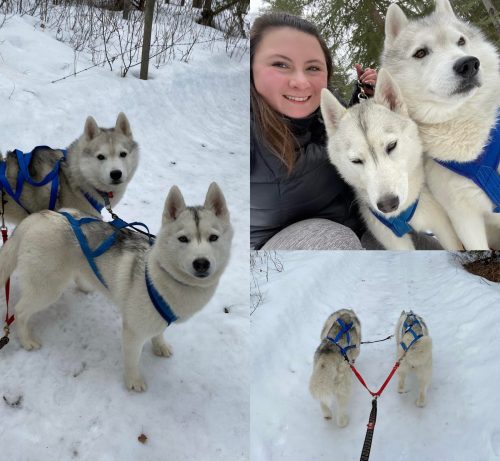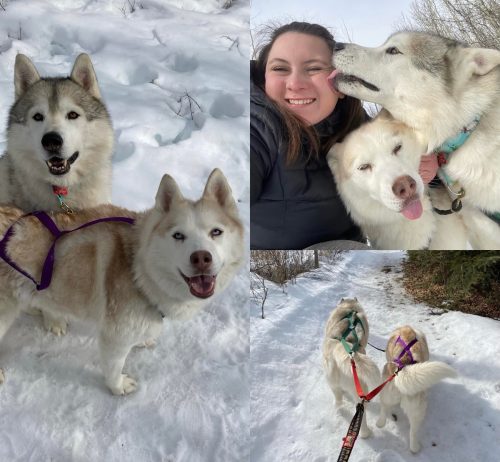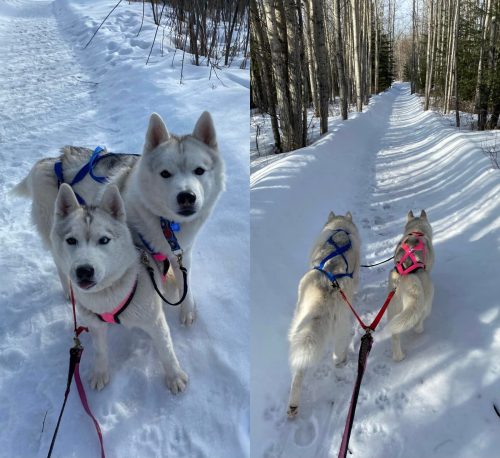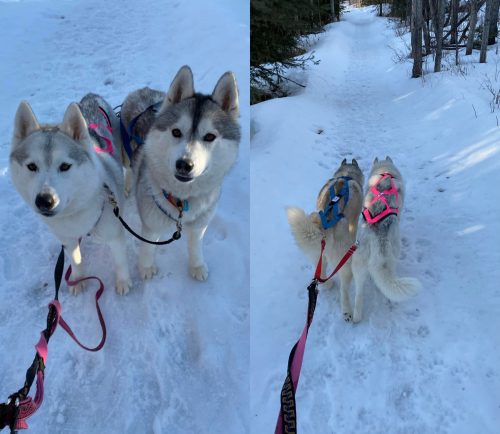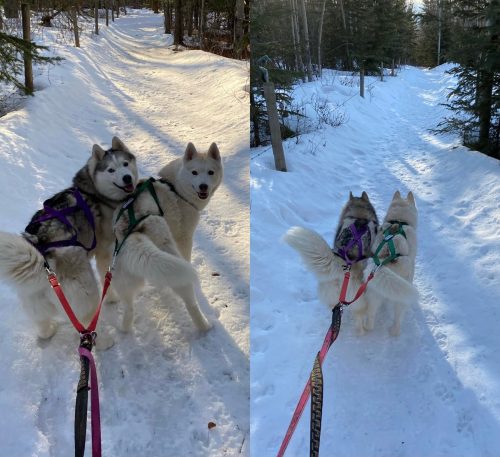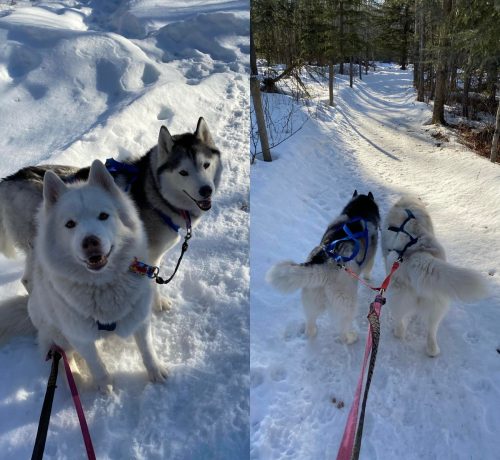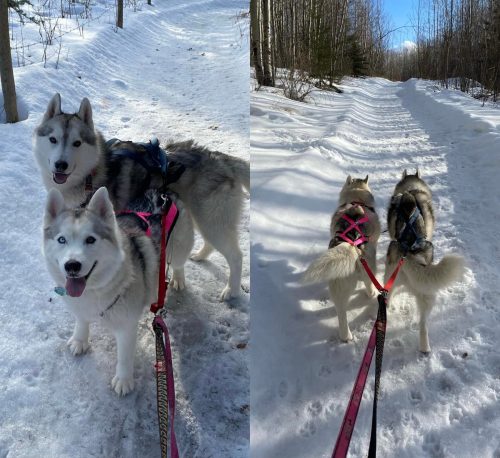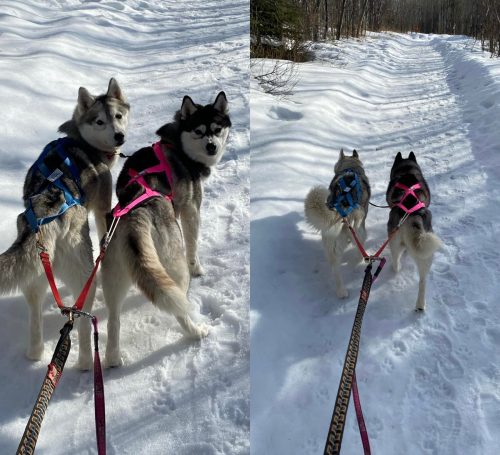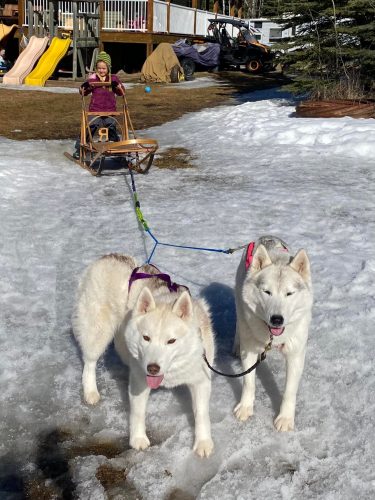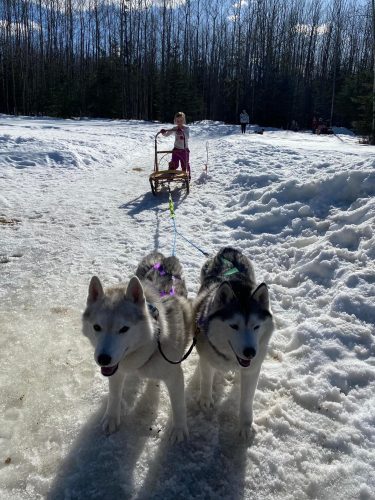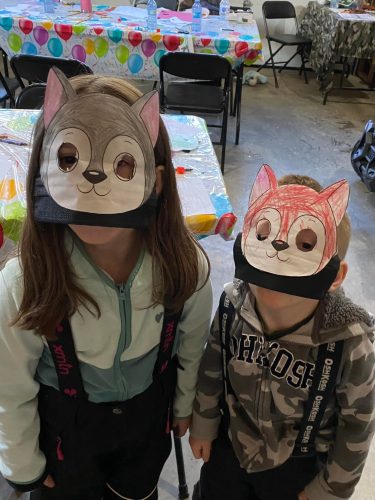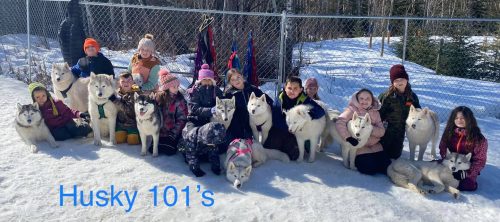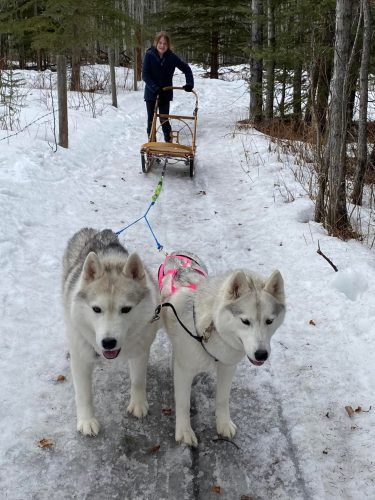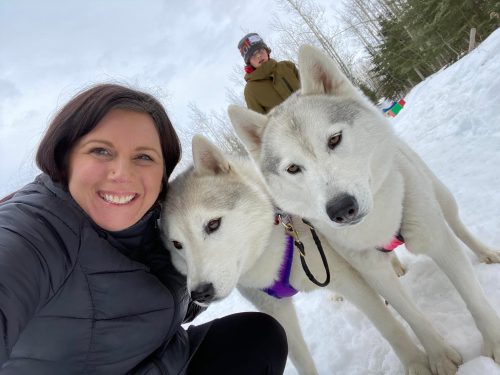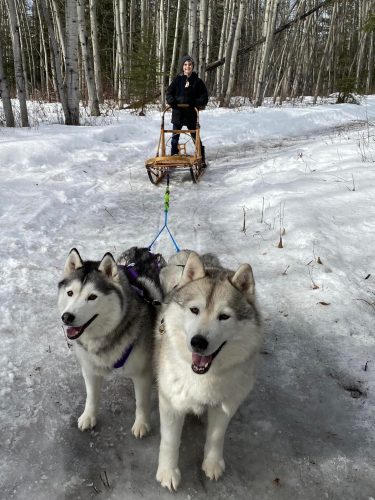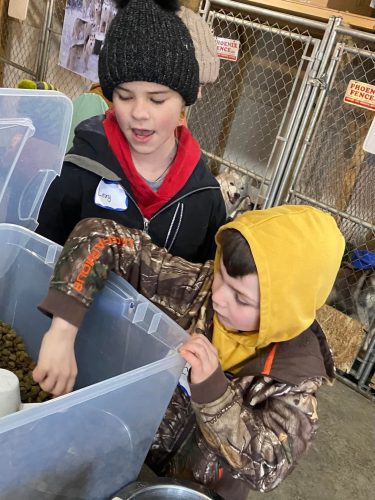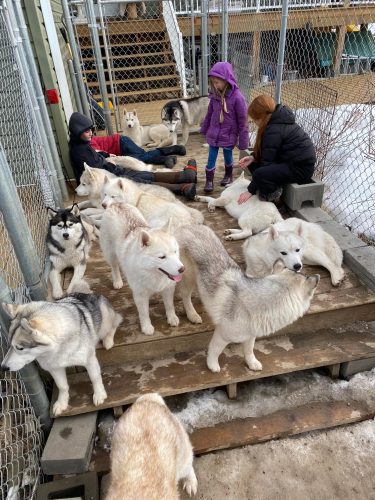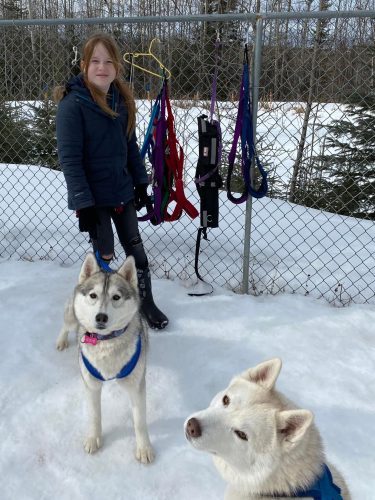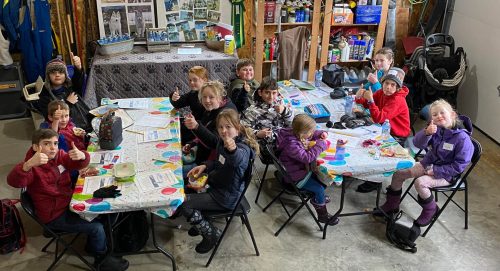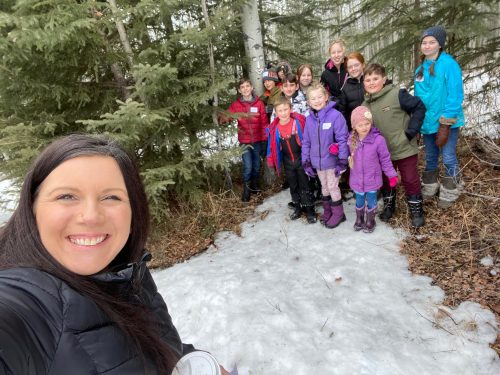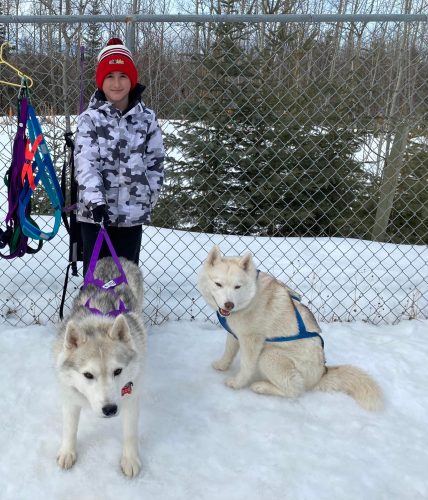 February 2022: We had a great month with the dogs, mushing lots, walking and being a part of our local HIGH ON ICE winter festival. We had over 100 people come out and meet the dogs, learn about the history of the breed and dog sledding! This is an event we look forward to every year as we love sharing knowledge about this beautiful breed with people! My mom took a short trip down to the island with Onyx & Faelan as well, they enjoyed being beach dogs for a few days! Our boy Regal was neutered this month due to an enlarged prostate – he is healed up and back to his crazy self!!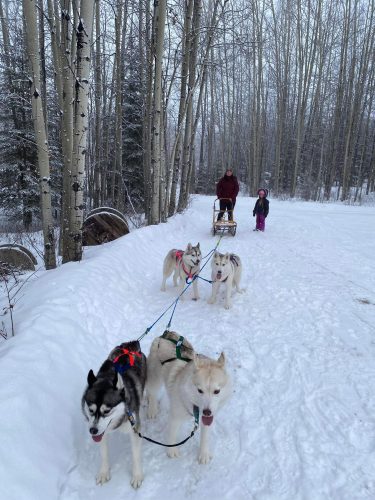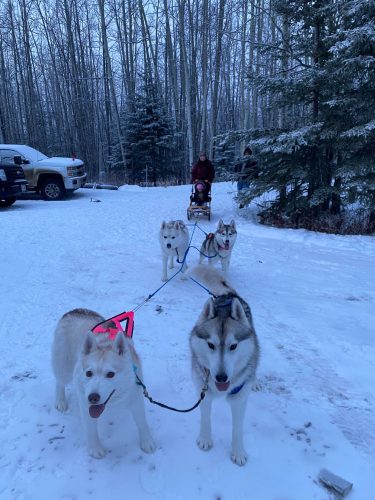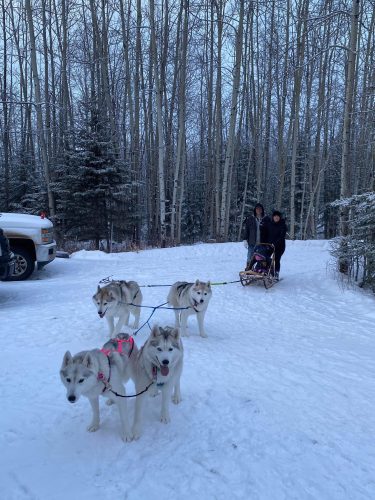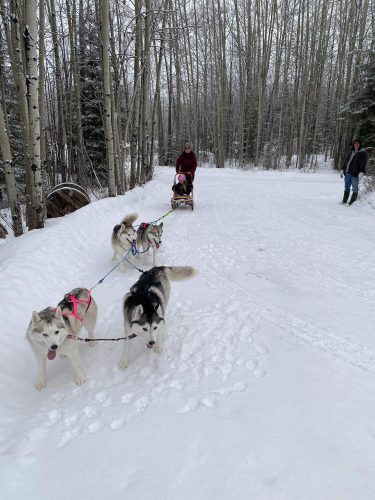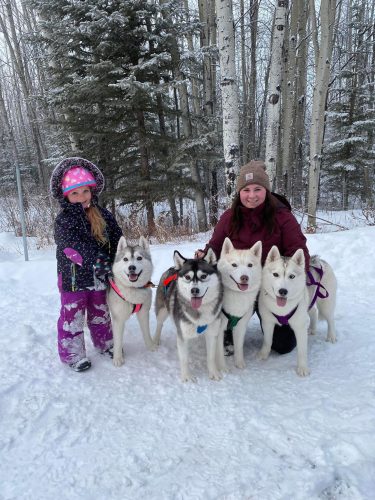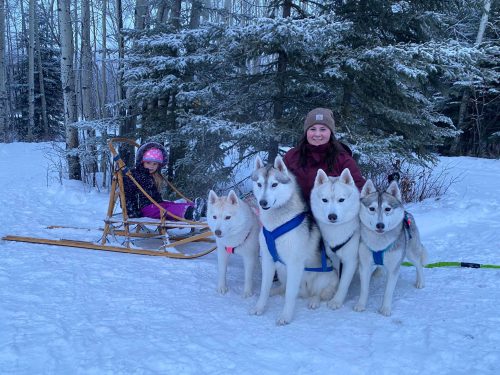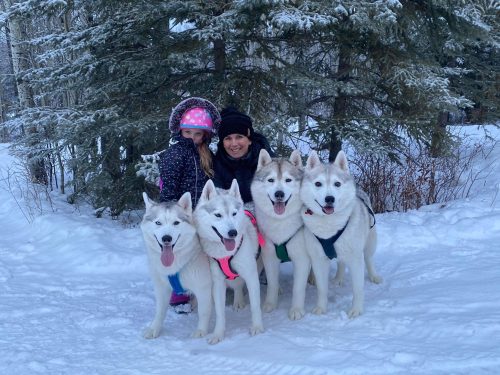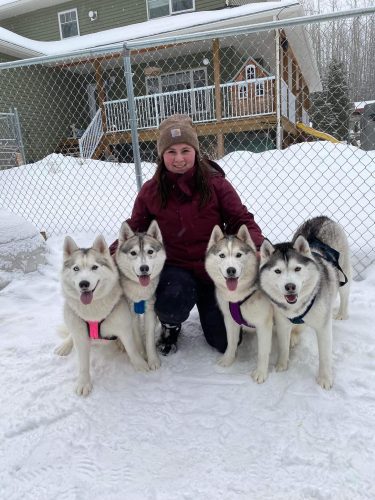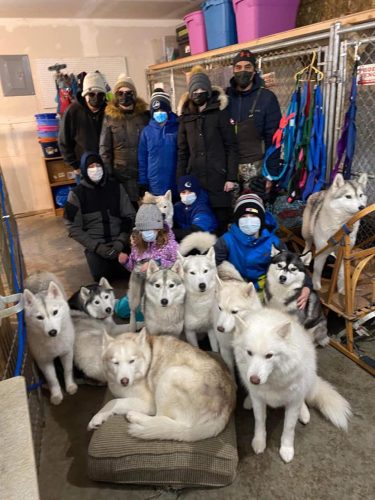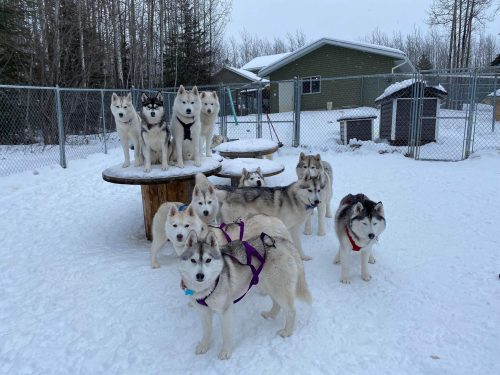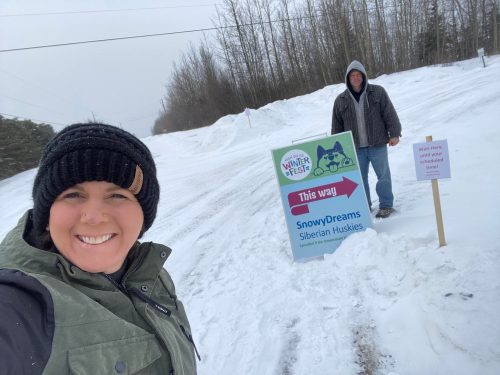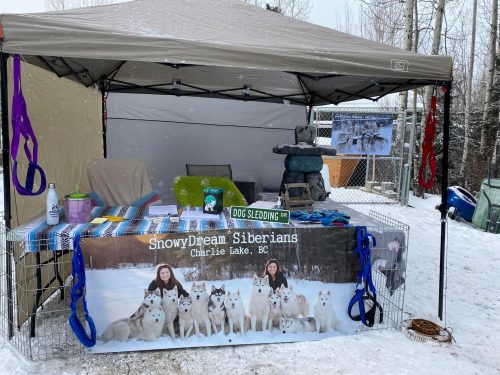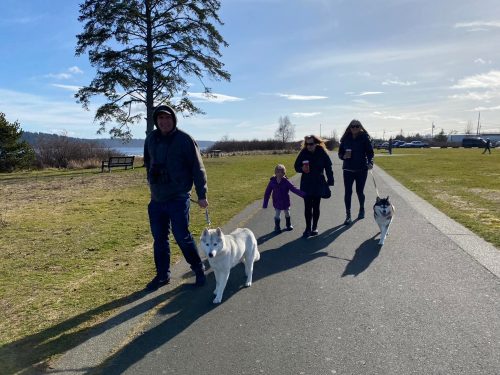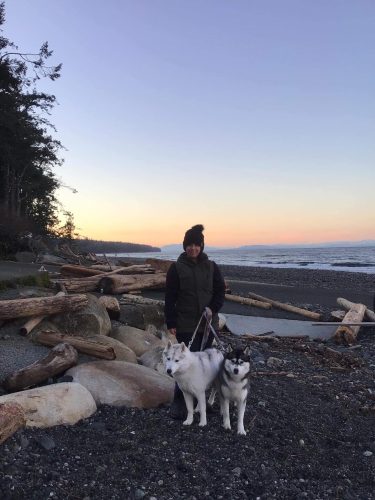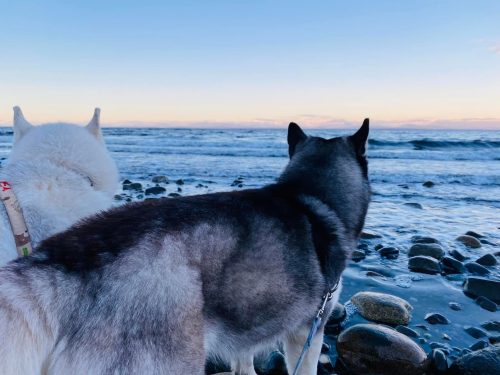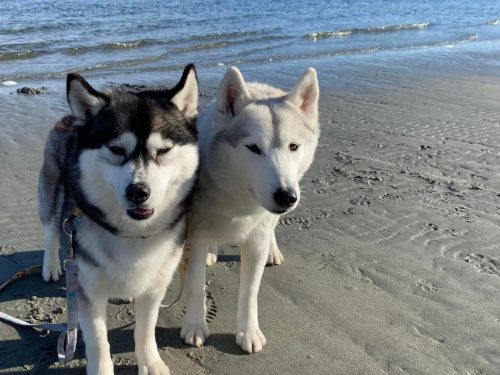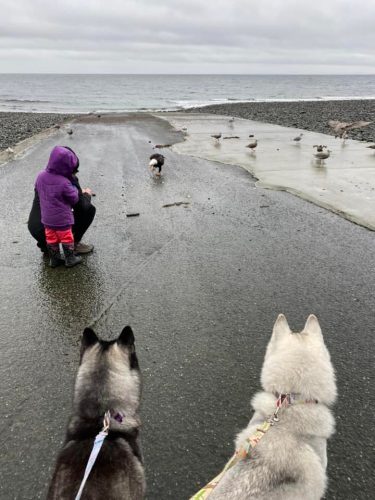 January 2022: Happy New Year!! We started off the year with temperatures that had us all staying inside all day and night! It was around -40 and even colder for about 2 weeks straight. The dogs stayed busy with mind games and new tricks. We were lucky to be able to take a couple teams of 2 out before the cold snap hit though. Very happy it is warming up as we will be able to take the dogs out sledding much more!! We had a huge drop of snow and the dogs are loving it!!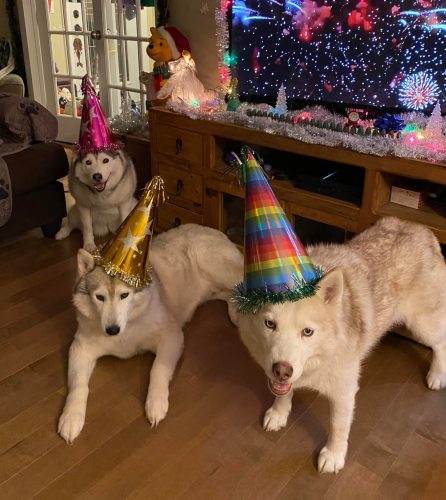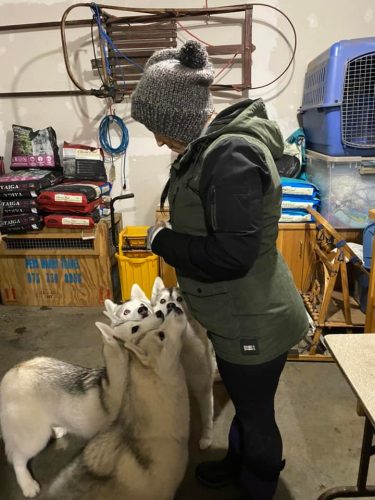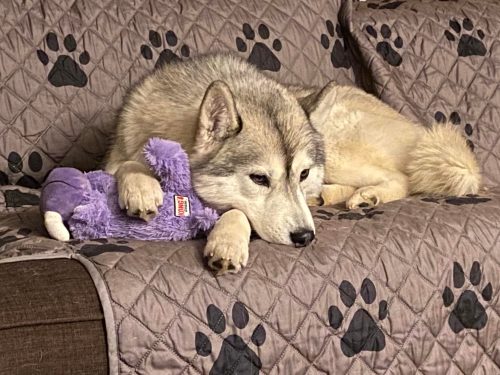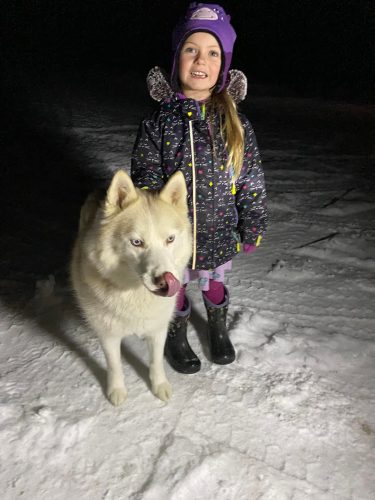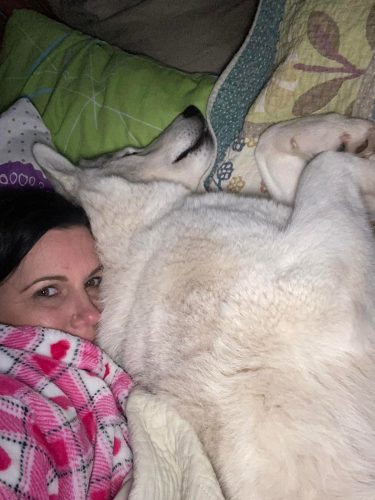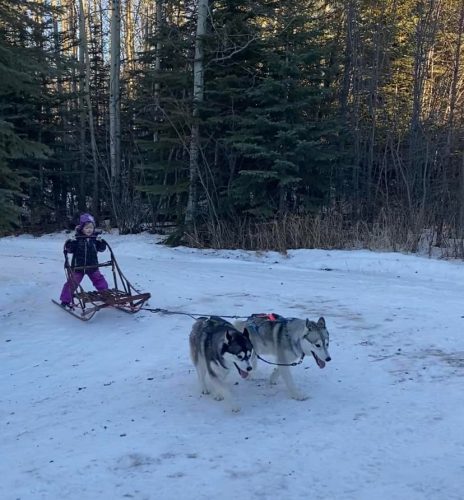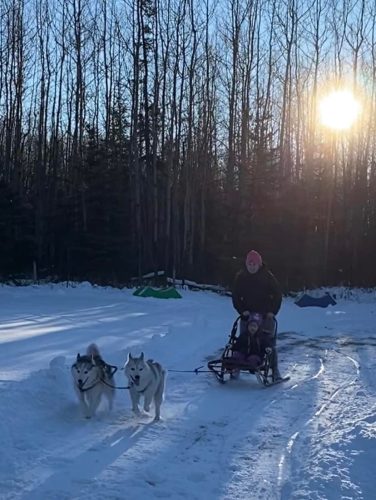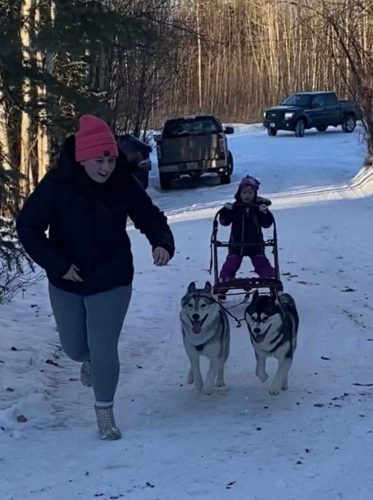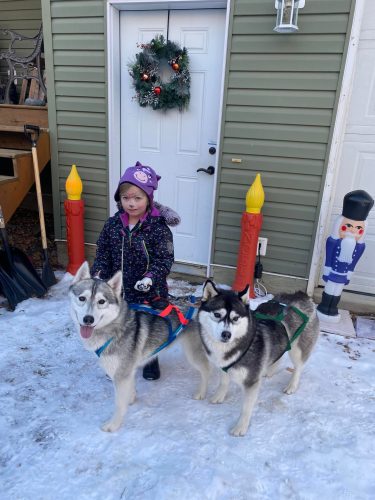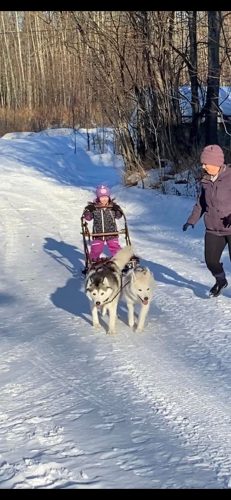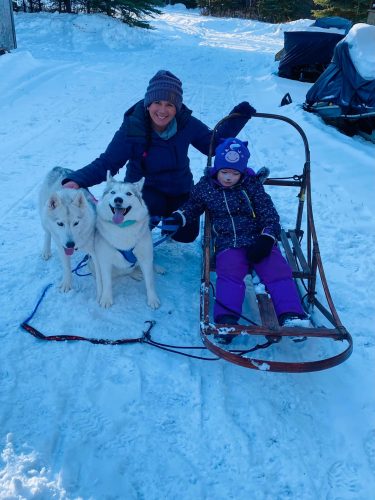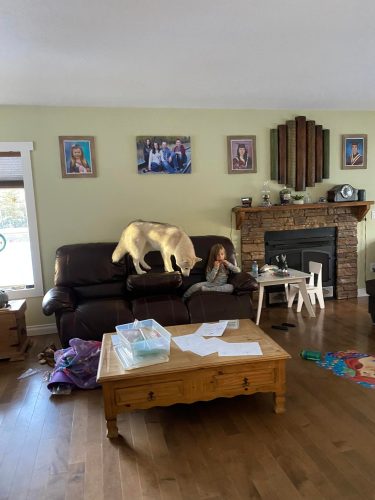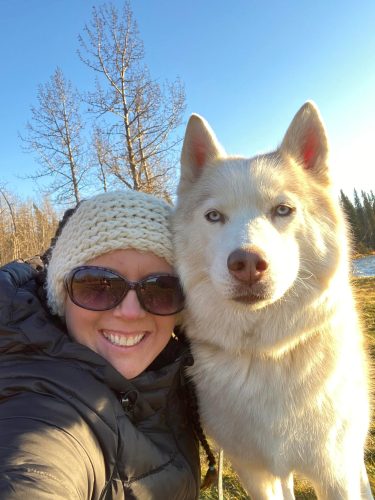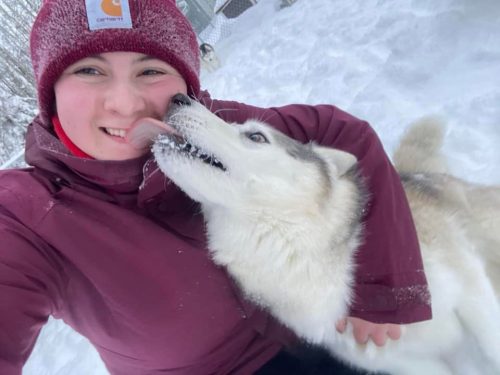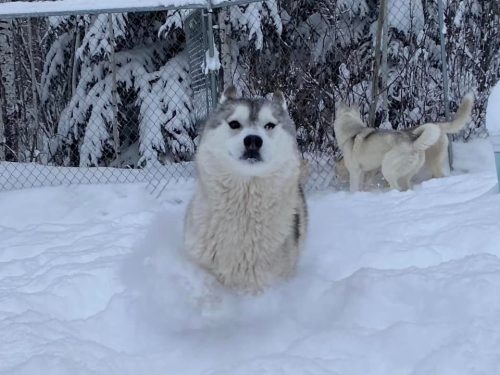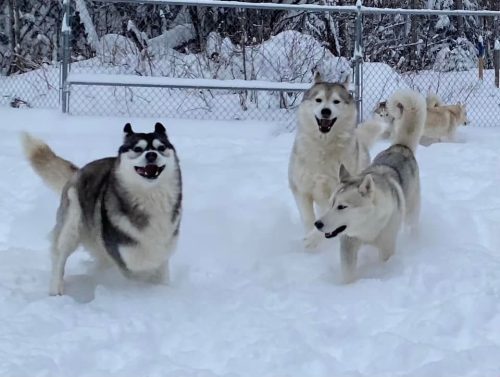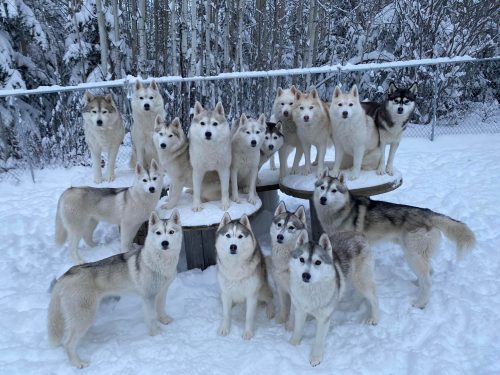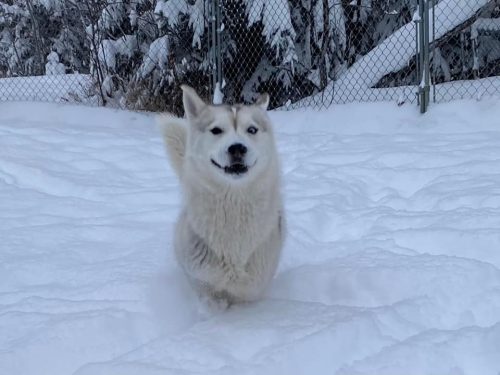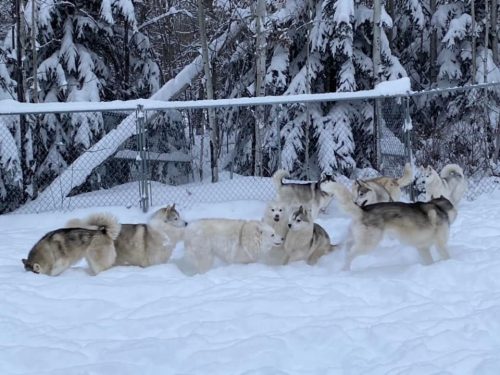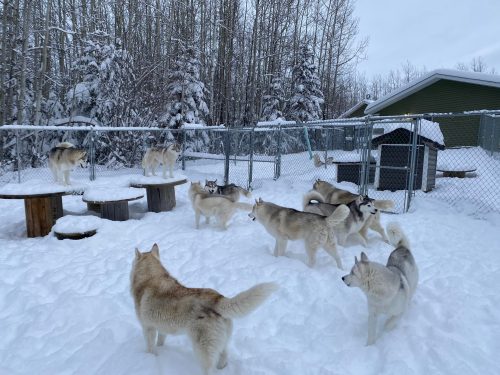 December 2021: Merry Christmas everyone!! Hoping everyone had a wonderful holiday season. Wishing you all the best in 2022!! The dogs had a wonderful holiday & really enjoyed opening their Christmas stockings with new treats and toys!! It has been -30 – -40 here for a few weeks now, the dogs have been inside most of the time (which I am sure they don't mind) – 8 sleep in my moms room at night & 8 in my room! So blessed to have such an amazing pack!! Our handsome boy Luke officially retired last month and was neutered. He is all healed up and doing wonderful!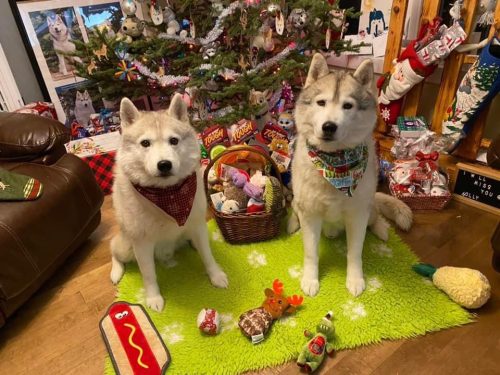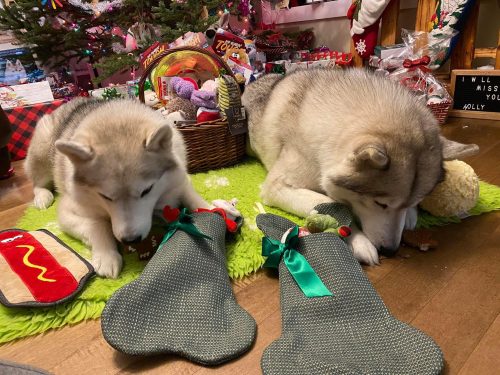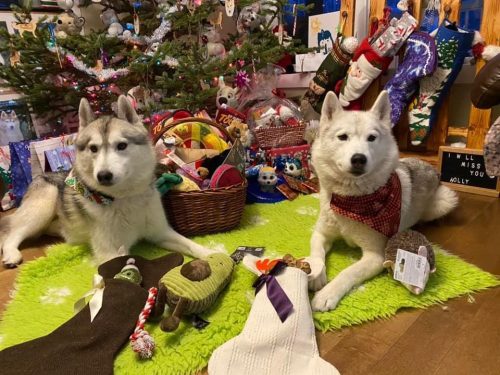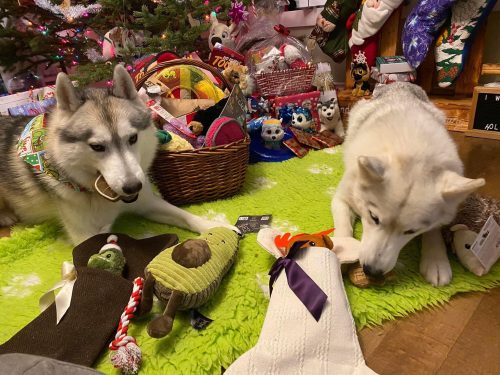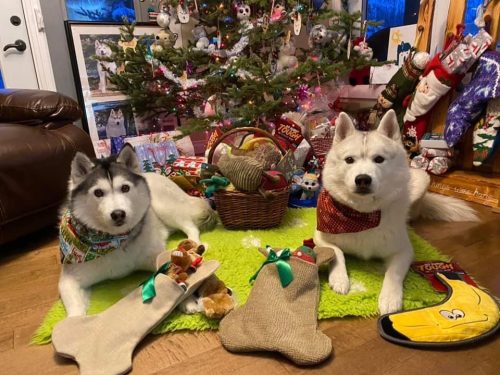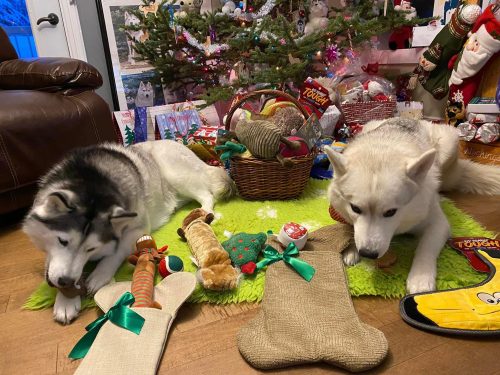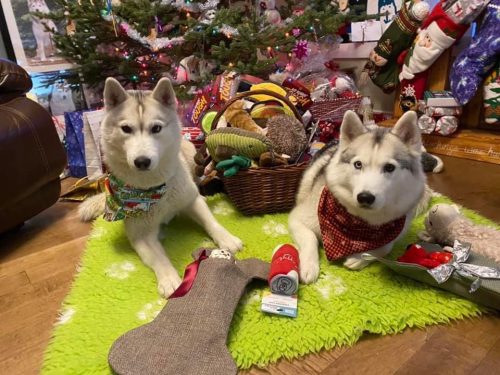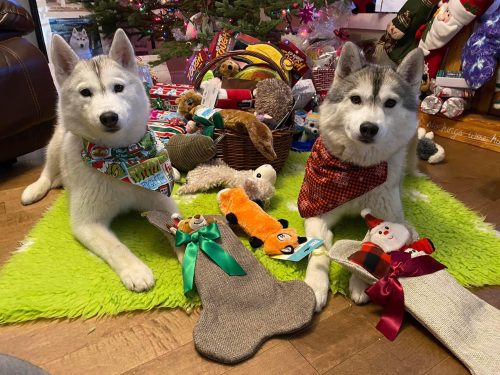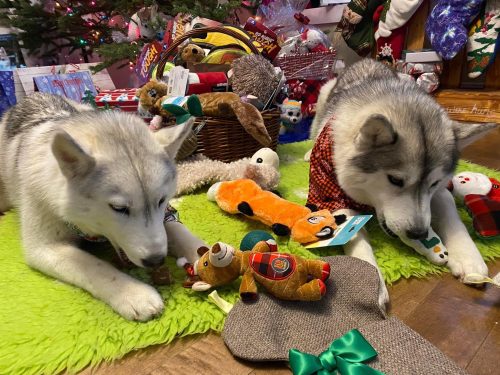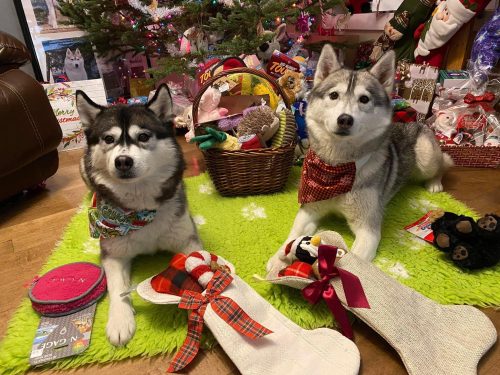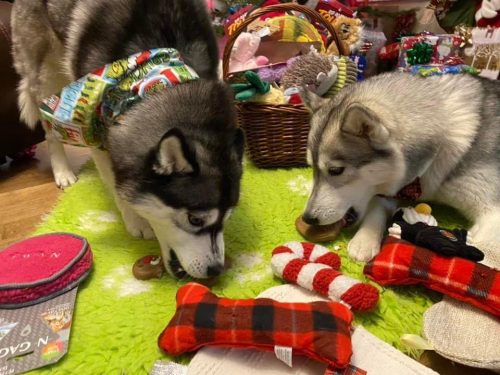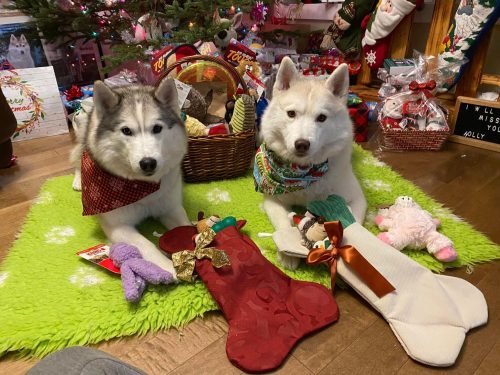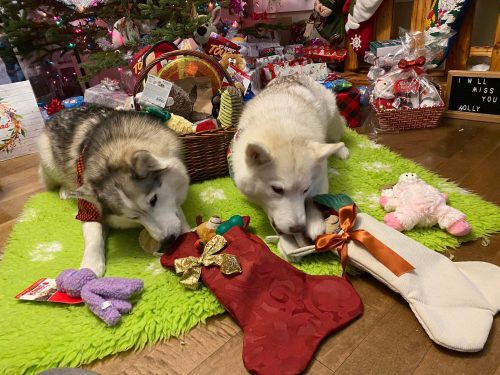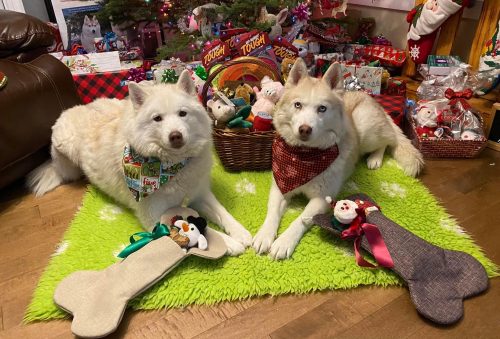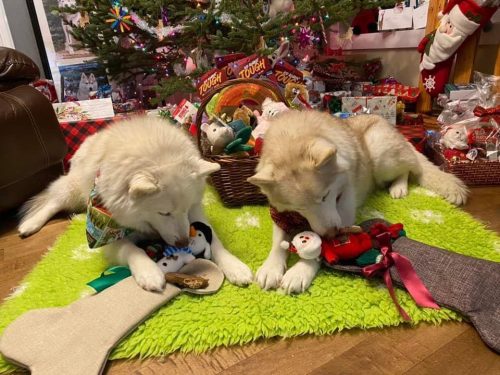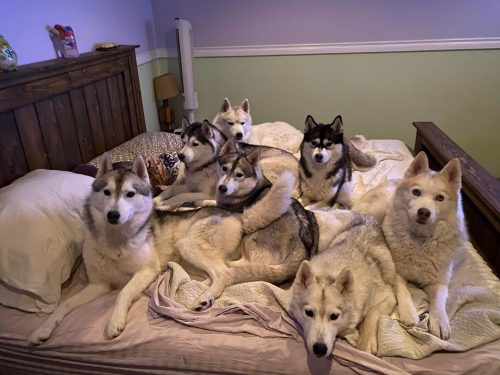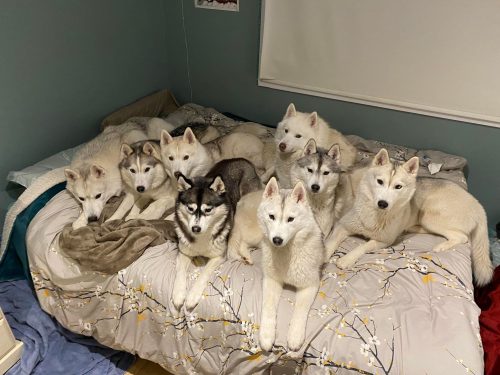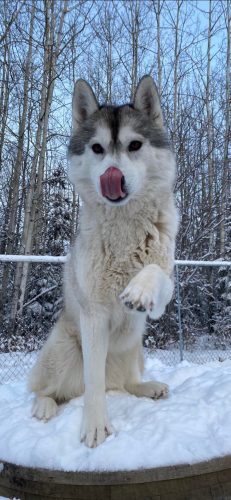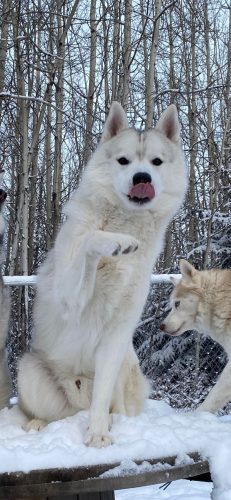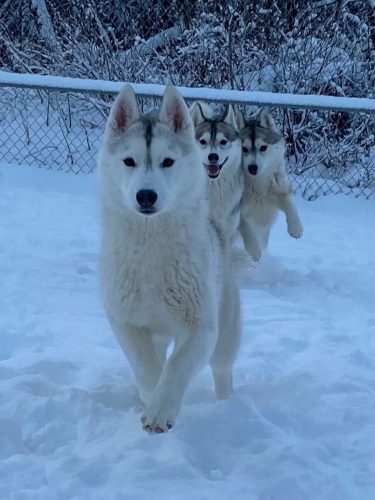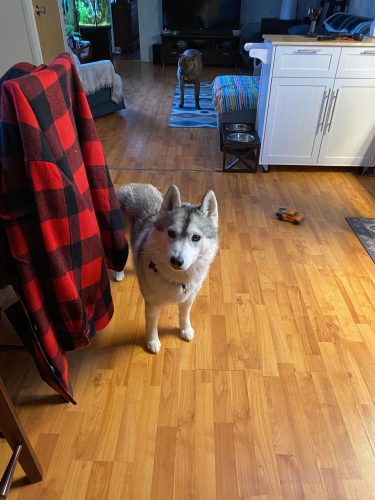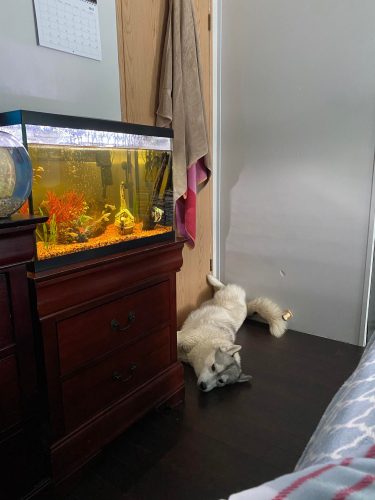 October 2021: Mom & I spent our Thanksgiving weekend attending our first dogshow in over 2 years – thanks to COVID! 🙁 We headed down to the Fraser Valley Dog Fanciers show in Chilliwack October 8-11 and had a wonderful time. There was a lovely entry of Siberians and lots of beautiful competition. We took 3 of our girls with us and all 3 took something home! 'Onyx' BPIG Can Ch. Winter Melody Nothing Just Trouble NTD 2k9 took 4x Select Female (Over another Specials) for 4 Grand Champion points! Her daughter, 'Iv' SnowyDreams Ancient Times NTD 2k9 took 1 Reserve Winners Female, 1 Winners Female & Best of Opposite Sex (Over 2 Specials Females – including her mom!) for her first 2 Championship points!! Baby 'Mystic' BBPIG Wolvereen Enchanted SnowyDream NTD was the only baby puppy Siberian entered but was awarded 1 Best Baby Puppy in Working Group!! So proud of our girls, they all showed wonderful. We also got to meet up with a few of our bred by dogs who live down in southern BC – which included 'Majla' SnowyDreams Leap Thru Time ATD (Onyx x Luke) and 'Athena' SnowyDreams Wisdom Of Wynd (Dream x Mister). It was so lovely seeing the girls and their owners!! All in all it was a wonderful weekend filled with lots of fun and laughs. Birthday parties also continue to be a great success!! We also want to congratulate Mystic's Breeder/Co-Owner on her BOHIS & AOM with Mystic's mom Leia at the Dallas Specialty! We got an updated group shot of our 16 beautiful dogs <3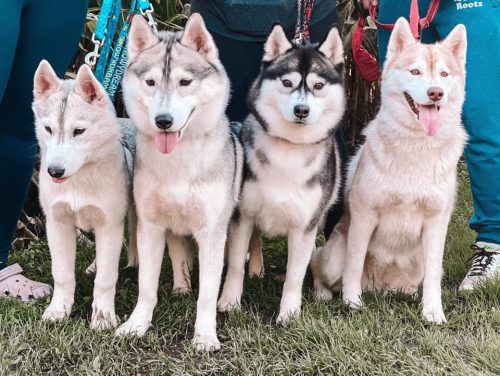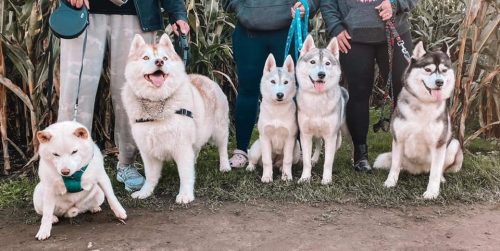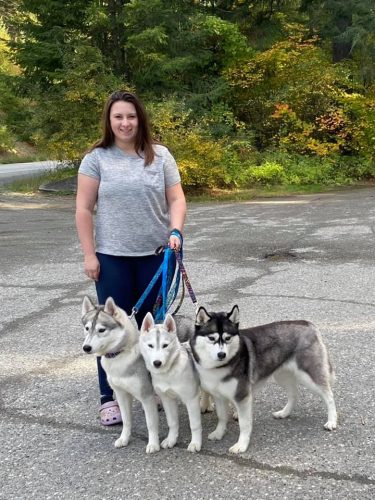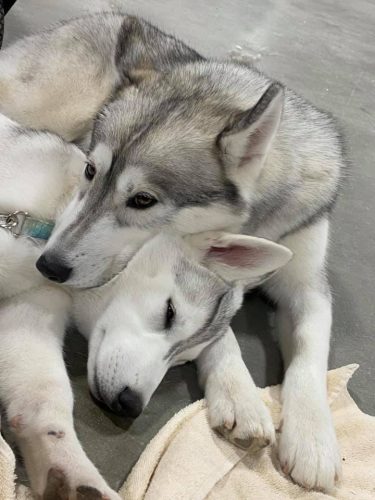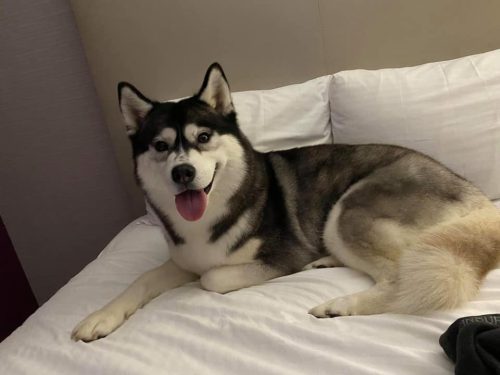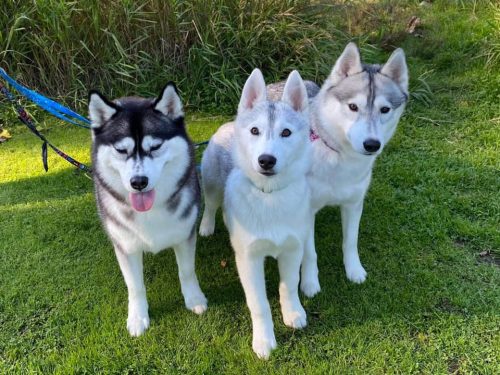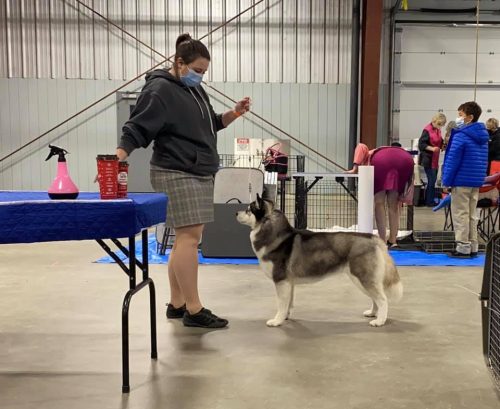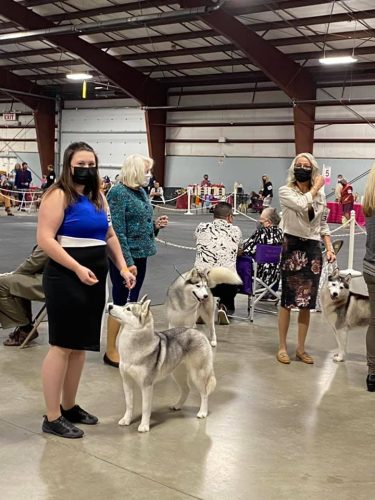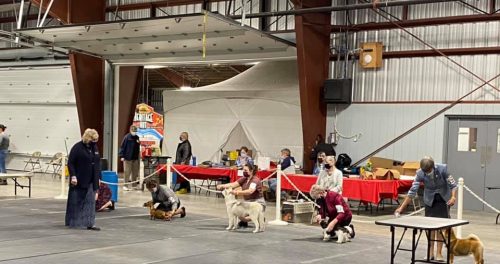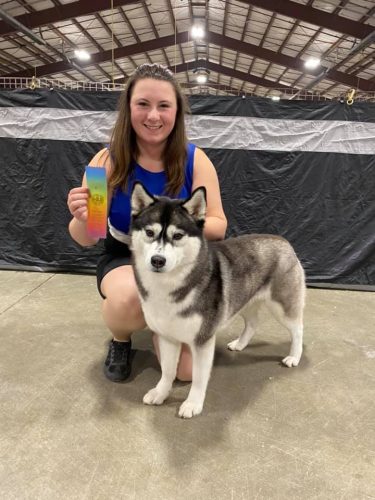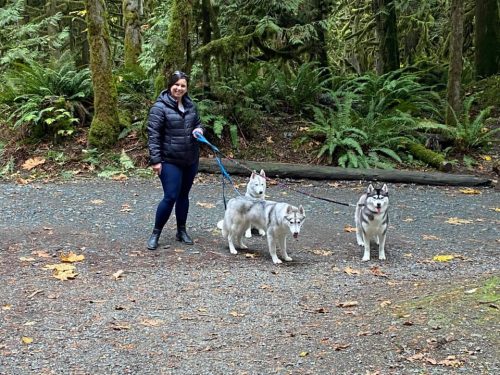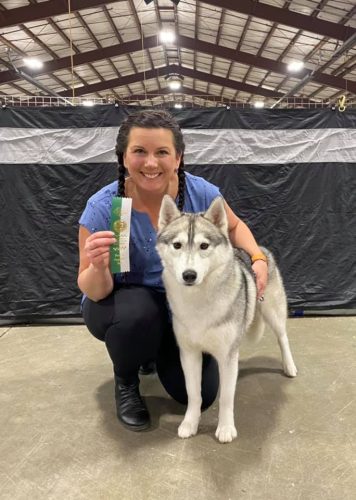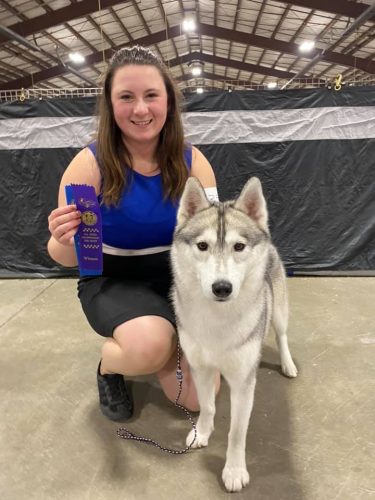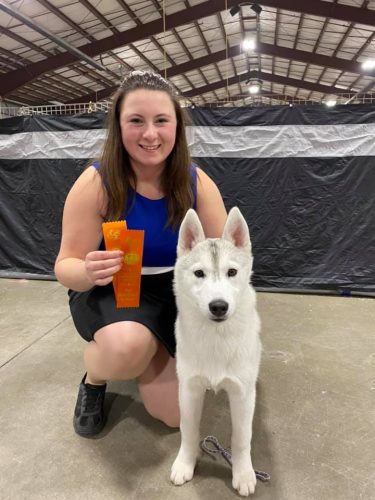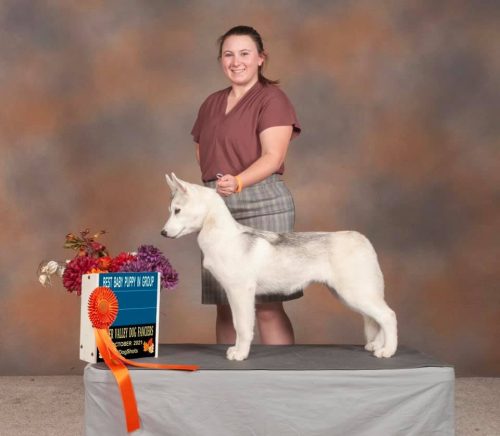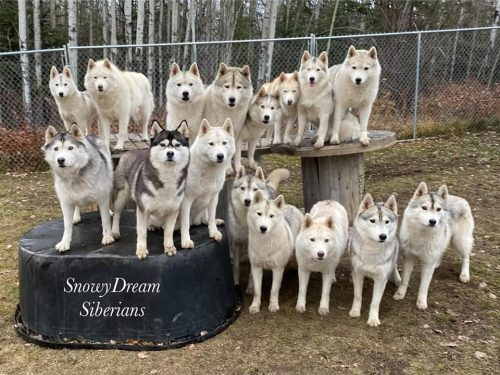 September 2021: Earlier this year we purchased a whole bunch of cement blocks to put around the perimeters of the dog yards to prevent digging. To date we have placed blocks around the perimeter of 90% of the yards (about 700 blocks), so close to being done yay!! We have been really enjoying daily walks with the dogs, in October we will start running them on the quad in teams to prepare for winter and the Iron Paws sled race!! Faelan & Glisten completed beginner agility and did amazing!! So proud of these girls and cannot wait for next time!! We entered a couple more virtual dog shows for fun as Covid is still here. We had some good results. Even though these shows are just virtual and just for fun it is still nice knowing that so many different show people and judges love our dogs! September 11, 2021 – What a GREAT day for team SnowyDream!!! We headed down to Prince George (About 5 hours away from us) for the Northern K9 Health Clinic to have some of the dogs eyes tested. We are VERY happy to say that all 5 dogs we took (Onyx, Iv, Stella, Axel & Kindle) passed with perfect eye exams. Always such a proud feeling as breeders. This was Onyx's 3rd exam, Iv & Stella's 1st, Axel's 3rd and Kindle's 2nd!! Yay!!! While we were at the eye clinic walking the dogs, we came across a bear!! Standing just a couple vehicle lengths away from us, the dogs just looked and didn't make a sound. We walked back the way we came and went a different way, just to come across it once again!! This has never happened to me before, even when hiking in the bush, so crazy!! The public has been begging us for YEARS to start hosting birthday parties with the dogs, so we finally are giving it a try! We had 3 birthday parties in September and everyone (dogs included) had a BLAST!!! So thankful for our wonderful dogs and their amazing temperaments <3 Gambler got to go visit his friend 'Roxxy' at Riley's house!! He had a lot of fun! He even got to meet a donkey and was a very good boy! Iv enjoyed her visit to grandmas! We got a couple new dog houses that the dogs love. Really enjoying life with our beautiful dogs <3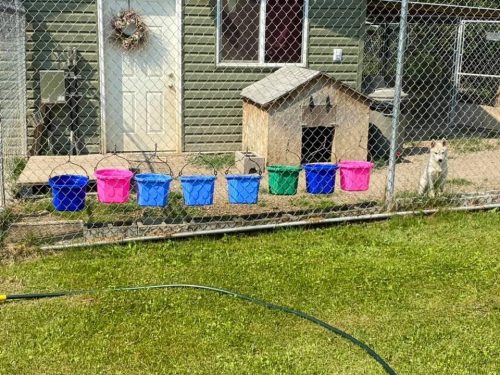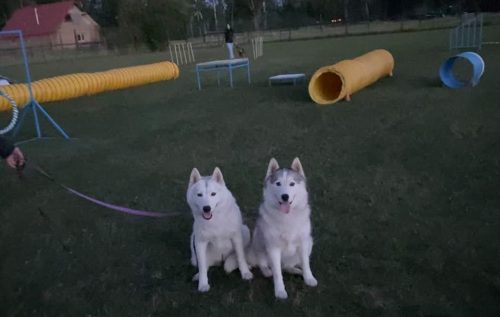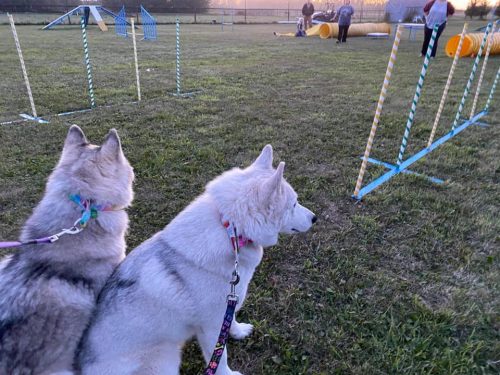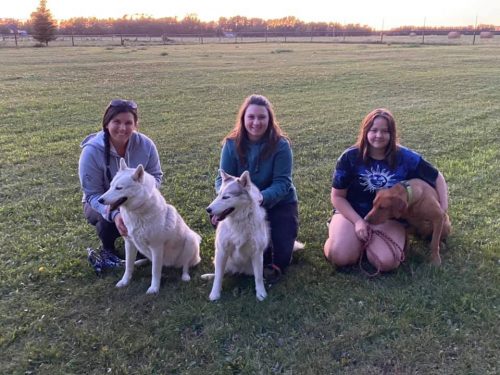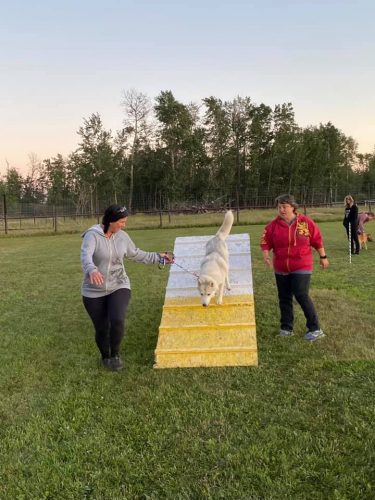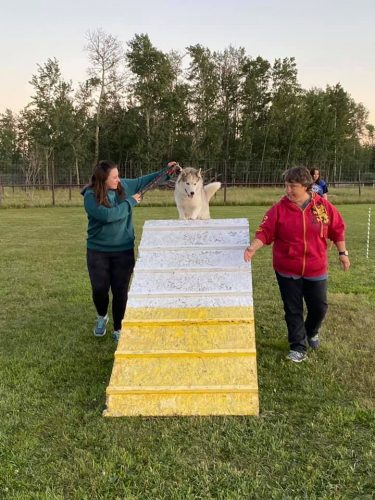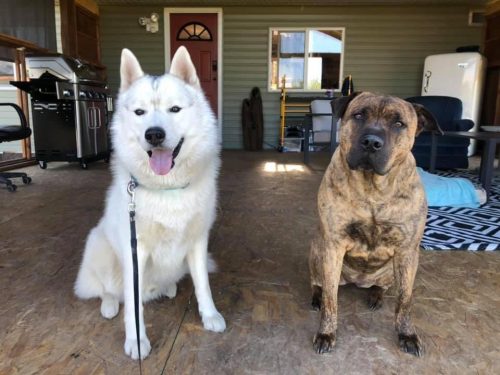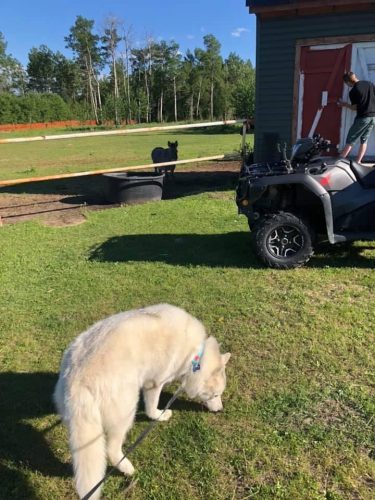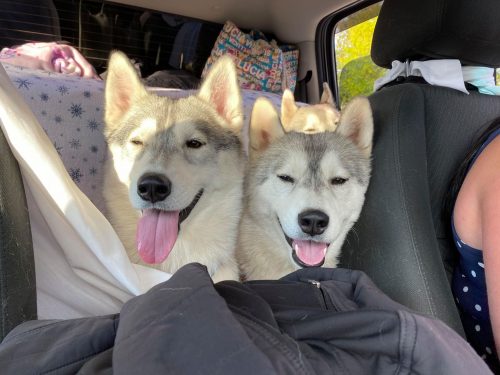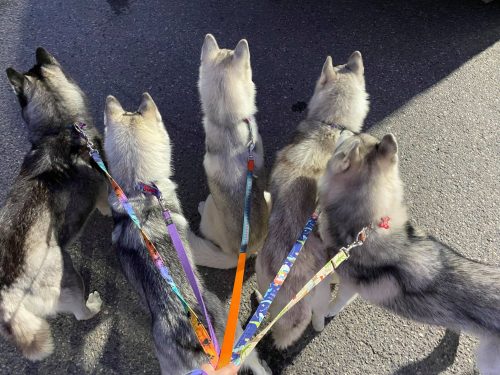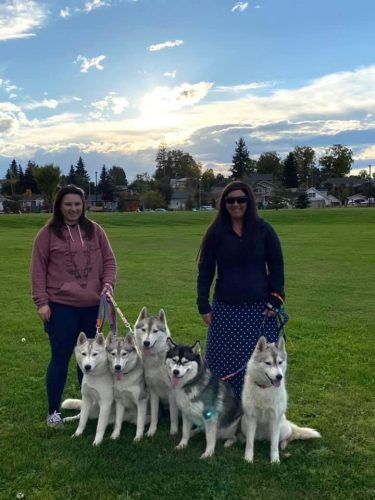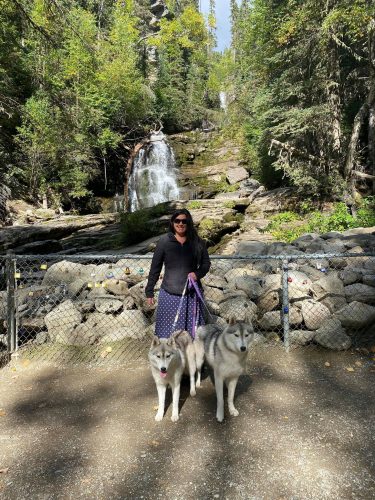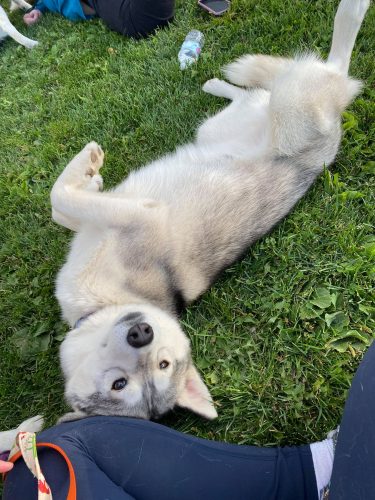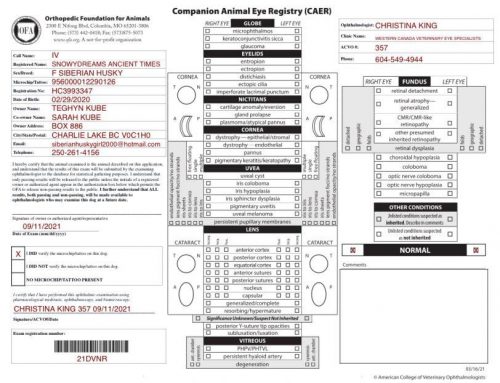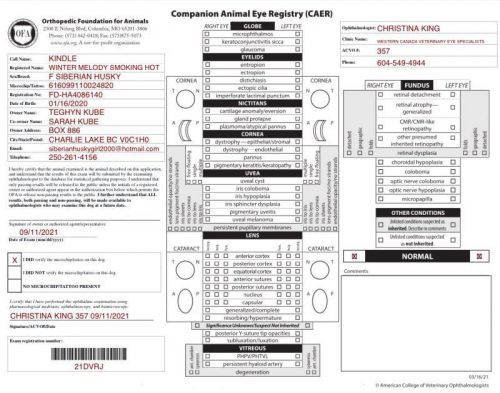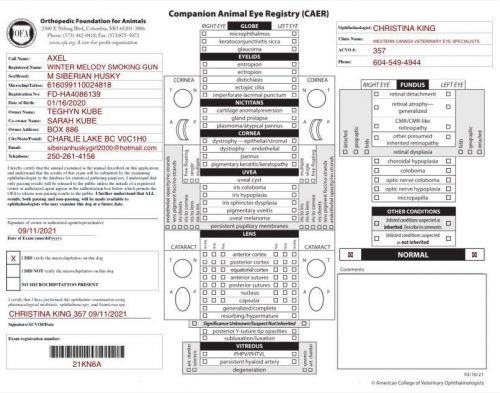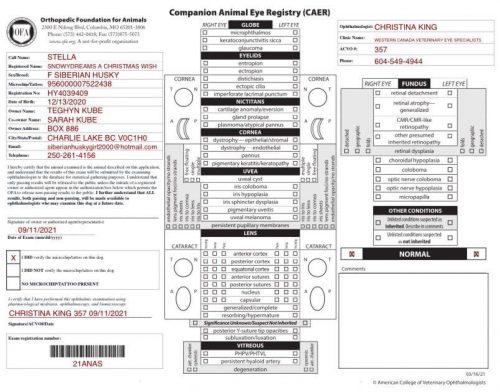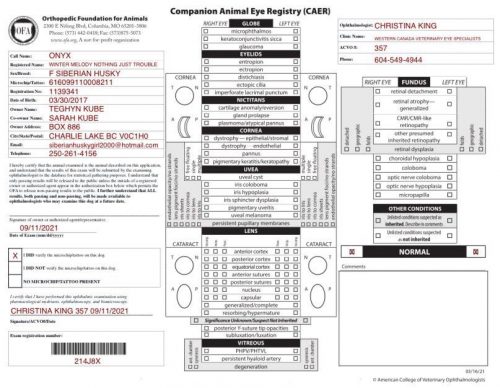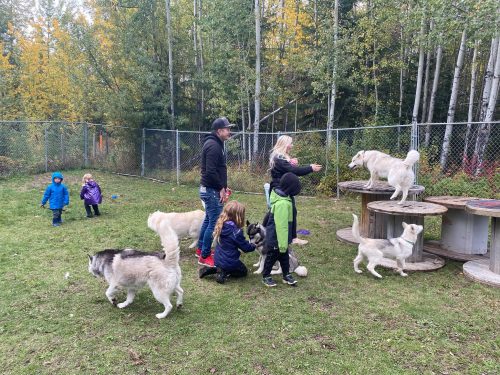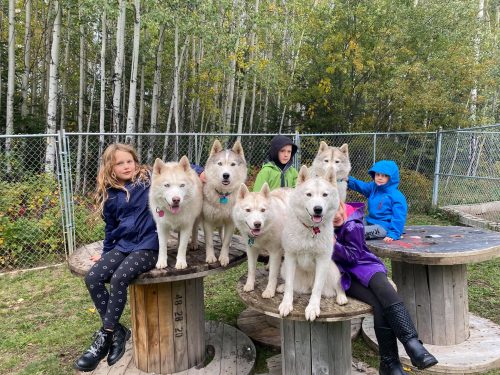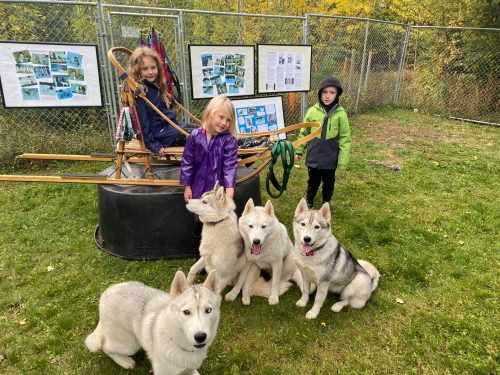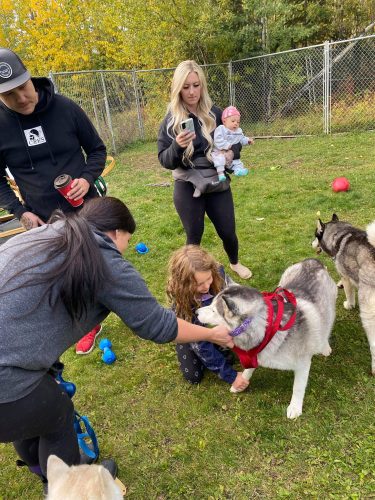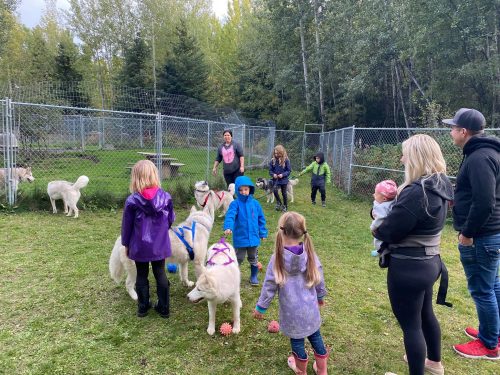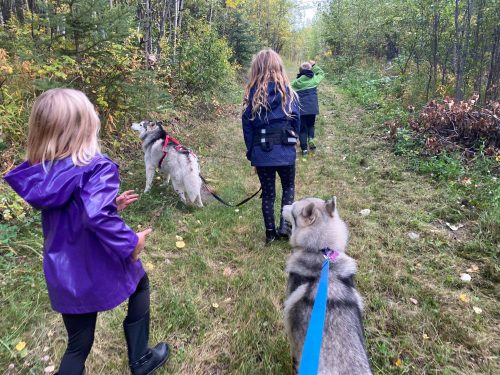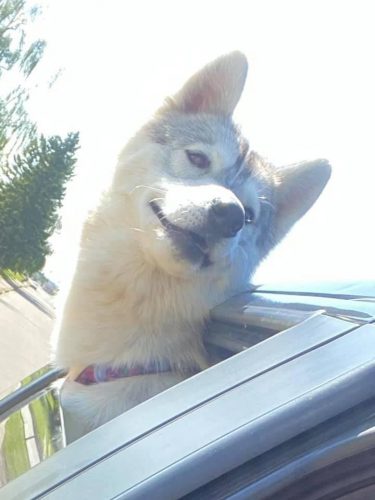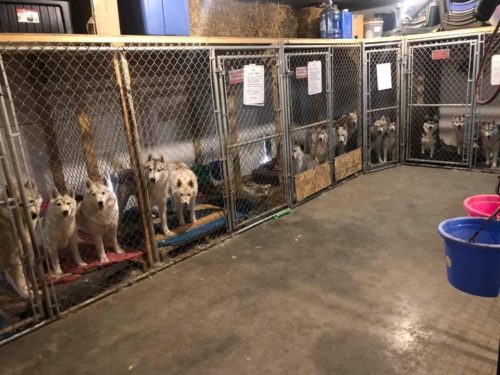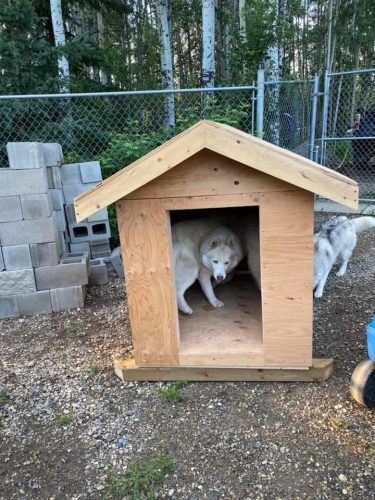 August 2021: My mom, Aaron and Aliyah left for the month of August to visit family on Vancouver Island, along the way she got to visit with several SnowyDream bred by pups including 2 from Faelan's most recent litter. So thankful for our wonderful homes that all stay in contact and who are always up for a visit! Love watching our pups grow up!! August 18, 2021 – Baby Mystic earned her Novice Trick Dog title at only 13 weeks old!! She is the smartest little baby and is so eager to learn, she's going to be so much fun!! Also, huge congratulations goes out to 'Luna' SnowyDreams Flowers In Bloom NTD who also earned her Novice Trick Dog title at 4.5 months old!! Well done to her wonderful owner, so proud of you both!! August 24, 2021 – We started beginner agility classes with Faelan & Glisten and we are all loving it!! So proud of the girls and how quickly they learn! Crate training is going very well for Mystic and Stella – they are angels in the crate! Mystic is fitting in wonderfully and everyone loves her! I have been taking her many places including friends and families houses, Canadian Tire, Zoo Foods, Pet Value and Winners for exposure and socializing, she loves everyone and everything! On August 15, 2021 our loving Iceka turned 12 years old!! Happy birthday Iceka!! On August 18, 2021 we celebrated two birthdays, our crazy Aura & Gambler turned 3 years old!! Happy birthday!! Down in the USA our bred by boy 'Cartwright' (Am Major Pt'd) MBIS/MRBIS UKC Ch. Snocrest's Good As Gold had an amazing weekend taking Winners Male and Best of Winners for a 5 point major towards his American Championship!! Huge congratulations to owners Shira Barkon (Snocrest Siberians), Melanie & Helen Kutska and handler Lisa Hall!! So proud of this boy!! Mystic has been going to tons of places for socialization and I am very happy to say she is a little spitfire!! So outgoing and loving!! We have also been taking the dogs to the river which has been super fun!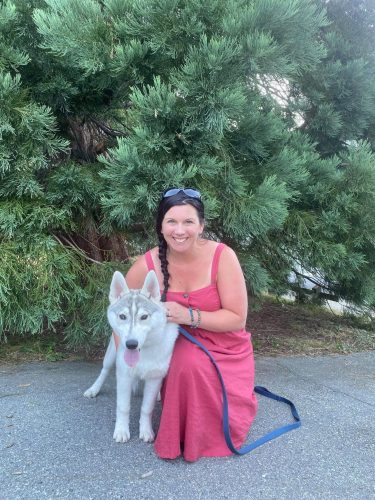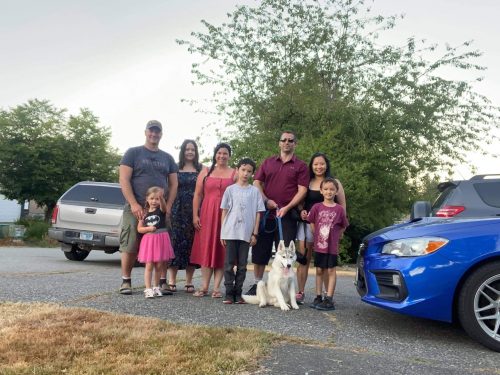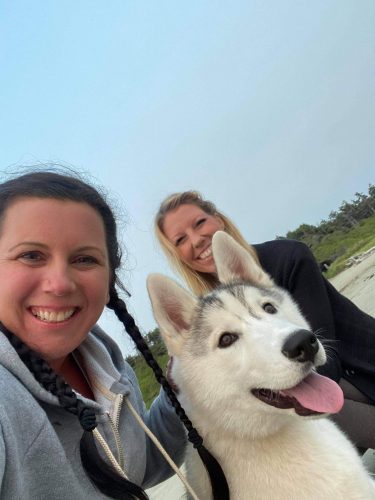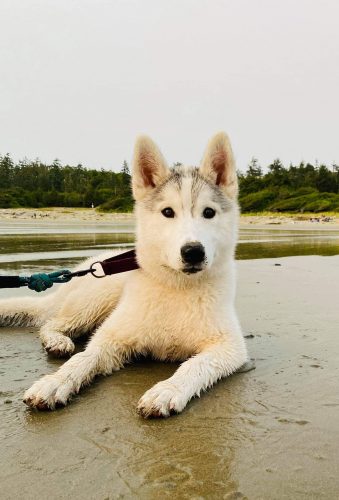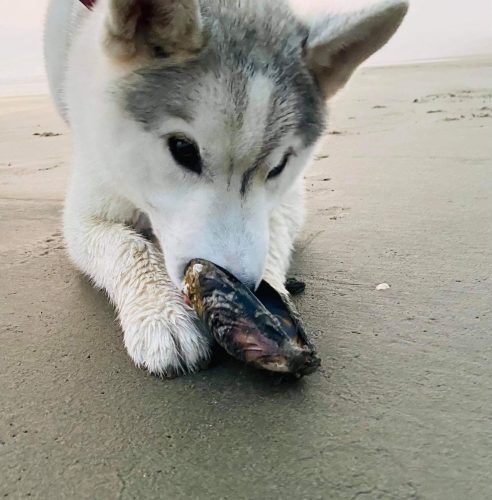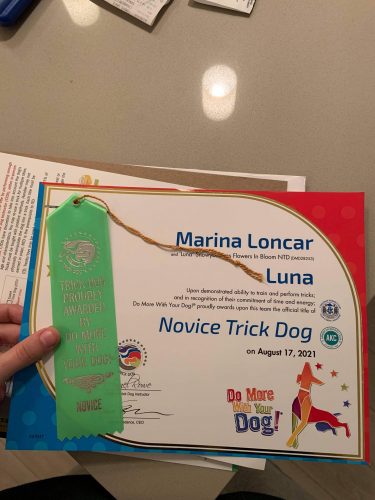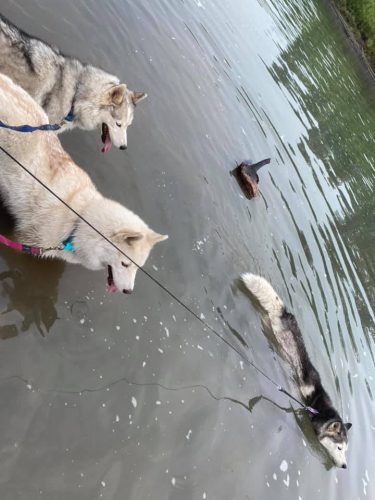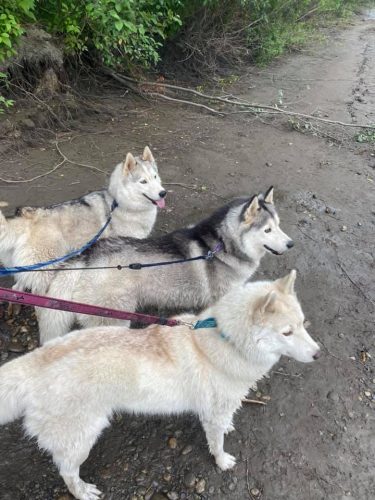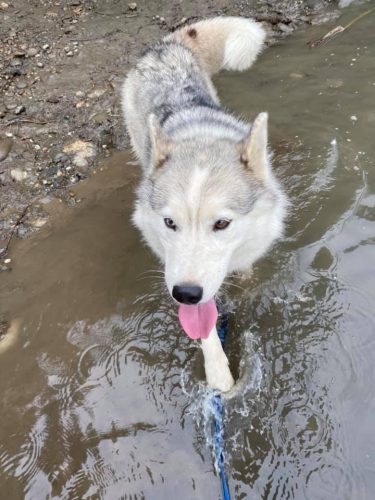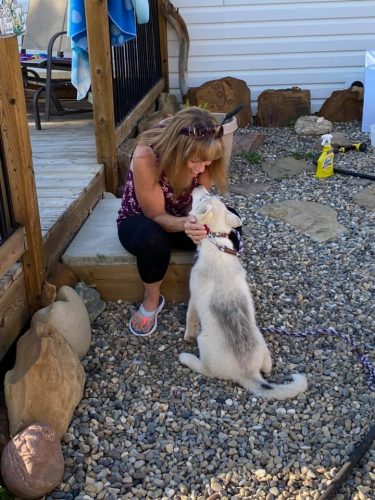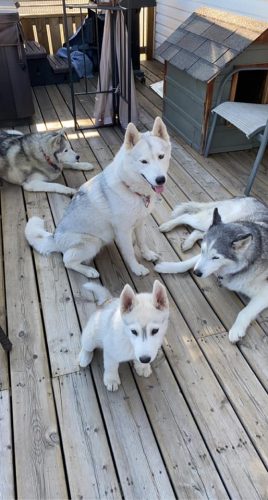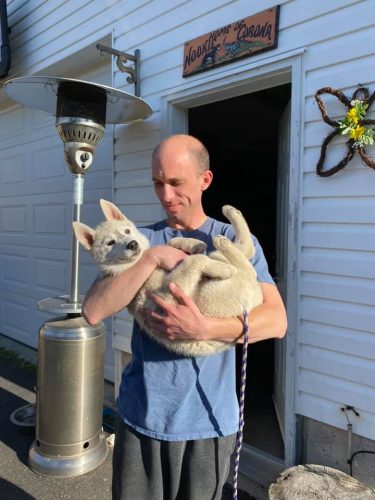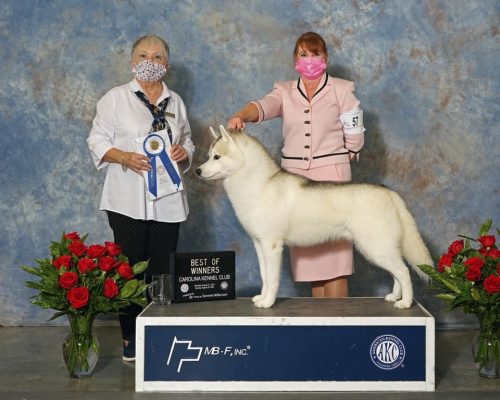 July 2021: On July 25, 2021 something 'magical' happened. A wonderful breeder who we have been following for years had a litter of puppies in May that we fell in love with, we reached out to her asking if any were available not thinking we would be lucky enough to have one come to us.. well we were offered a beautiful little silver girl who was (our) pick of the litter. We are so over the moon and extremely excited to introduce 'Mystic' Wolvereen Enchanted SnowyDream into the pack. Mystic is out of 'Leia' MRBIS Can/Am GCh. Wolvereen Force B With U (Whose pedigree we have had our eye on for many years) and sired by 'Blackmail' Wolvereen's Handsome Ransom Of Alka'siber (Who comes from running lines down in the states – which we are incredibly excited to introduce into our kennel). We want to send out a huge thank you to Cindy of Wolvereen Siberians for giving us this amazing opportunity and sharing beautiful baby Mystic with us. We look forward to the bright future ahead!! Mystic is fitting in like she was always here! We love when SnowyDream pups come to visit! Aspen's family went on a little vacation so Aspen came to spend a week with us here at SnowyDream, she had a lot of fun playing with the other dogs and our dogs loved having her over!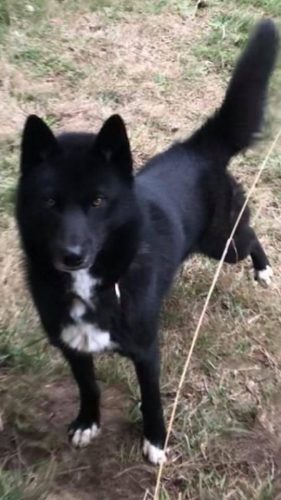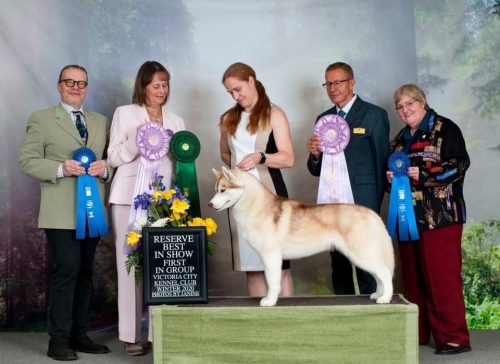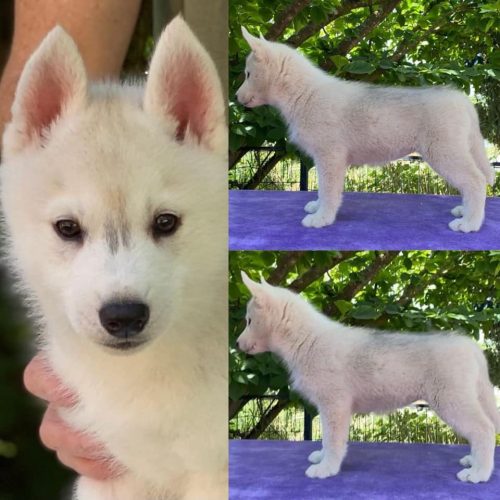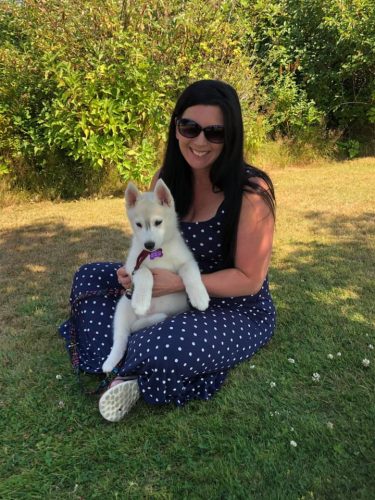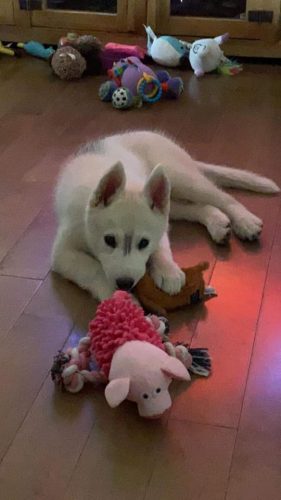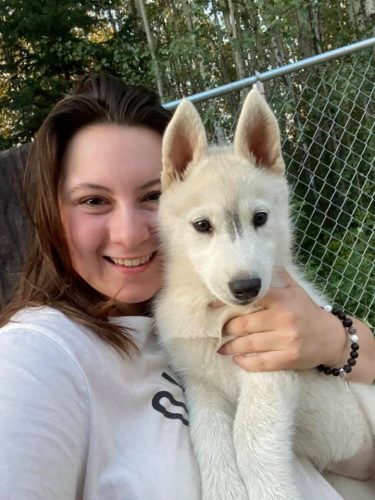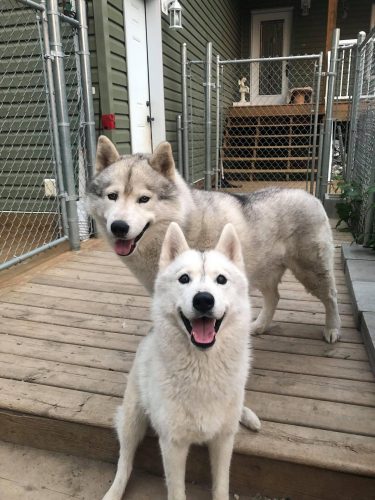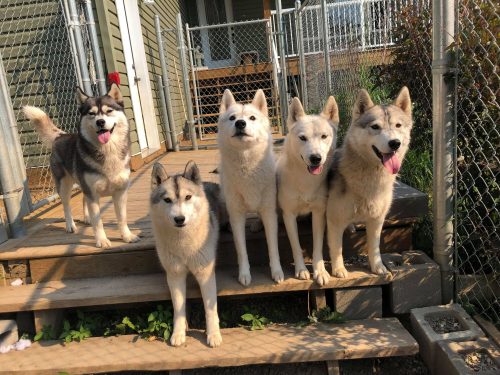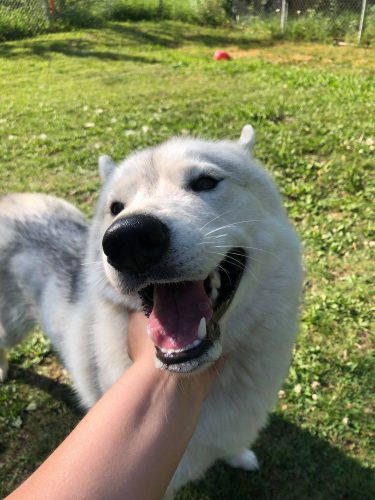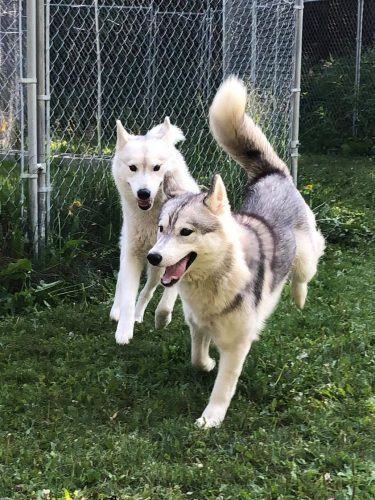 June 2021: June was a busy, but fun month! Something not a lot of people know is that sometimes importing dogs is a little tricky – Axel, Kindle & Onyx all come from a wonderful kennel in Poland and are FCI registered there before coming to Canada. Unfortunately, FCI is not recognized by the CKC as there are just too many different clubs within FCI. This means that it is a little more tricky to get the dogs officially 'CKC' registered. CKC gives a couple options on how it can be done. When we got Onyx, we were able to attend shows, once she got her Canadian Championship she was also given her CKC registration as her Championship proved she was a worthy Siberian. Sadly, with COVID we were not able to attend shows with Kindle and Axel which meant we had to go about getting their registration another way. On June 24, 2021 – We met up with a local CKC representative so she could evaluate if they were worthy dogs. We stacked them so she would see and feel their structure, they went through a little temperament test to confirm they had good temperament and correct personalities for the breed, etc. She loved them both and they both passed their examinations and evaluations. The CKC representative then sent her thoughts along with photos and videos of the dogs to 3 more CKC members (Including a CKC judge and former Siberian Husky breeder) where they confirmed they were worthy and both dogs were given their CKC registrations. A process but we are very happy with how well the dogs did and very happy they are now official Canadians!   June 1, 2021 – Faelan, Zara & Iv were awarded their 2k9 Ruff run titles!! June 7, 2021 – Sisters Glisten & Aura were awarded their 2k9 Ruff run titles!! June 9, 2021 – Stella & Onyx were awarded their 2k9 Ruff run titles, Stella's first title at 5 months old!! June 14, 2021 – Mia, Gambler & Dream were all awarded their 2k9 Ruff run titles!! Only 3 more to go and all 15 dogs will have their title! Trick Dog is one of our favourite titles, on June 7, 2021 Axel was awarded his Novice Trick Dog title, his second title! On June 9, 2021 baby Stella was awarded her Novice Trick Dog title, her second title at not even 6 months old!! So happy with our amazing dogs!! All 15 dogs have their NTD titles now <3 We bathed, groomed and took some updated photos of 14/15 dogs in the pack (Faelan also got bathed & groomed but photos will come once her coat grows back in from having a litter). Such a rewarding feeling when the whole pack is looking and smelling so fresh! I bought a dog life jacket and took Faelan out on the kayak!! Riley, Faelan & I headed to Heart Lake for a day of kayaking! Our original plan was to go to Cameron Lake (Closer to home) but the small lake was very busy, so we headed to the next lake (Moberly) and it was so windy I'm pretty sure the waves would've flipped our kayak!! So off we went to Heart Lake – a gorgeous little lake. When we got there it was pouring rain, we decided there was no winning that day and dropped our kayaks in the rain anyway! The rain cleared up within 20 minutes of being on the water and we had a wonderful day. Faelan was a super star, and Riley now considers her the "Perfect adventure dog" <3 I made ice balls for the dogs as it was so hot the end of June. I filled ice cream buckets with water along with apple slices, toys and treats and froze them so the dogs could use them to cool down! They loved them! Two more birthday this month! On June 3, 2021 our lovely Zara turned 5 years old and on June 6, 2021 our man Regal turned 7 (a veteran now!). Happy birthday kids!!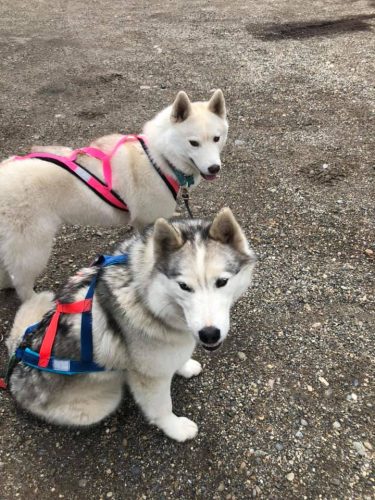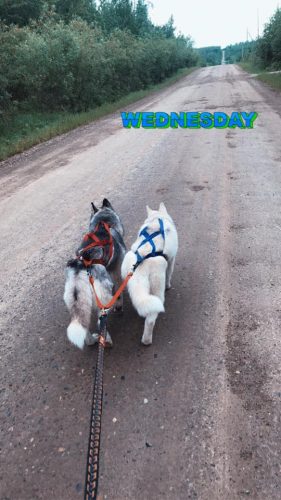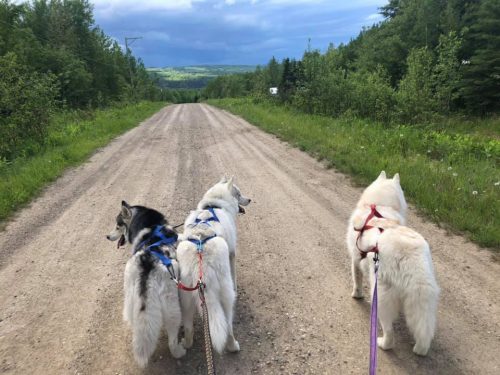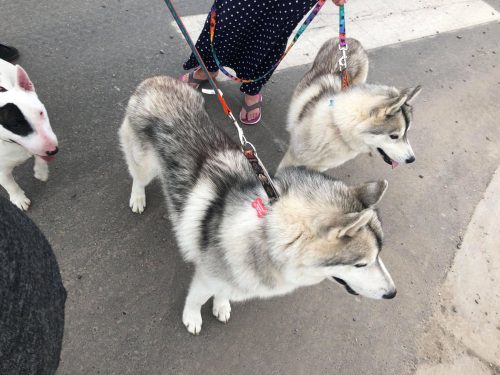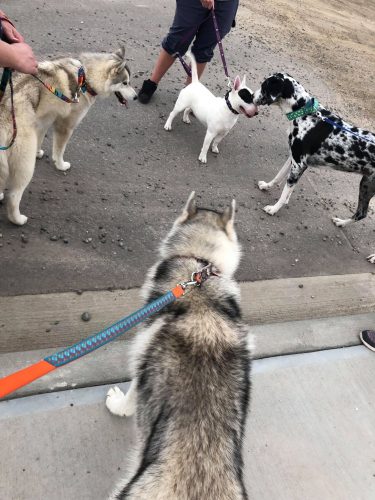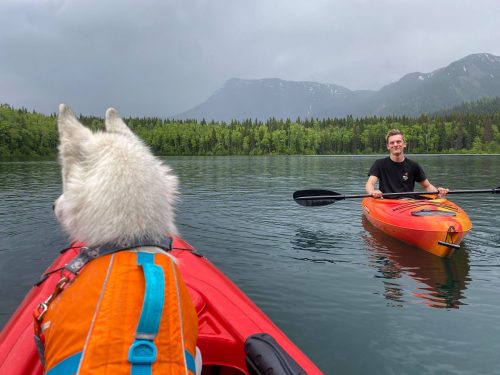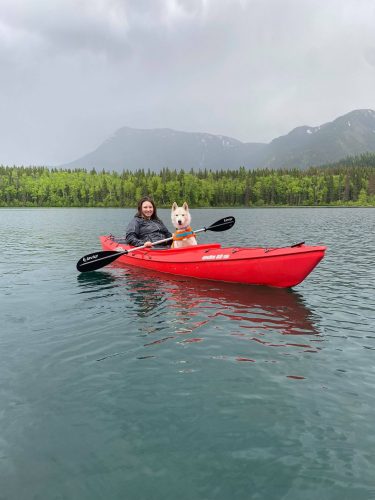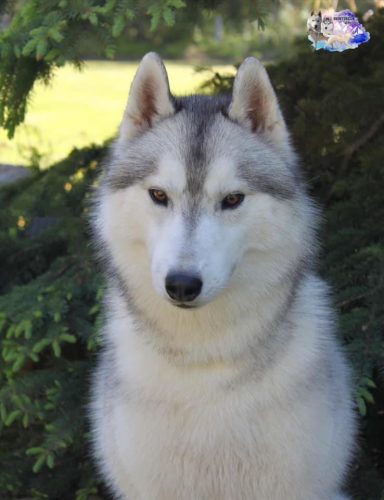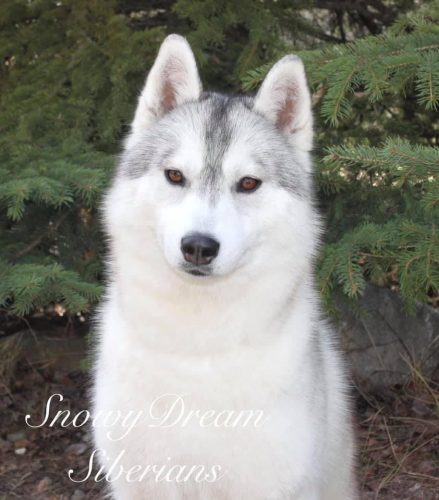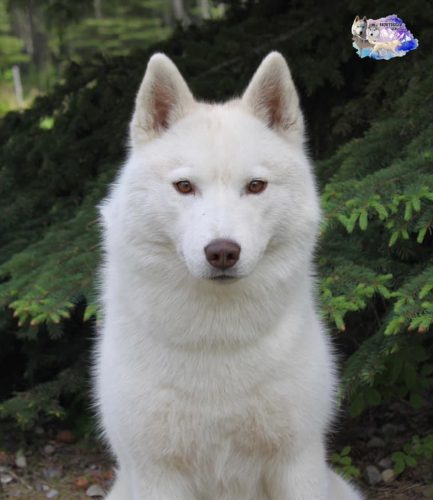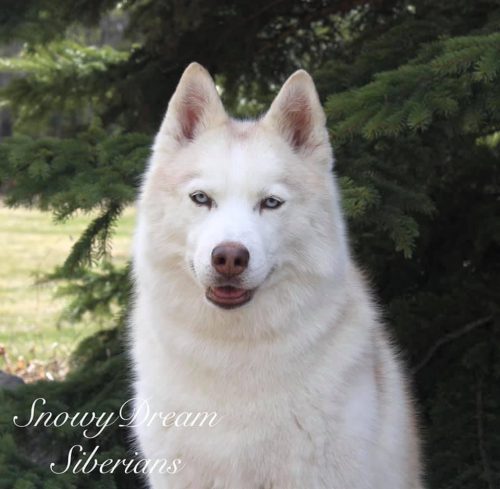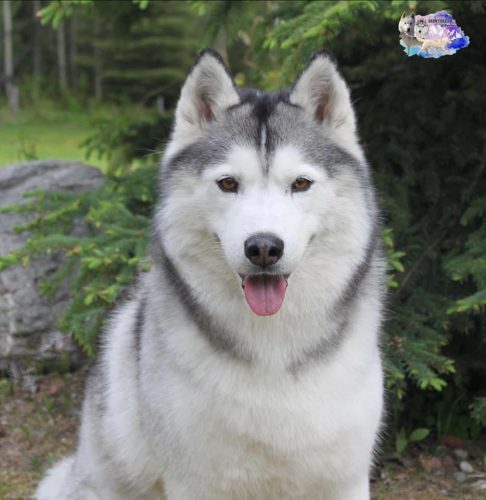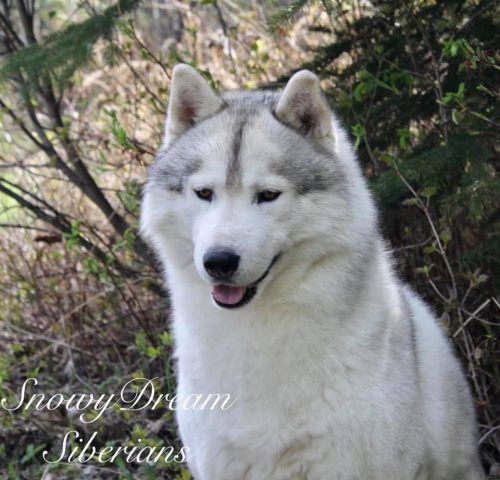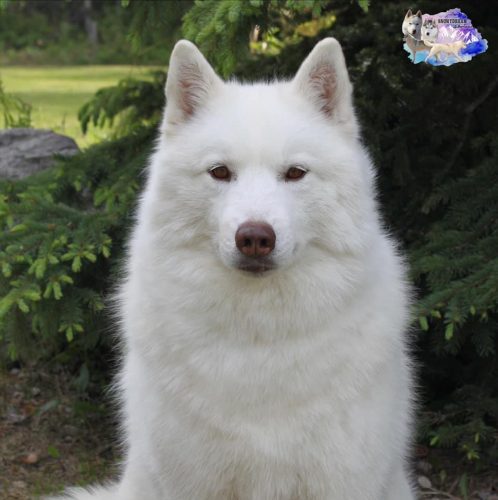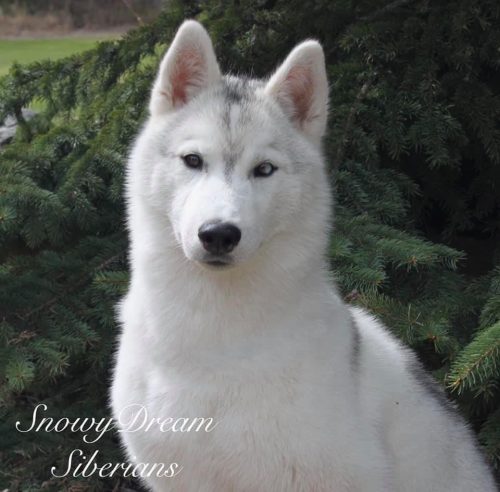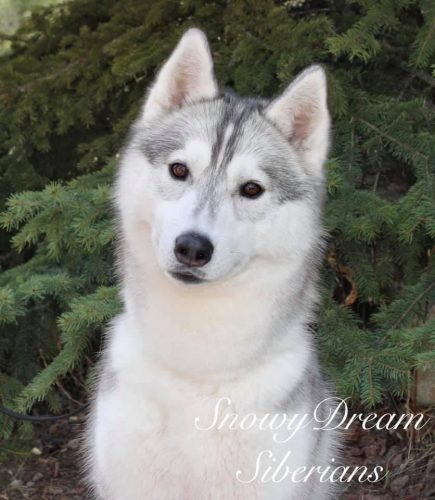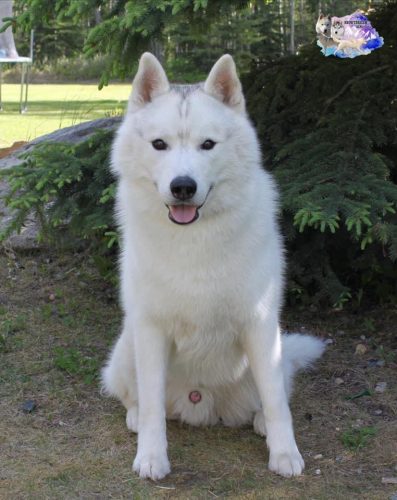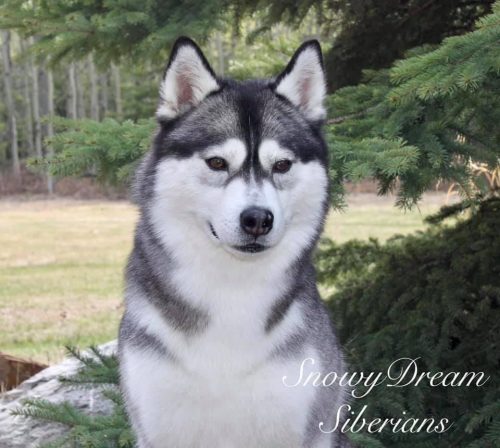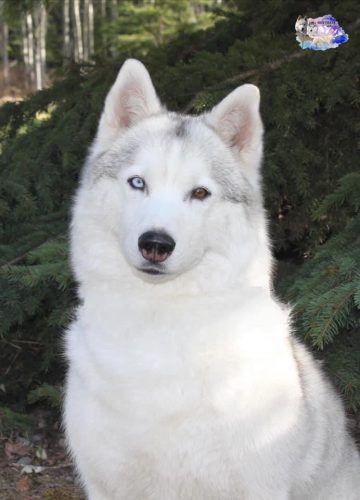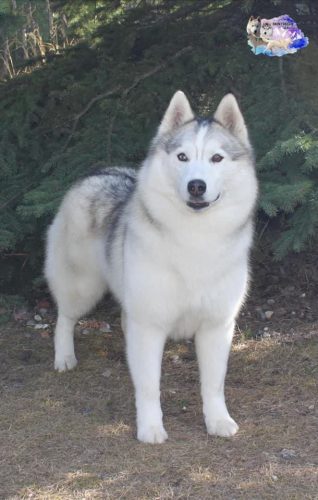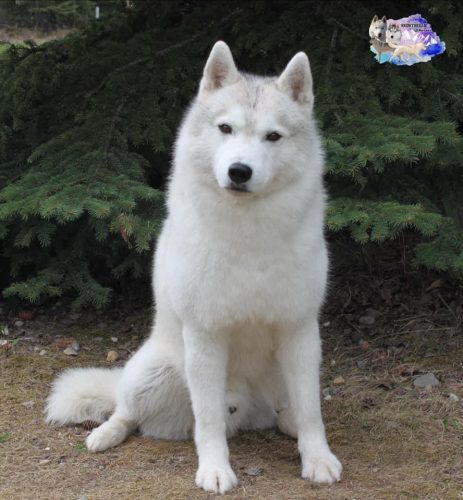 May 2021: We found out there was a new title being offered through DMWYD! and decided to do it with all the dogs! The title is called the 2-K9 Ruff Run and it is where you and your dog run 2km! Super fun to do with the dogs and one they can all get! We really love getting out and doing as much as we can with the pack! May 26, 2021 – The brother – sister duo Axel & Kindle were awarded their 2k9 Ruff run titles, this is Kindle's second title and Axel's first! We also got word that one of our puppies from Faelan's first litter was also awarded her 2k9 Ruff run title, congratulations Aspen & Alana on your first title together!! Super proud! We made a trip to Valley View on May 22, 2021 to meet up with the first family to pick up their new baby. Stella, Faelan, Luke, Iceka & Regal all got to tag along. We had a wonderful visit and are so excited for her future adventures. The next weekend mom & I loaded up the remaining 4 puppies as well as Faelan, Regal & Kindle and headed to Vancouver to deliver the pups to their new forever homes. It was so great getting everyone together and having a big group visit, we look forward to hearing about all the adventures these pups will go on! While we were there we got to visit with Lily (Faelan x Regal pup from the 2019 litter) as well as Schroeder who is from our Flare x Nitron litter!! Was awesome to see everyone! All of the 'Spring' babies are now in their new homes and we are so excited about their futures with this wonderful group of new owners <3 Thank you all for meeting us, and already loving the babies so much!! We look forward to hearing updates and wish you all the best of luck with them!! On May 14, 2021 our handsome Luke turned 7 years old, officially a veteran! Happy birthday Luke!! Also.. dog toy run!!!!!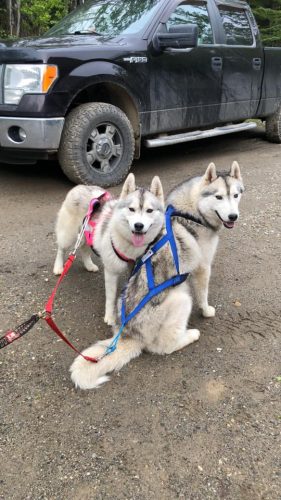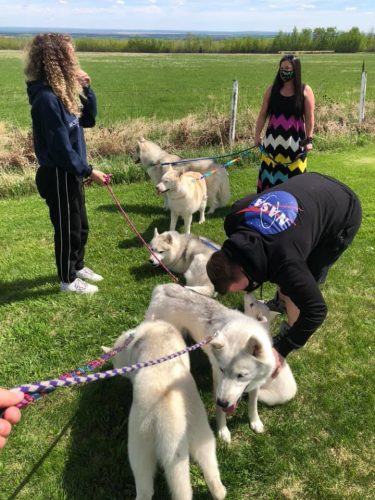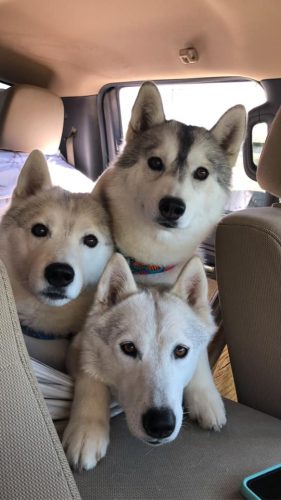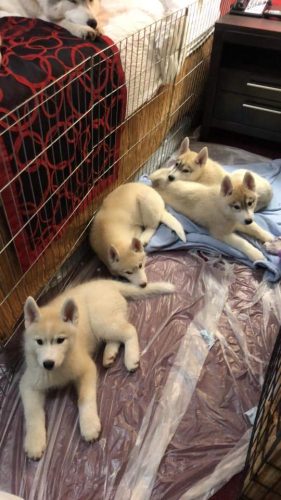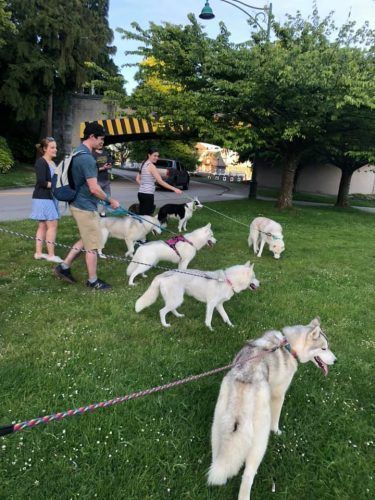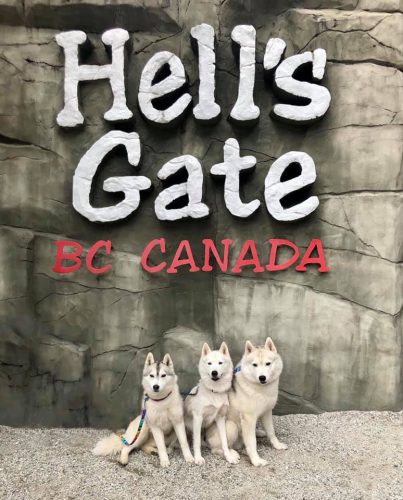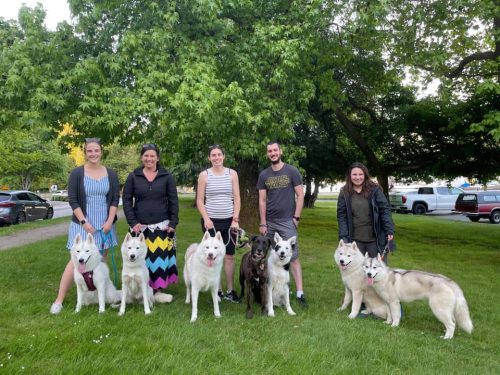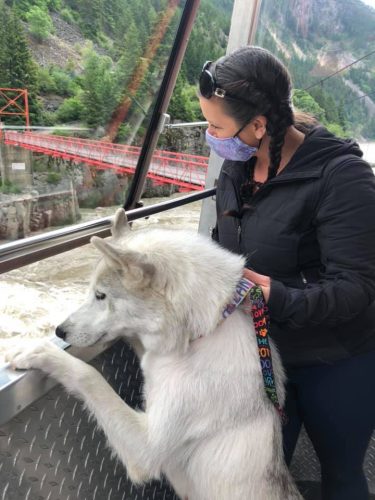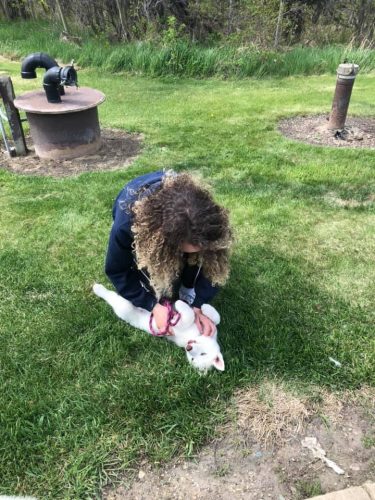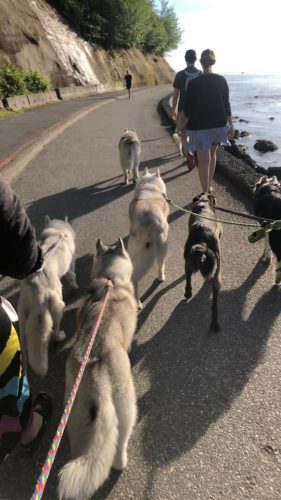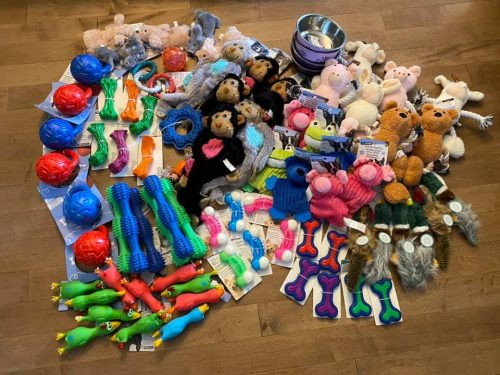 March 2021: March was an exciting month for us! On March 12, 2021 We welcomed a new furry family member into the pack, we would like to introduce 'Axel' Winter Melody Smoking Gun!! Axel is an incredibly beautiful dog with excellent, balanced angles, great leg length and a gorgeous coat. He is exactly what we had hoped for and much more. Axel is a full brother to our beautiful Kindle. When the litter was born we originally reached out to his a wonderful breeders (Winter Melody Siberians) to inquire about him, but he was already reserved for another home so they offered us his lovely sister Kindle. Well fate had other plans when Axel was returned from his original home in Russia and was offered to us. We were so excited to hear the news that he could come to Canada. Everyday we are thankful for Ewa & Jose for allowing not 1, but 3 of their beautiful dogs to come to Canada. We are very excited about our future! On March 22, 2021 Faelan & Regal blessed us with a beautiful litter of 5 puppies, 3 boys (2 grey & 1 red) and 2 girls (1 grey & 1 red). This litter was named after Spring things, Sunny, Boots, Splash, Flower & Bloom. We are so happy with this loving sweet litter and are excited to see them grow up and all the adventures they will have!! We celebrate two birthday the end of March! Our beautiful girls Faelan (March 26) and Onyx (March 30) turned 4!! Happy birthday girls!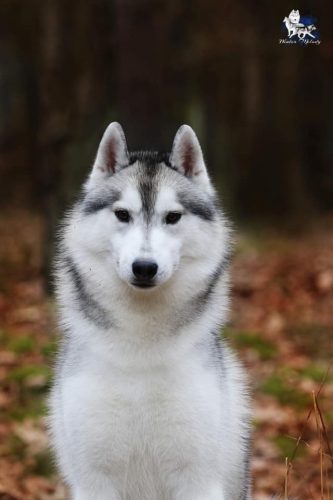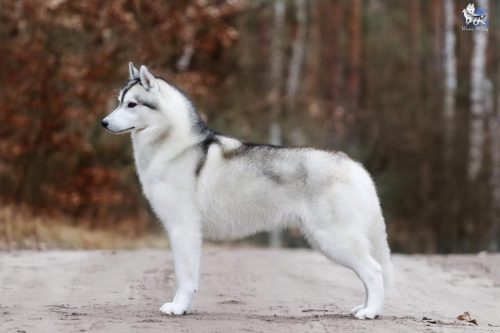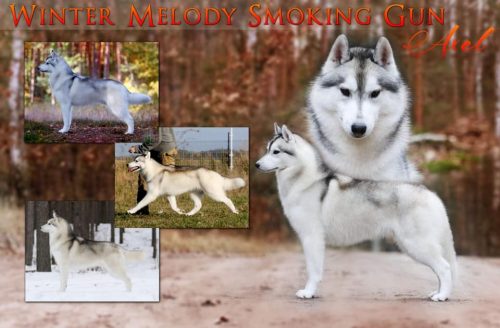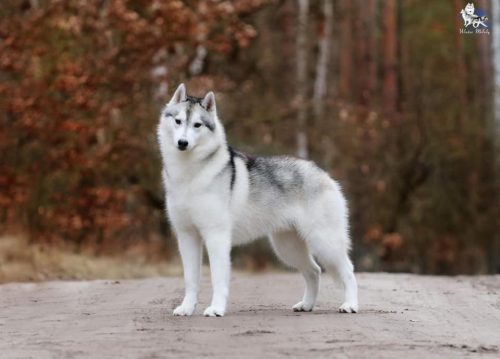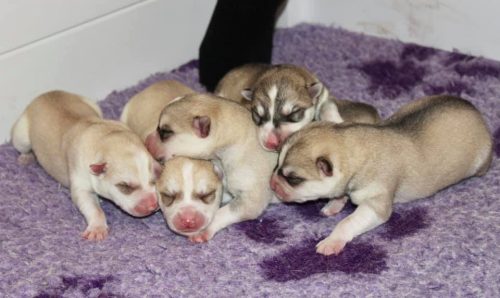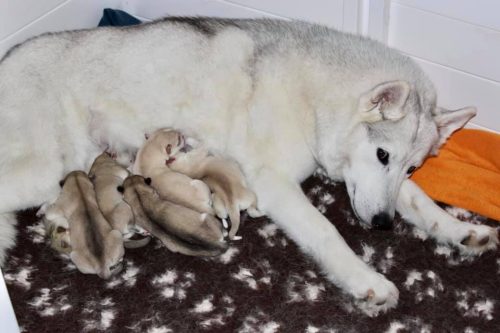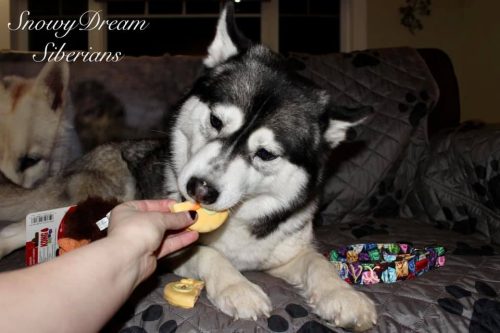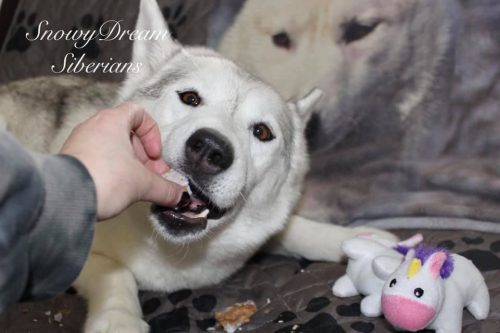 Spring 2021: Unfortunately this year we have been struggling with slander and social media abuse from a group of ladies who are all friends. Owner of Flame and several of her friends took it upon themselves to spread lies, post on public social media sites about us and share misinformation to the social media and dog show world about our dogs. This all escalated end of last year when she was very mad she had not received a refund for a health issue Flame had experienced – yet still refused to share his vet records and confirmation of his diagnosis of a genetic disorder with us. At this point Flame had not experienced a reoccurring seizure event. Flame then had an allergic reaction to Hydromorphone (the drug vets use while altering a dog) in which we offered support. This is a rare and non-genetic issue. She demanded a refund because of this and we explained to her that refunds were only given if the dog was diagnosed with a genetic disorder (as per contract). She had forwarded us an email thread between her and her vet asking her vet to tell us that Flame was diagnosed with a genetic issue, her vet had replied back saying that no further tests were completed to rule anything else out and that she 'thinks' it is epilepsy at this time (so no true diagnosis was given). All we wanted was a confirmation that it was indeed genetic so we could give a refund. She has told us that she will never stop with the bullying and slander, and unfortunately did this to her previous breeder in which she returned the dog. It is very unfortunate when breeders take a chance on a newbie and have it turn out like this, this is why I believe the sport is dying. I wish we would have listened to the breeders telling us not to sell her a dog, but we saw the good in her and the great potential she could have, this came to bite us in the butt.  Just recently (months later), Flame has been officially diagnosed with Idiopathic Epilepsy. We have now received diagnosis from the vet confirming Flame has a genetic issue, and she has been given a full refund (as per contract). We will remain here for Flame as a support for the remainder of his life, no matter what – as the dogs are #1 to us. Fact is, any breeder who breeds for a long enough time is going to run into problems and have issues arise at some point no matter how hard they try. Out of 52 puppies produced from SnowyDream we have produced 2 dogs with epilepsy (Flame & Rokkvi), 1 dog with cataracts (in which we also replaced as per contract), 2 dogs with zinc deficiency (which is very common in northern breeds), and a few dogs with an allergy to chicken by product (also very common). This does not include the litter born on February 15, 2015 in which produced cases of seizure puppies, this litter was planned out and took place under the supervision of the breeder/co-owner of the dam, which was a co-bred litter between her kennel and ours as we also co-owned the bitch. This was NOT a strictly SnowyDream bred litter, and is a pairing that was chosen by another breeder, yet still one we openly discuss. This bitch was removed from our breeding program after we found out her brother was diagnosed with Idiopathic epilepsy and BEFORE we found out she herself produced it. We are always very open and honest about what is happening in our pedigrees and within our own kennel, we even discuss everything right off the bat when we are reviewing potential puppy buyers through phone call/facetime. Very few breeders are willing to discuss the issues within their dogs and lines and I truly believe if a breeder says they have never produced an issue to run, as they are being untruthful. I would much rather know what's behind my dogs so when something unexpected happens I can reach out to my breeder and know they have potentially experienced it. We are very lucky to have 4 amazing breeders of our dogs who offer support and who we can trust, we will be forever grateful for their friendship and knowledge. We have come to the conclusion that the common denominator in the issues we have produced is our sweet Eden, and therefore we have removed all of her offspring from our breeding program this includes Glisten, Aura & Gambler who are with us as well as 4 others we co-own or who are in show homes. This means we removed 7 dogs from our breeding program in one year, not an easy thing to do but certainly the right thing. I believe this is what's in the best interest of our kennel and breed. We were originally going to remove the offspring of Eden's sister as well but after extensive research and discussing with several other breeders who have been breeding for 35+ years we decided to keep Faelan intact. What we have found is, like humans, you can have the same parents and pedigree, but still produce issues on one side and not the other. Not every offspring is a 50/50 mix of their parents, some are 90/10, some 60/40 and so on. In our research, we have found that genes mix in different ways and this means that even if one dog was to produce an issue that does not mean that the sibling to that dog would also produce that issue, and so far we have found this to be true. Eden produced a total of 16 puppies with 3 different studs, resulting in 2 puppies diagnosed with epilepsy. None of Eden's offspring were ever bred. Flare (full sister to Eden from another litter) produced a total of 11 puppies with 2 different studs, resulting in no seizure cases at all, still to this date. Faelan (daughter to Flare)  has produced a total of 9 puppies all with Regal, who to date have no issues whatsoever. Ashur (brother to Faelan, son of Flare) produced 2 puppies and as far as we know, neither puppy has experienced any issues to date. Iceka (dam to Eden & Flare) produced a total of 9 puppies all with the same stud, none of which have ever experienced any genetic issues. Eden & Flare's sire has sired over 100 offspring with several different bitches and pedigrees, when you breed a dog this many times to so many different pedigrees, of course issues will pop up somewhere, this does not mention the 100's of puppies he has sired who are perfectly healthy, his 100's of grandchildren who are perfectly healthy and so on. This is the heartbreaking fact of breeding, it is not for the faint of heart. Nobody breeds to produce issues, we do all we can to ensure we are producing sound, happy, healthy and loved dogs and placing them in the right homes. I truly believe we are doing very well. We should not have to explain ourselves to the people who fall into the lies others are spreading, but when simply asked upfront by people actually wondering why we do the things we do, we will always share our knowledge and reasoning. I am putting this all on the website for anyone wo wants to know the truth of the story, we have no issues sharing our experience and will continue to do so, even if it turns people away. We notified all the families with these pedigrees so they have the knowledge incase anything comes up. We will continue to do the best we can, and thank our breeders for standing beside us and offering support and knowledge in our choices. I would also like to clarify that Gambler has been under 24 hour watch, sleeps inside every night and has not yet had a reoccurring seizure since his one the previous owners told us about in August 2020 (which we never received any proof or confirmation of). So we will continue to keep a close eye on him and wait for the chance he 'may experience one'. Unfortunately we are still dealing with the slander and misinformation being spread about us and our dogs, but will always wish the best for our dogs and their owners and always be here to offer help and support when wanted. I also want to thank all our amazing puppy homes with SnowyDream dogs who reached out to us to let us know this was happening, offer support and love, and for putting your trust in us and our dogs, amazing homes like those are the homes that keep breeders going. Thank you to the many many breeders and dog show competitors, not only in Siberians who offered to write us referral letters and offer support. THIS is what the sport should be about, everyone coming together and showing compassion for one another. Love you all!!
February 2021: On February 29 (Well the 28th this year lol) our sweet girl Iv turned 1 year old! Happy first birthday baby!!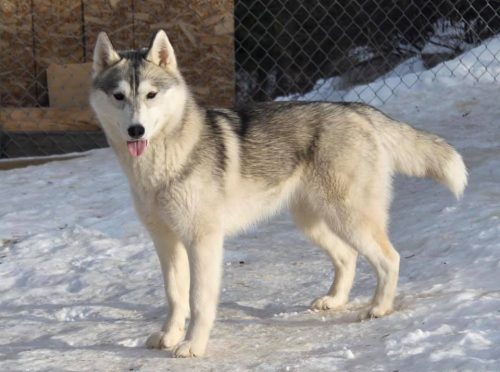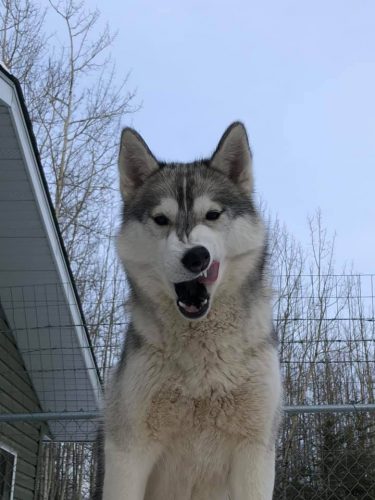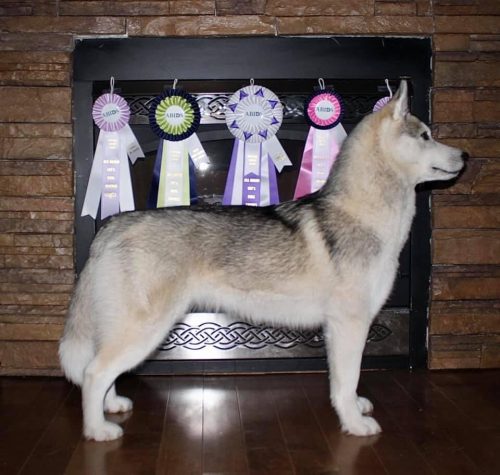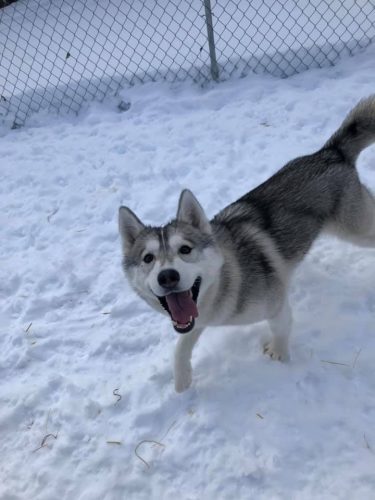 January 2021: We are so blessed we made a pawprint photo with all the dogs pawprints as we started the 2021 year out in the most heartbreaking way that a dog owner can. On January 23, 2021 we said a very heartbreaking goodbye to our beautiful Flare Bear. From the moment we realized something was off we took her into the vet, we did absolutely everything we could to save her but ultimately it came down to quality of life over quantity. Flare was always the type of dog to please, and if we wanted her to she would have kept on living just for us for as long as she physically could, but we had to make the decision to do what is best for her and her well being over doing what is best for us and allowing her to live in pain for any longer. Flare was the most special dog and was the first puppy born at SnowyDream, she will forever hold a huge place in our hearts and will forever be our SnowyDream Come True. We miss you everyday Flare and no amount of time would've been long enough with you. Thank you for being so gentle and so kind to all you met, you were the most incredible dog and will be loved till the end of time. Run free with your sister, and never stop sleeping on the backs of ALL the couches in Heaven. We love you Mousie <3 On January 6, 2021 our loyal girl Dream turned 8 years old! Happy birthday Dream!! On January 16, 2021 our gorgeous Kindle turned 1 year old!! Happy first birthday!!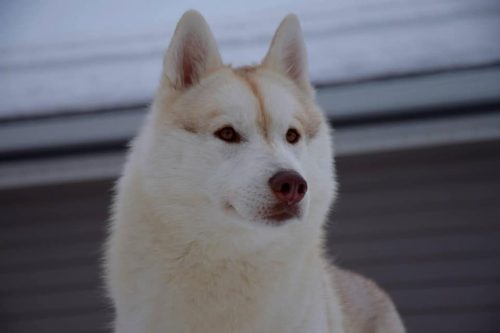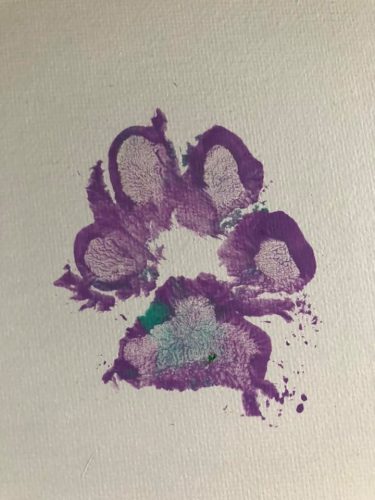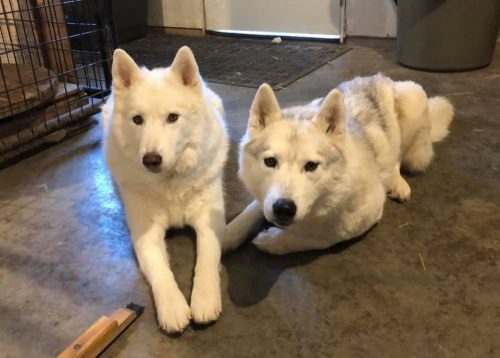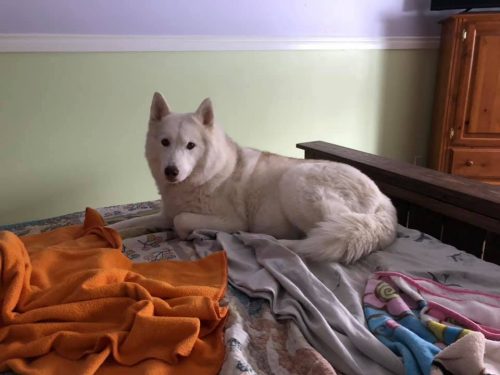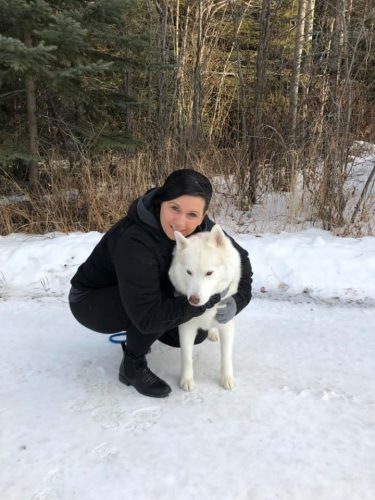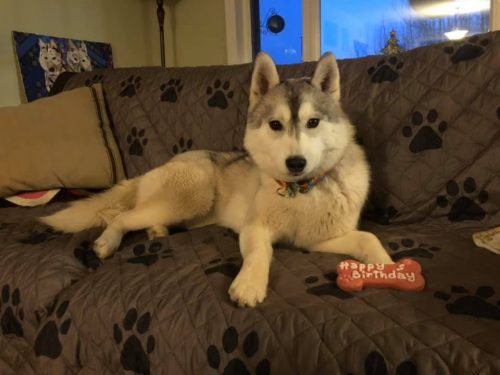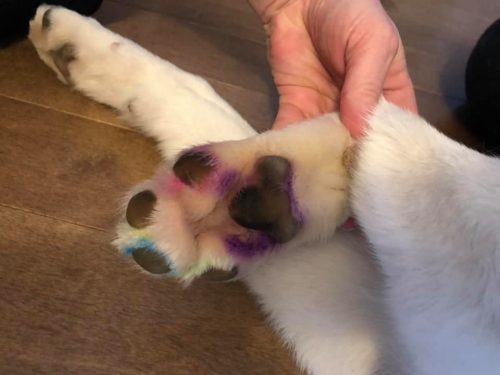 December 2020: In December a very special thing happened. After multiple attempts to have a litter with our beautiful Zara, we had no luck with her conceiving a litter. We decided to try one last time before we had her spayed, this time with a different male. We patiently waited as the weeks went on and then something amazing happened, we felt puppy movement!! Such an amazing feeling to know we were finally going to have Zara babies!! We love Zara so much, she is beautifully structured, has an amazing pedigree and is the best sled dog we own! 1 week before her due date we had an x-ray done and found out that we were only expecting ONE! On December 13, 2020 our miracle Zara baby was born via C-Section at our amazing vet clinic (Rivers Animal Hospital) and from the moment she entered this world she stole the hearts of all around her, a perfect little silver & white puppy with the most beautiful markings. We were in tears, over the moon happy with our new special baby, so she needed the most perfect name – 'Stella' SnowyDreams A Christmas Wish will remain with our pack here at SnowyDream and we love her so much. Wishing everyone a very Merry Christmas and a Happy New Year!!!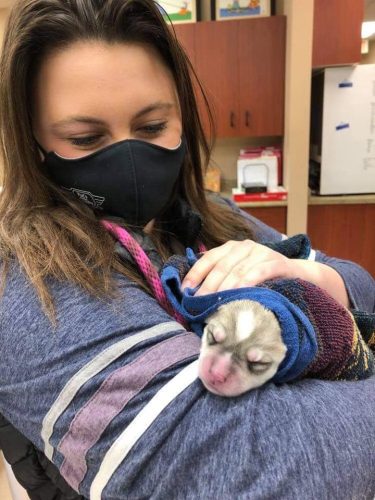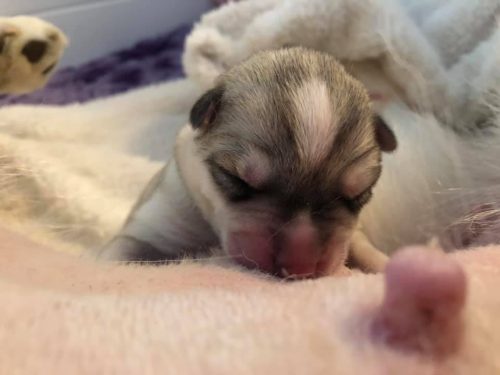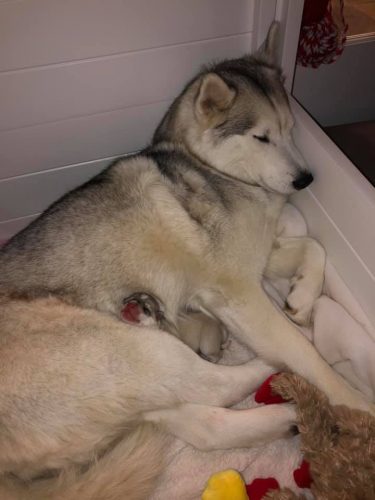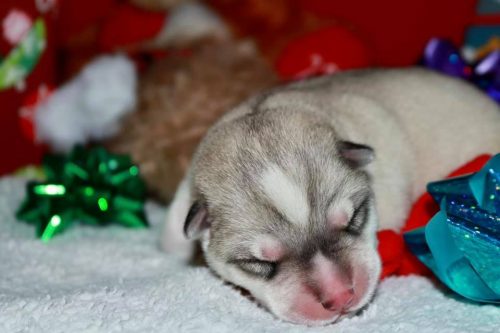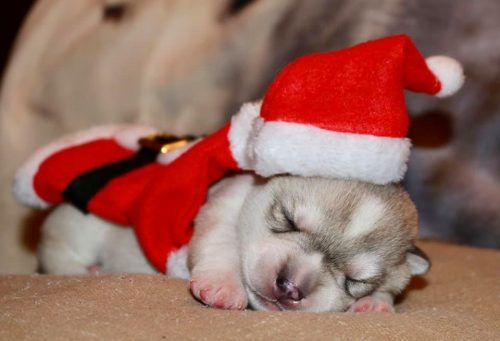 October 2020: On October 10, 2020 our sweet boy Gambler was surrendered back to our pack, he was not doing well in his previous home and was in his best interest to come back to us. We are happy to say that Gambler is doing very well here, being a very good boy and loving life. It is like he never left and we are very happy to have him back home. Dec 2019, brother to Gambler & Aura had experienced a health issue and we made the decision to have both Aura and Gambler altered and removed from our breeding program. As a reputable breeder, we strive to produce the healthiest dogs we possibly can and no matter what health tests, how much research or how much you try to produce only the best dogs, life will take it's course and things will pop up out of nowhere. Sometimes this is from lack of knowledge and lack of communication between breeders, but in most cases this is just life taking its course. As in humans, sometimes things go wrong and genes don't mix between parents and issues can pop up, and unfortunately this happened to us. In August 2020 we received word (third party) that both Flame and Gambler (owned by very close friends) had both experienced a seizure. We were in absolute shock. We offered a refund/replacement puppy as per contract, which would be given as soon as we received conformation that they were diagnosed with a genetic disorder. Neither owner could provide this information. We were very upset that the owner of Flame did not even take him to the vet after this event, so had no idea what caused it and he was not checked out by a vet. Gambler's owners had told us they had taken him to the vet to be looked at thankfully, but no vet records were being provided to us which had us confused and questioning as to why. We tried several times to get vet records on both the boys with no success. We also had offered to take the boys back with no hard feelings, to which both owners declined. Later, we received an email from Gambler's owners stating they had decided to return Gambler to us. We had offered them a replacement puppy and further offered to still hold up the contract (If deemed Gambler had a genetic disorder) even after he was back in our care. We set up a date to bring Gambler home, and after he was back in our care his former owner made a huge public Facebook post filled with lies (and few truths) about Gambler and about the situation. We understand they were very upset with what had happened but we were upset ourselves about the lies they were spreading about him. We want to say a thank you to Rivers Animal Hospital for all you did for Gambler even without his records, he is now in great hands with our vet if any future issues arise.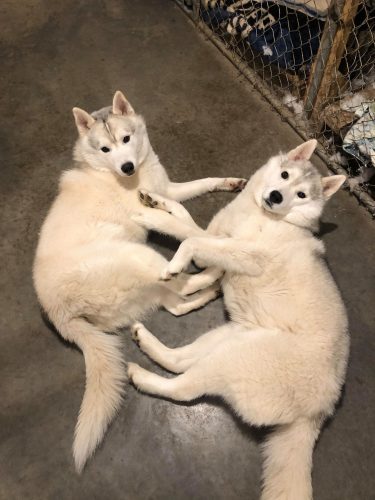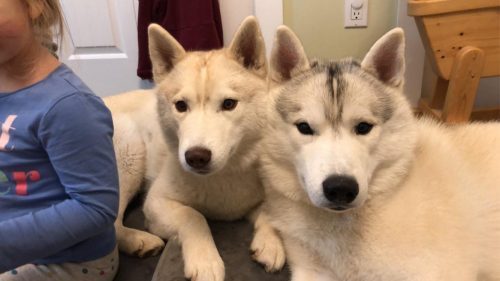 September 2020: Wow, still no shows in Canada! We have been doing some fun online shows with the dogs where you send in photos and videos of them and judges judge based on those. Every single one of our dogs have won something at an online show! Their biggest wins are:
Iceka: Multi Best Veteran in Shows
Flare: Multi Best Veteran in Shows
Dream: 3rd Place Best Rally Champion & 4th Place Working Veteran
Luke: Award Of Merit Best in Show (All Breed)
Regal: Multi Group Placements
Mia: Best Compaion Dog in Show
Zara: Working Group 4 & Best Miss In Group
Glisten: 1st Place Best Show Stand & 1st Place Most Beautiful Female (All Breed)
Faelan: Multi Group Placements
Onyx: Multi Group Placements
Aura: Working Group 3
Kindle: Multi Best Puppy in Groups
Iv: Best Baby Puppy in Show & Best Puppy in Group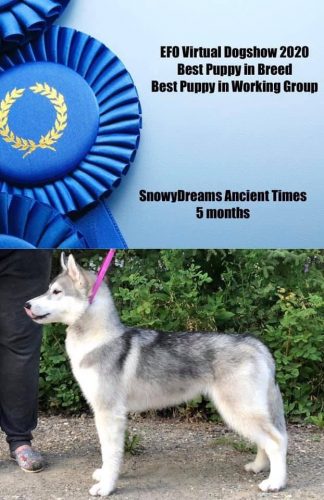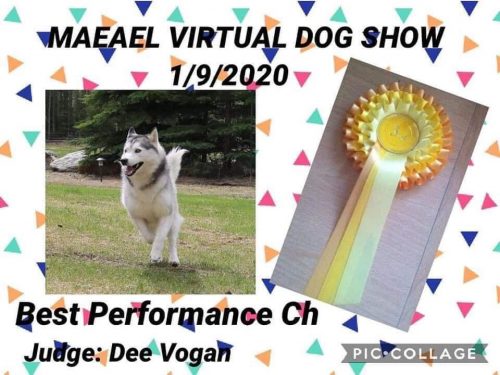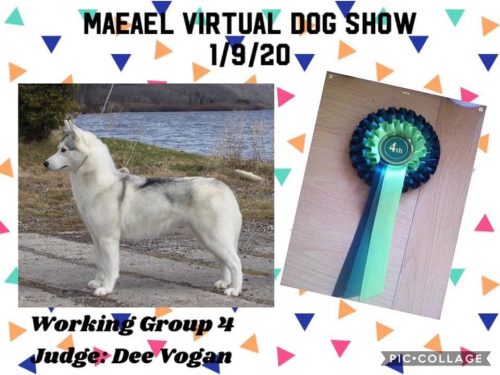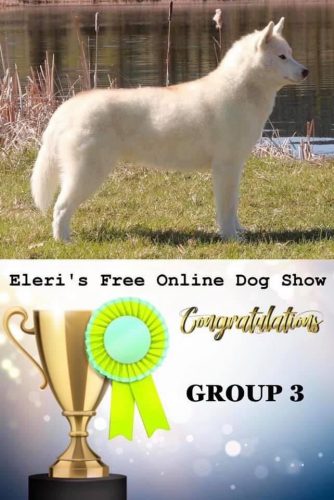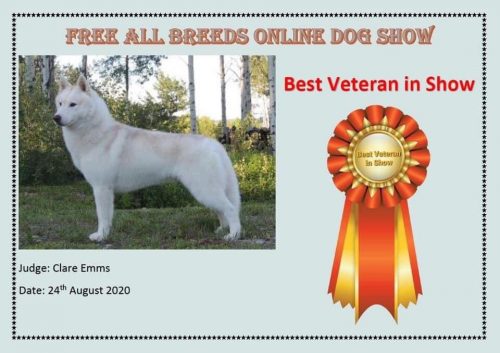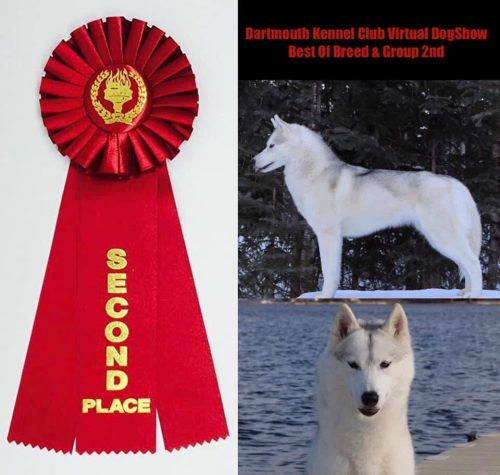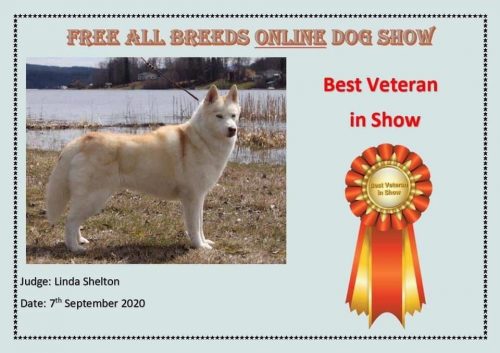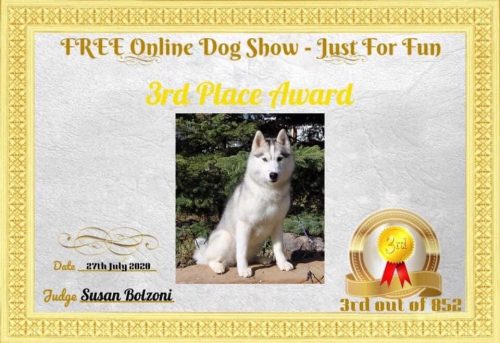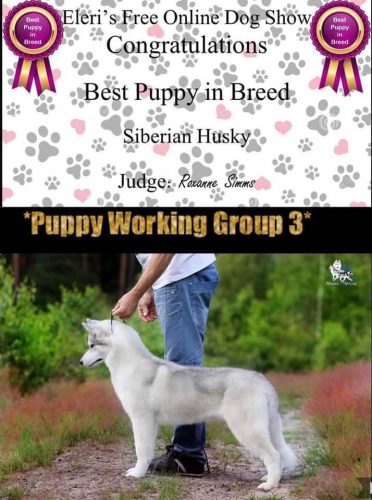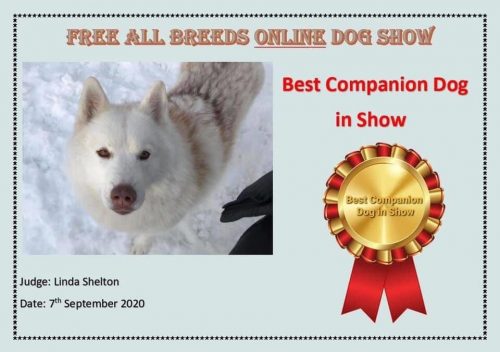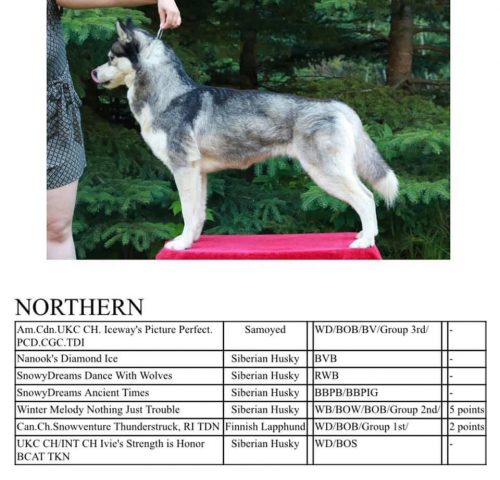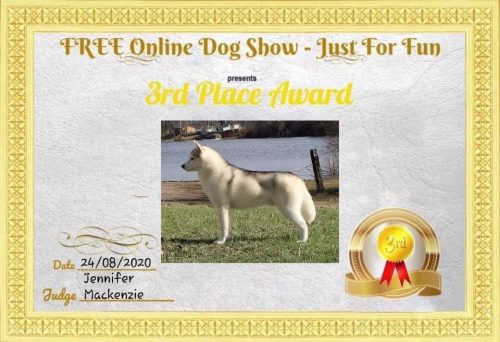 August 2020: August 3 – Baby Tsar (formerly known as Julius) was finally able to cross the border to the USA to be with his wonderful new family!! All the pups are now in their forever homes and are doing wonderful!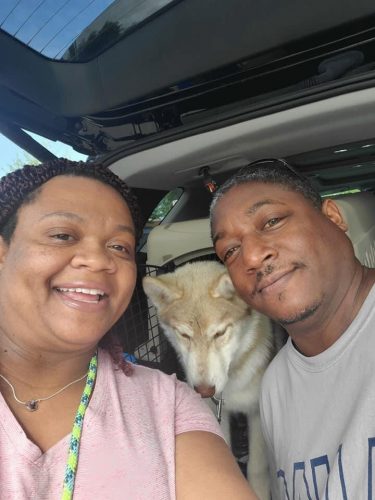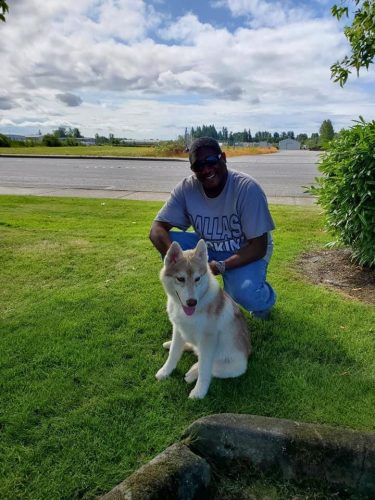 July 2020: July was a month that brought us a lot of joy, Flare & Zara were awarded their NTD titles!! But the big news of July was that we welcomed a new additon to our family, Covid made it very hard for us to get Kindle to Canada and after months of waiting and trying she finally is home with us <3 We welcome 'Kindle' Winter Melody Smoking Hot into our pack!!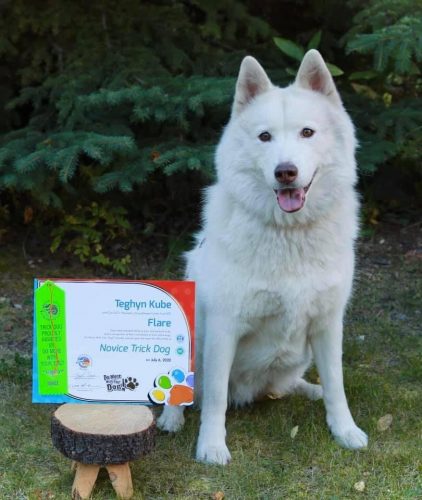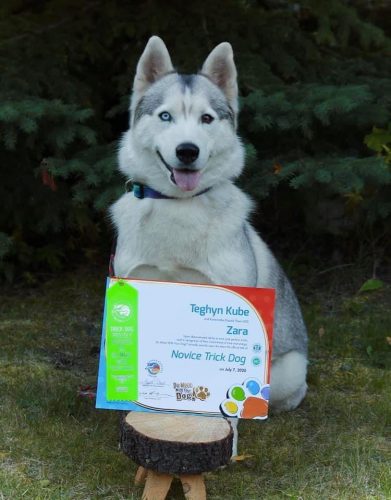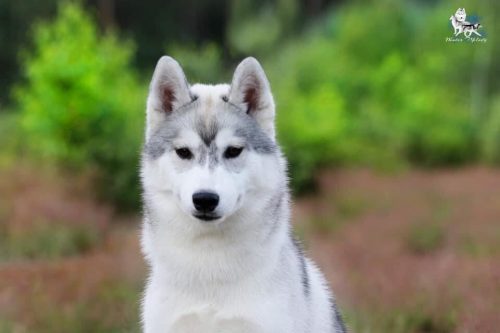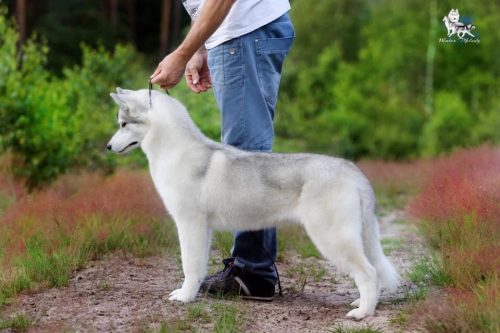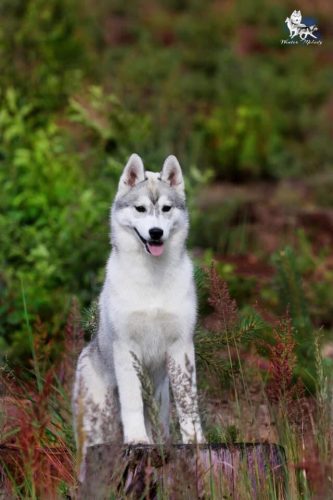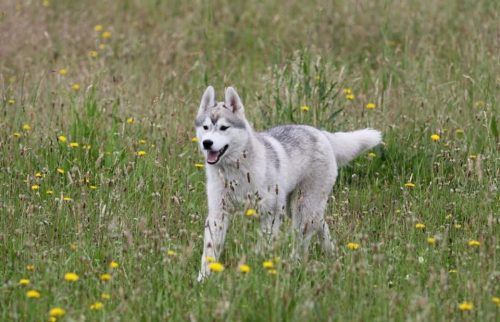 June 2020: June was another great month for Trick Dog titles. Aura, Luke and Regal all gained their NTD titles! We are also proud of some of our families as Qanik (Luke x Eden) and Majla (Onyx x Luke) also earned their NTD titles!!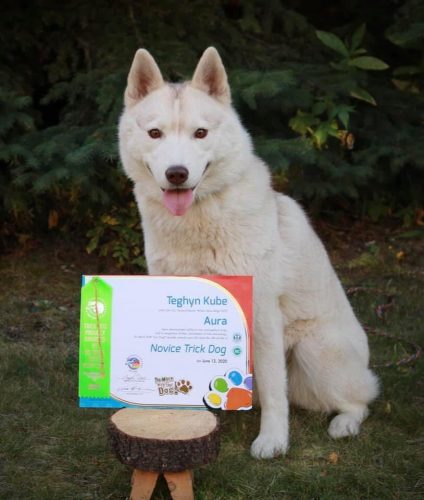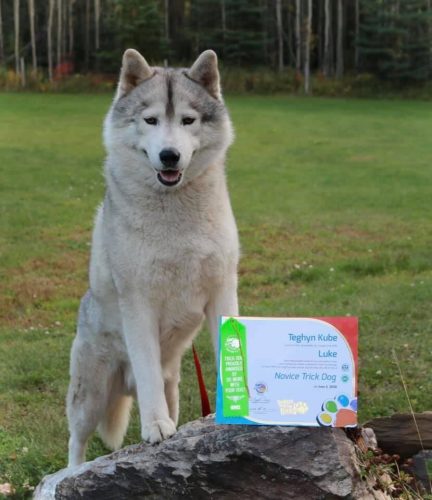 May 2020: May was a very busy month for us. May 2 – Baby Mira (formerly known as Tetra) went to her new home with her wonderful new family. May 9th weekend – We travelled to Vancouver and lived out of the truck for a few days so we could deliver 3 more of the pups to their wonderful new homes, Poppy (Roma), Charly (Caesar) and Majla (Cleo). We also wanted to try something new, since their are no shows due to Covid, so I started training the dogs for their trick dog titles! In May, Iceka, Dream, Glisten, Mia, Faelan & Onyx all earned their NTD (Novice Trick Dog) titles!!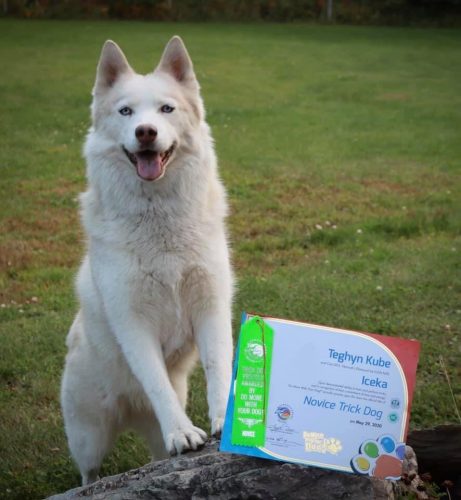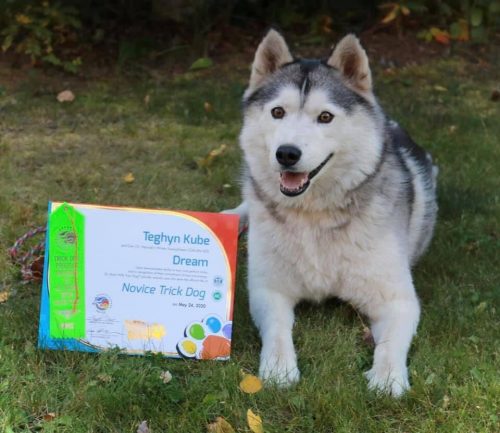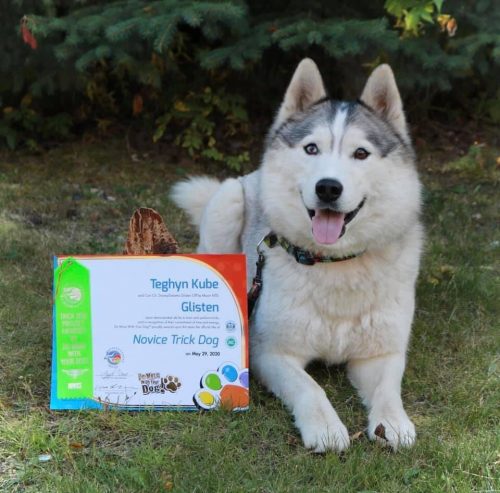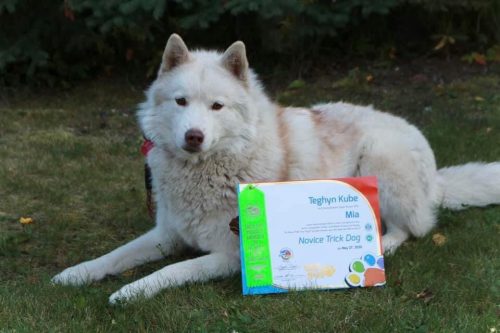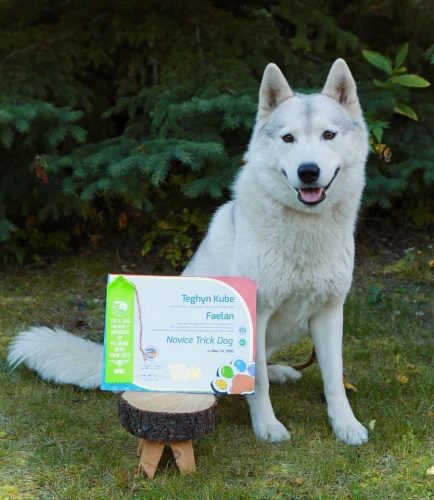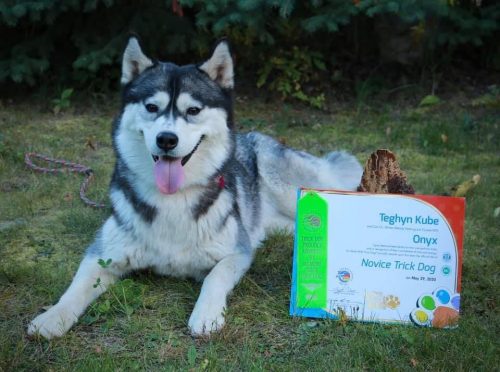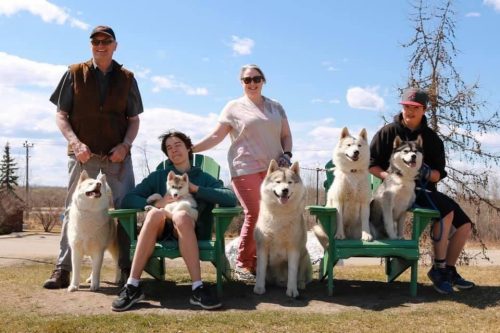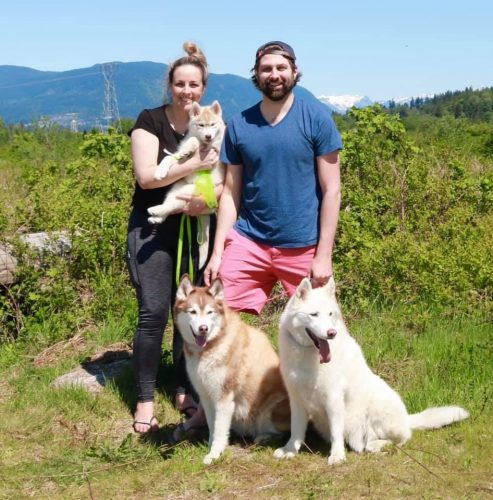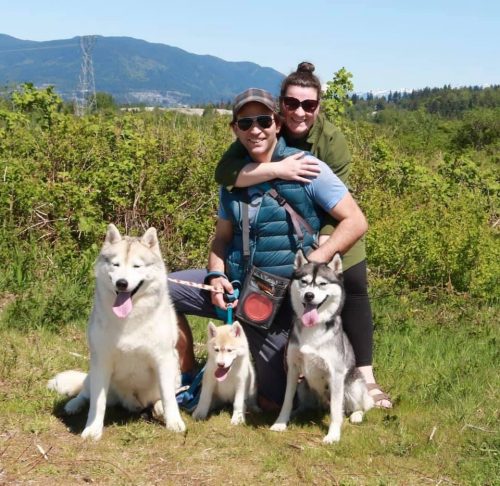 April 2020: April 18 – To say this year has been very hard would be an understatement, but nothing compares to the pain we felt on April 18, when we had to say our final goodbyes to our sweet Eden. This came very quikcly and was very unexpected and our hearts are absolutley shattered. Eden was diagnosed with pancreatitis and fought for several days at the vet before she passed away on her own terms. The absolute hardest part of owning a dog, is having to say goodbye. Eden will forever be a one in a million girl, and will never be forgotten. We miss you so much Monkey Dog, you earned your silver harness, now run free. <3 <3 <3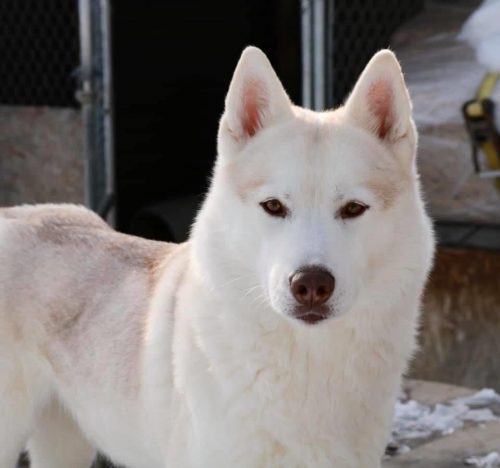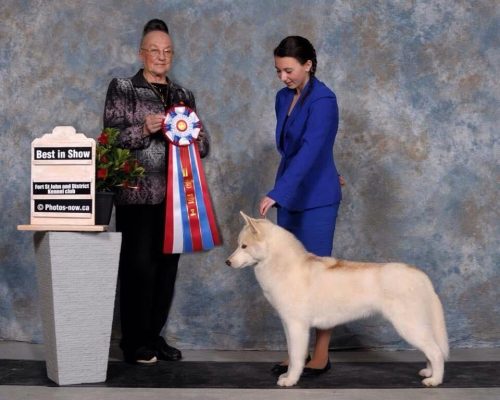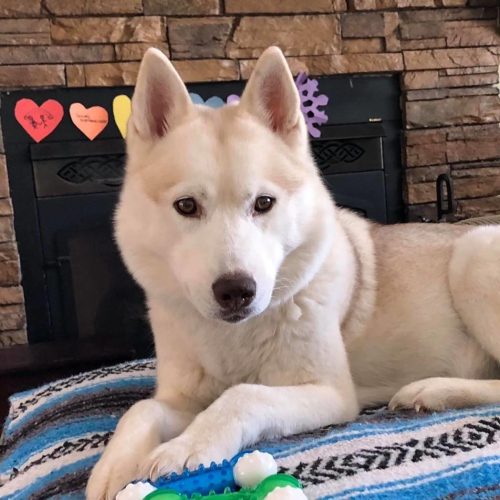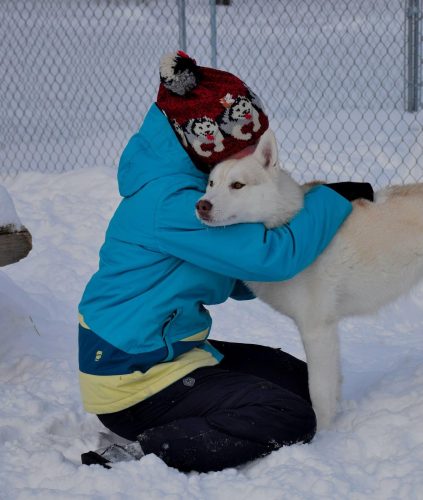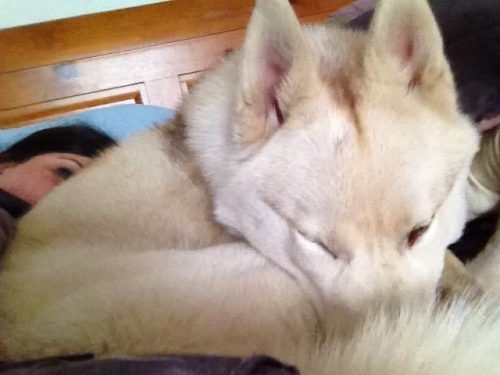 February 2020: February 15-16th – Team Cartwright continues to succeed in the rings! Owner handled by Melanie, Cartwright took Winners Male twice and Best of Winners once adding more points towards his American Championship! Way to go team Cartwright, we are so proud!! February 29th – A very special once in a lifetime experience for us happened on this 2020 Leap Year Day as we welcomed a beautiful litter of 6 puppies into this world out of our lovely 'Onyx' Can Ch. Winter Melody Nothing Just Trouble & our handsome 'Luke' Can GCh. Kamchatka Da Gospel Truth. Luke & Onyx are the proud parents of 4 girls & 2 boys who are named after Julius Caesar and the ancient calender which created the Leap Year, the boys are Julius & Caesar and the girld are Cleo, Delta, Roma & Tetra. The babies are thriving and Onyx is proving to be an amazing mom.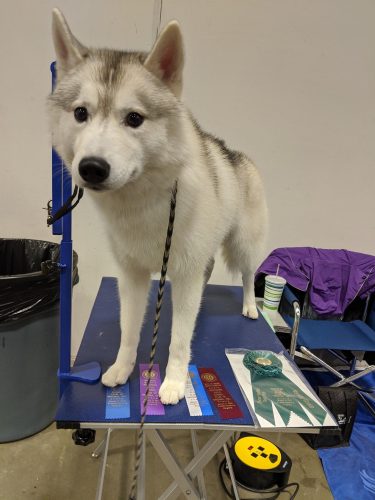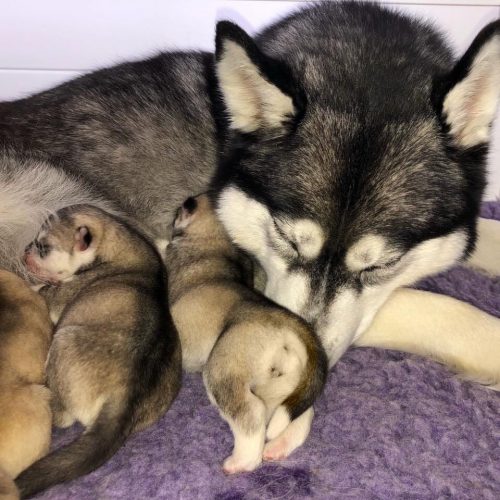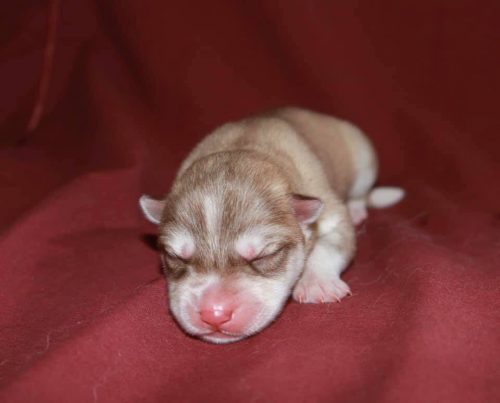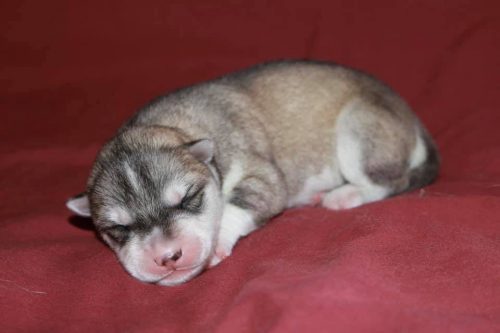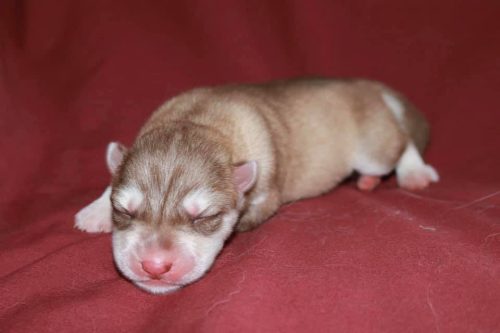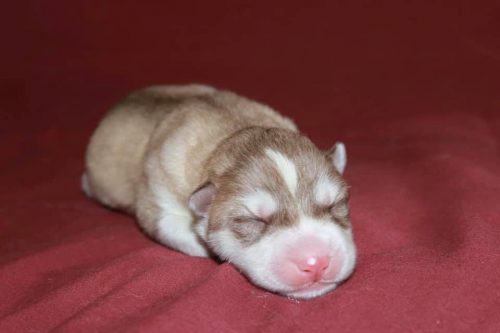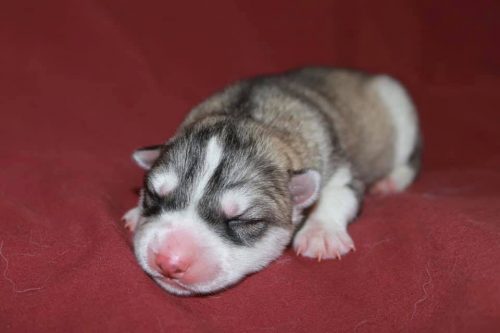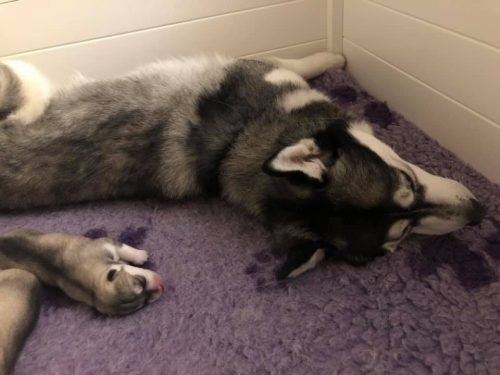 Janaury 2020: January 10-11th – Team Cartwright is doing amazing down in the USA. MBIS/RBIS UKC Ch. Snocrest's Good As Gold took a Best in Sweepstakes win along with taking Winners Male twice, Best of Winners twice, Owner Handled Best of Breed once and even an Owner Handled Group 3!! He is bred by us at SnowyDream (Regal x Eden litter) and is owned by Shira Barkon (Snocrest Siberians) along with Melanie & Helen Kutska. Cartwright is owner handled by Melanie. Thank you all for your love and care of this special boy!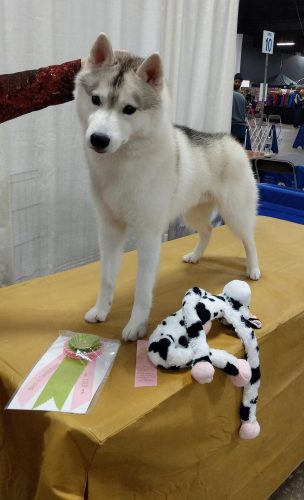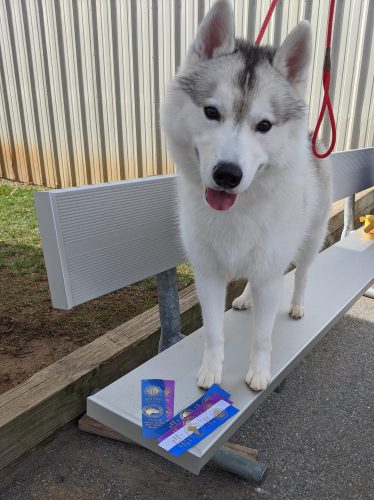 December 2019:  We had some devastating news this month, we received word that Rokkvi, a littermate to Aura & Gambler had experienced a seizure. We were absolutely devastated to hear this. Immediately we offered support and asked if there was anything we could do to help, being he is in the USA and we are in Canada it made it more tricky. We reached out to the breeder of the stud dog immediately to let her know what had happened and to get her insight on the situation. After discussing with her, we had some ideas on what could have potentially caused this tragic event. We then reached out to the owner of Rokkvi to ask some simple questions, so we as the breeders could try and figure out what had happened for knowledge in our breeding program and to know which support to offer, we asked if he had recently been vaccinated (he was), if he had recently had any flea and tick medication (he had), if he was outside and could have potentially eaten something toxic (he was outside when it happened), we asked if a toxin test was ran (it hadn't) and other questions to try and rule things out. Sadly, the owner of Rokkvi decided they did not want our help or support and blocked us from contacting her. Months later, we found out that he has experienced another seizure and was officially diagnosed with idiopathic epilepsy. With this news we decided to remove the littermate siblings of Rokkvi from our breeding program. This is the heartbreaking part of breeding that most breeders do not talk about. 🙁
October 2019: October 24-27th – What an amazing weekend for our SnowyDream family who attended the Battle River Canine Association dogshow in Camrose Alberta this weekend!! 'Flame' Can Ch. SnowyDreams Life OfThe Party CGN RN NTD was granted his Novice Trick Dog title on Thursday, two points towards his Canadian Championship Friday, his last leg needed to qualify for his Rally Novice title Saturday and a 3 point major to finish his Championship on Sunday, all handled by his wonderful co-owner Sky Mckay! We are so proud of everything they have accomplished so far!! Two more SnowyDream boys came away with some great wins at the show – 'Gambler' Can Ch. SnowyDreams What Lies Ahead RN was awarded 2/3 Select dogs leaving him on 12 Grand Champion points and 'Ashur' Can GCh. SnowyDreams Fire Okami was awarded 1 select dog earning his last two points needed for his Canadian Grand Championship! Both boys owner handled by their co-owners, very proud!! Down in the states 'Cartwright' MBIS/RBIS UKC Ch. Snocrest's Good As Gold (Bred by us) was awarded Group 1 (UKC) owner handled by his co-owner Melanie! Yahoo, way to go boys!! To make it an even more exciting weekend both Flame and Gambler had their eyes tested and both boys cleared with flying colours!!!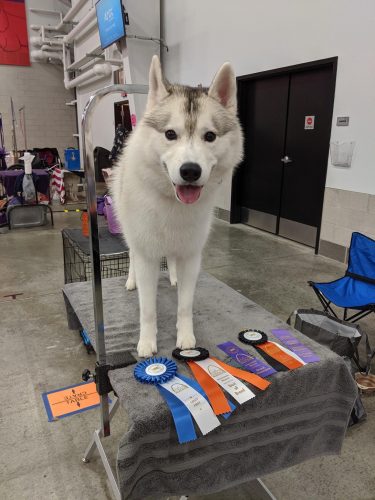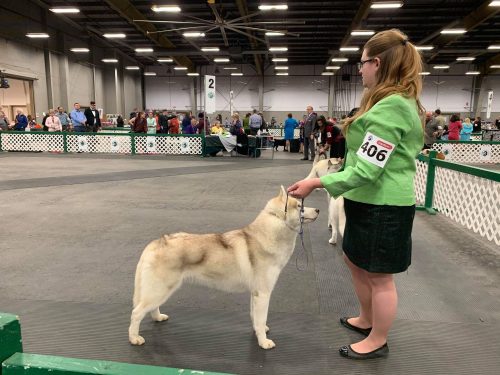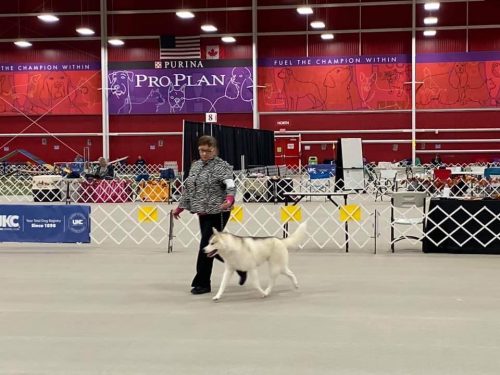 September 2019: September 28, 2019 – 'Faelan' Can GCh. SnowyDreams Dance With Wolves & 'Regal' BISS/MBPISS/BPIS Am GCHG/Can GCh. Snocrest's It's Good To Be Bad AOM blessed us with 4 beautiful grey and white puppies, 3 girls and 1 boy! This was a new experience for us as the puppy who was to be born first was to big and got stuck, we made the decision to take Faelan in to have an emergency c-section and are thankful that all 4 puppies were born healthy and beautiful, thank you to our amazing vet team at Rivers Animal Hospital <3 This is our 'Miracle' themed litter and the pups nicknames (in birth order) are Halo (Girl), Mira (Girl), Wonder (Boy) and Hope (Girl).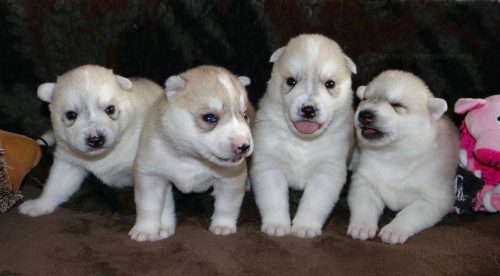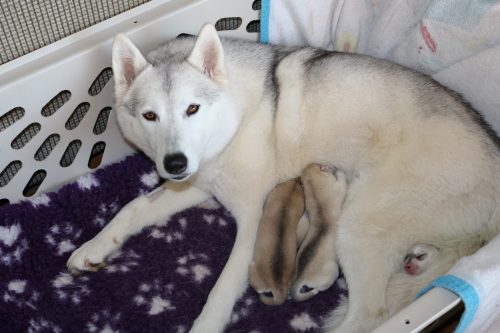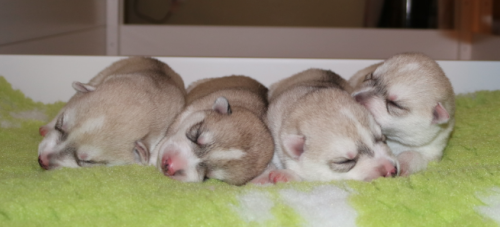 June 2019: June 30, 2019 – 'Faelan' Can GCh. SnowyDreams Dance With Wolves & 'Onyx' BPIG Can Ch. Winter Melody Nothing Just Trouble got mail!! We are so excited and pleased to announce that both girls' Hips are OFA Rated 'Excellent'!!! June 22-23, 2019 – We are also excited to say that 'Gambler' Can Ch. SnowyDreams What Lies Ahead RN finished his Canadian Championship at the Grand Prairie show winning Winners Male, Best of Winners & Best Puppy in Breed (Over Specials). Congratulations ladies!!
May 2019: May 3-5, 2019 – We attended one of our favourite annual shows in Burns lake, BC! We love this show for the beautiful drive, wildlife, wonderful show commitee and beautiful venue. Our dogs had yet another great show. 'Regal' BISS/MBPISS/BPIS Am GCHG/Can GCh. Snocrest's It's Good To Be Bad AOM took 4 Best of Breeds, a Group 3 & a Group 4. 'Iceka' RBIS/BPIS/BAIS/MBVIS/MBBIS/BVISS/BAISS/BBISS Can GCh. Nanook's Diamond Ice CGN took 6 Best Veteran in Group & 2 Best Veteran in Shows. She was also shown by junior handler Ariana and they took Best Overall Junior Handler together!!  'Aura' SnowyDreams When Stars Align took 5 Winners Females, 4 Best of Opposites (Once over Specials!), Best of Winners & Best Puppy in Breed leaving her needing only a single point for her Championship! 'Faelan' Can GCh. SnowyDreams Dance With Wolves was entered in 2 shows as well as Junior handling and was shown by my cousin Natalie, they were First in their juniors class and also took a Best of opposite & a Select Bitch. So proud of them. We had a guest dog with us in Burns Lake as well, 'Belle' Excalibur's Enchanted Rose (Bred, Owned & Loved by our good friend Jackie) who picked up her first Champion point by going Winners Female & Best of Opposite! Yahoo!! May 17-19 was our local dogshow as well as annual eye clinic, another fun show with good friends! Eden, Luke, Regal, Zara, Glisten, Faelan, Onyx & Aura all cleared their eye exam!! Regal took 3 Best of Breeds, including the Sibe Booster, another Group 3 & Group 4! He is currently #3 Siberian Husky in Canada (Breed), #2 Male Siberian Husky in Canada (All systems) and #1 Owner Handled Siberian Husky in Canada! Love this boy. Iceka picked up a few more Best Veteran in Groups. Faelan & Natalie had fun showing in juniors winning 2nd in their class both days. They also took Select Female at the Siberian Booster! Iceka & her daughter 'Eden' BIS/RBIS/MBBIS/BOSS/BBISS Can GCh. SnowyDreams Heaven Sent CGN DOM took 3/3 Best Brace in Shows! Baby Aura was the big STAR of this show making us so proud!! At just 9 months old with limited showing she finished her Canadian Championship with a bang, taking Winners Female, Best of Winners, Best Puppy in Breed & Best Puppy in Working Group! She was moved up to specials for the last day and took Select Female (over other Specials) for her first point towards her Canadian Grand Championship! So incredibly proud of this young girl! Thank you Sheila Robertson for the beautiful group shots of our team in Burns Lake.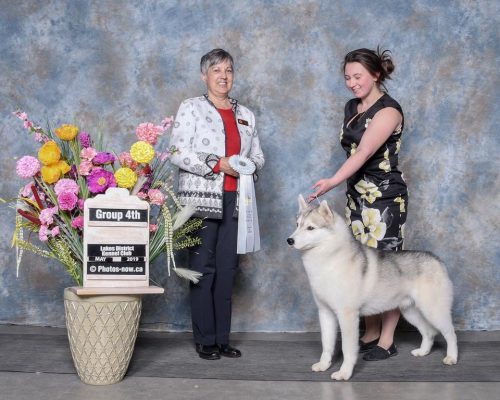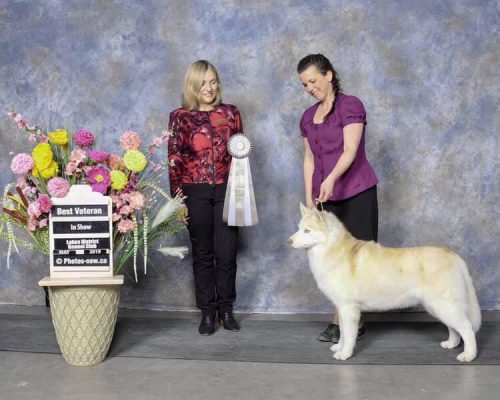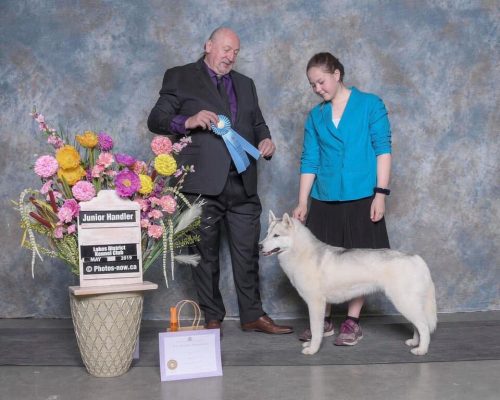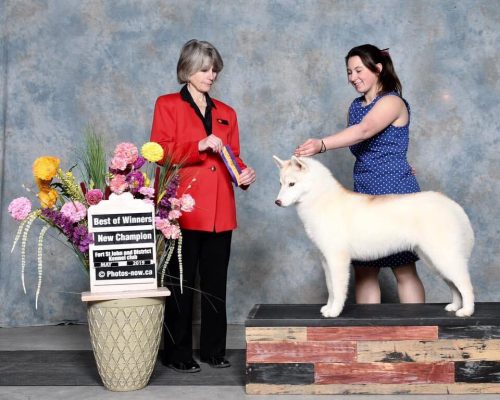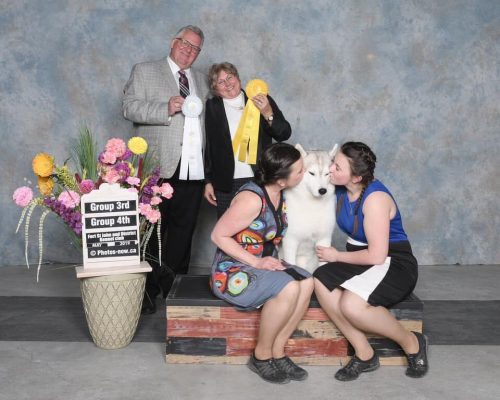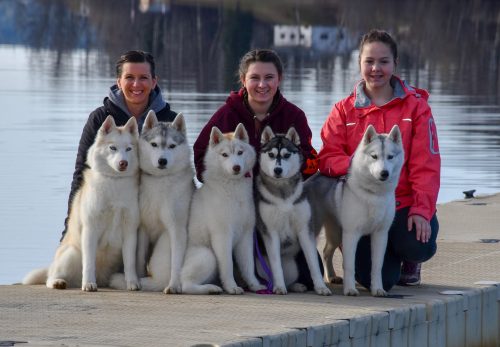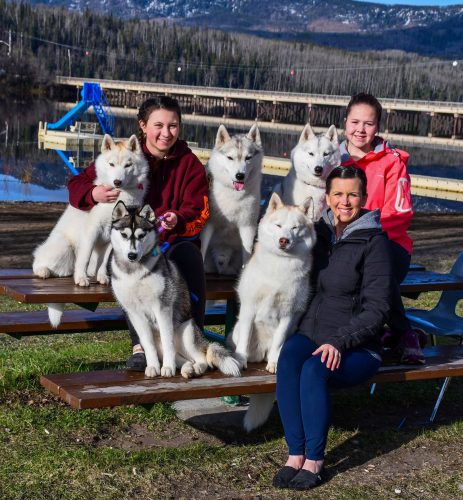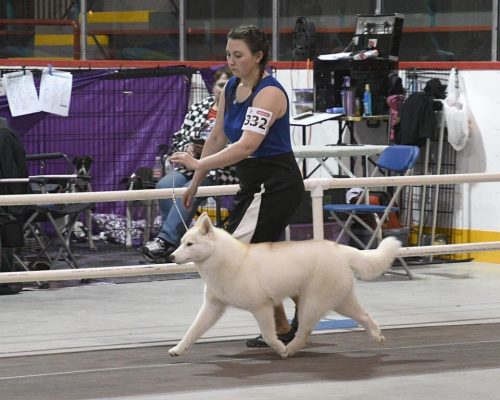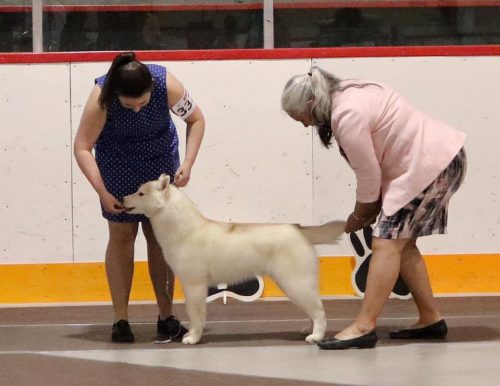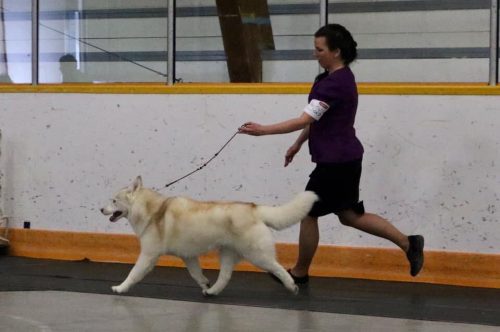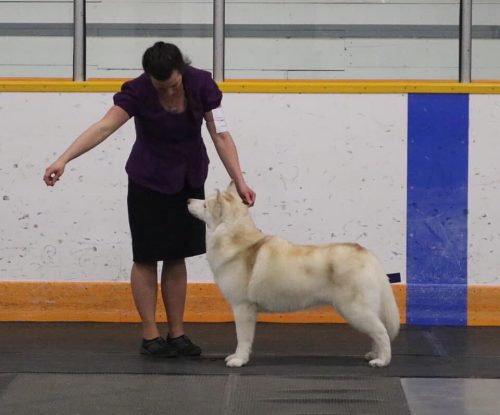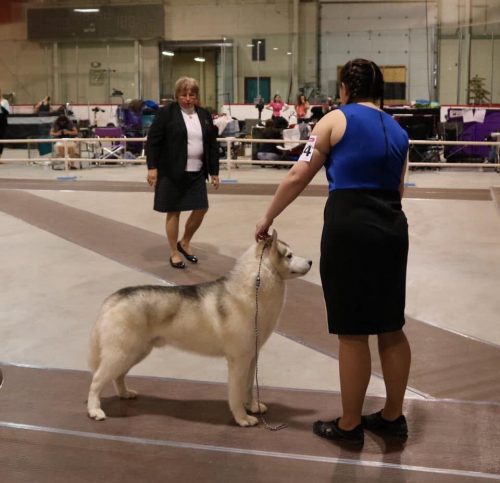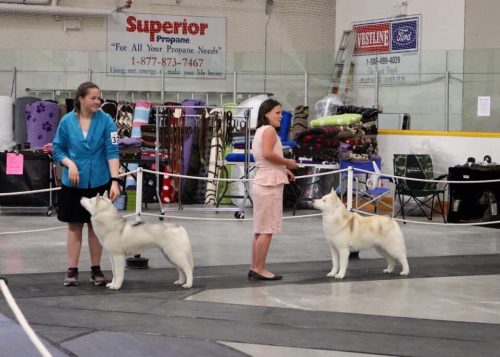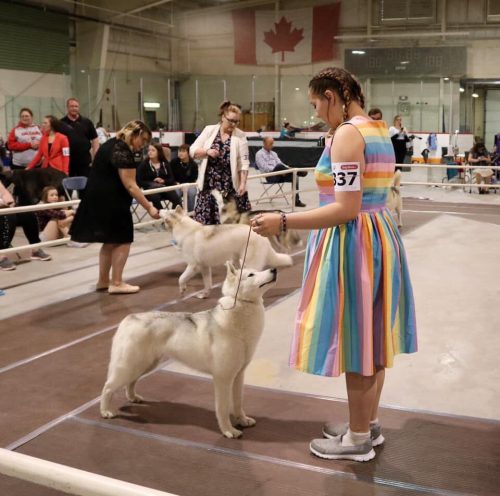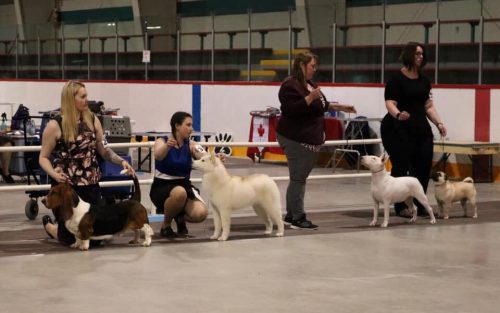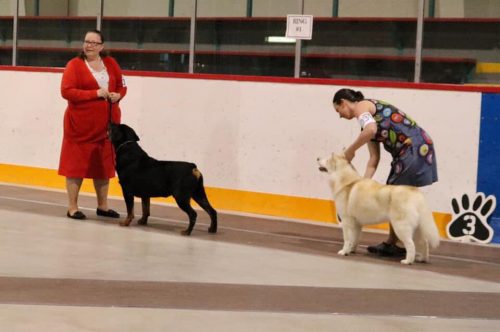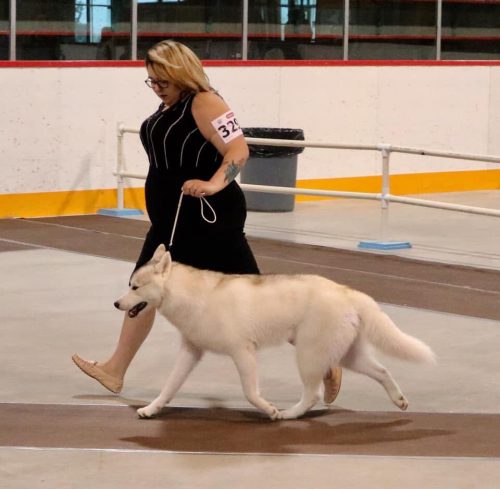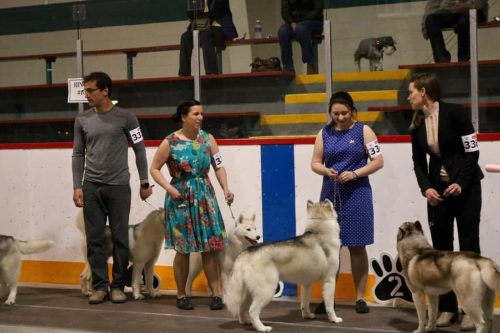 April 2019: April 19-21, 2019 – We attended our first Siberian Husky Speciality in a few years, and our first show in Southern BC!! It was nice meeting some other fellow Siberian breeders, meeting some new friends, seeing some of our bred by dogs and their owners and competing with such a nice entry of Siberians. Our dogs did not fail to disapoint at the speciality and came home with lots of ribbons and prizes!! Our dogs results from the SHCC BC Regional Speciality were as follows:  'Regal' BISS/MBPISS/BPIS Am GCHG/Can GCh. Snocrest's It's Good To Be Bad AOM was awarded Select Dog in a nice entry of males including multiple Best in Show winners. 'Eden' BIS/RBIS/MBBIS/BBISS/BOSS Can GCh. SnowyDreams Heaven Sent CGN entered the rings as a specials for the first time in a few years, out of coat and took a huge Best of Opposite win!! Huge thank you to Caitlyn Donally for handling Eden for us as we were showing Regal & Iceka in the breed ring. 'Aura' SnowyDreams When Stars Align took Reserve Winners Female from the Bred By class! 'Iceka' RBIS/BPIS/BAIS/MBVIS/MBBIS/BVISS/BAISS/BBISS Can GCh. Nanook's Diamond Ice CGN was awarded Best Veteran in Specialty Show, Best Altered in Speciality Show AND Select Bitch from the Veterans Class over multiple other Champion females!! Iceka & Eden were Best Brace in Specialty Show and were also awarded yet another Best Brace in all breed show! Regal was shown in Stud dog & Eden in Brood bitch with their beautiful puppies Aura & 'Gambler' SnowyDreams What Lies Ahead RN and were Best Stud Dog & Best Brood Bitch. 'Schroeder' SnowyDreams Joy Isn The Playin & his owner/handler came out to play and were Best of Opposite Sex Altered in Speciality Show! A fun show filled with many new memories!! Thank you to judge Ms Elizabeth Muthard for these specailty wins.April 13-14, 2019 – 'Flame' MBPIG/MBBPIS SnowyDreams Life OfThe Party CGN (Can Major Pt'd) attended a show with his co-owner Sky and earned his Canine Good Neighbour test as well as 2 qualifying scores to his rally Novice title!! Gambler also finished his Rally Novice title this month! So proud!!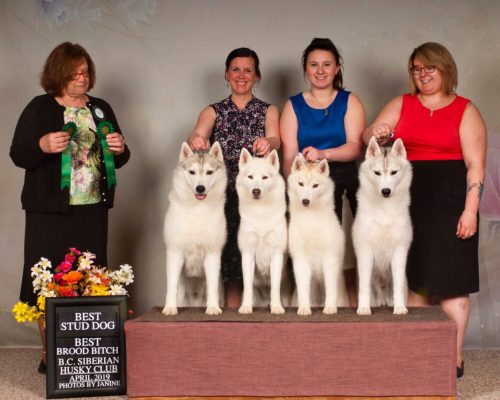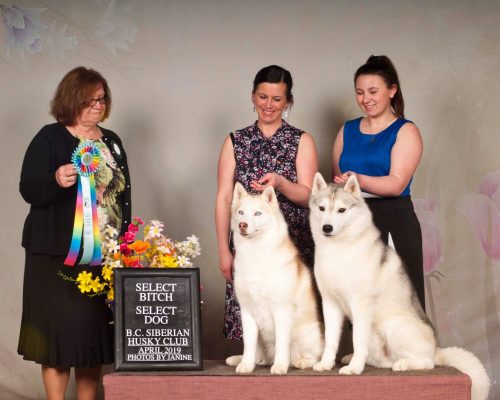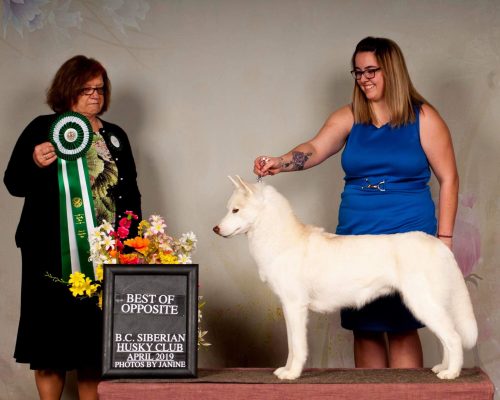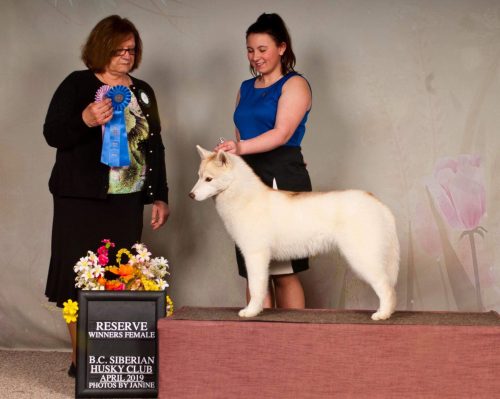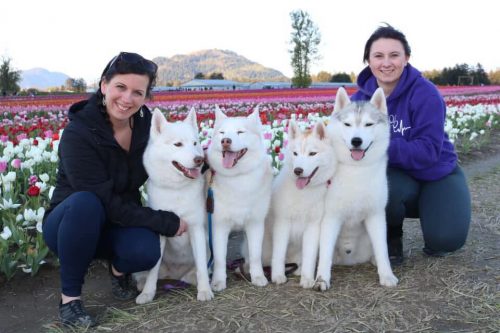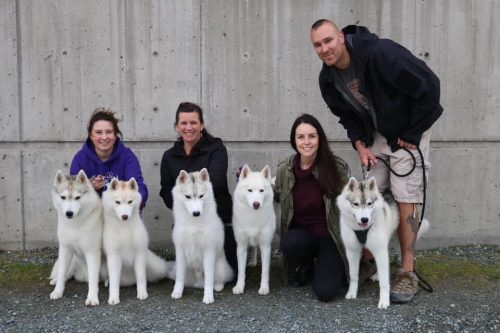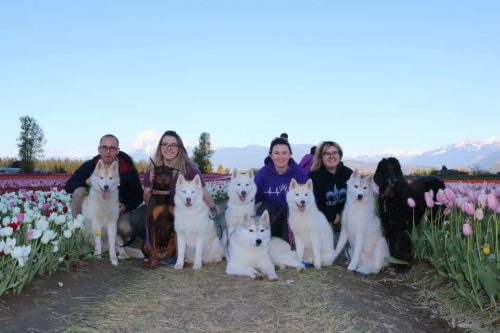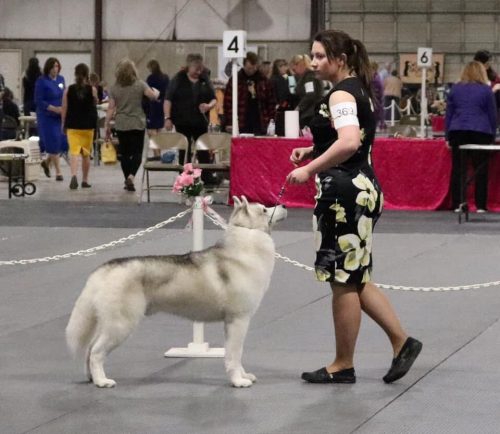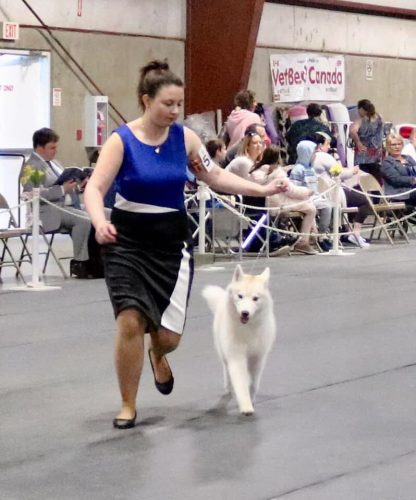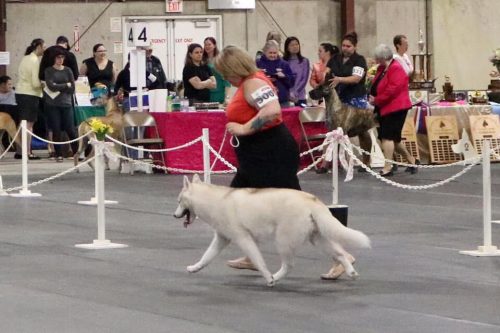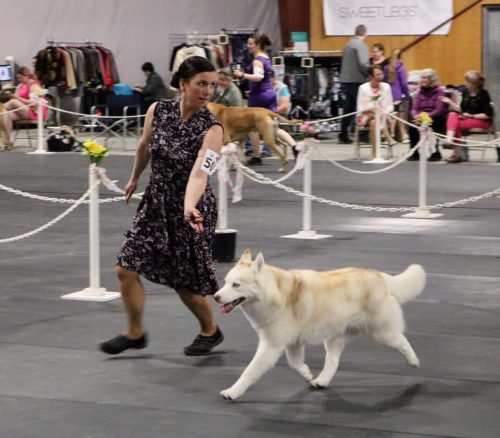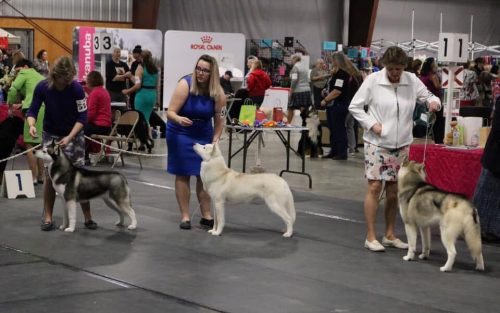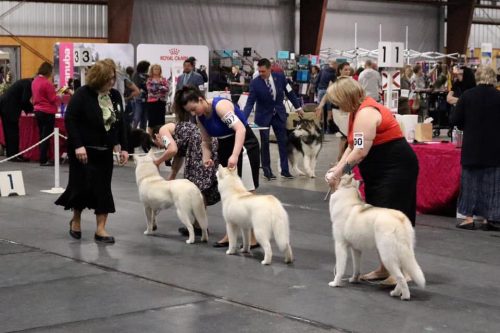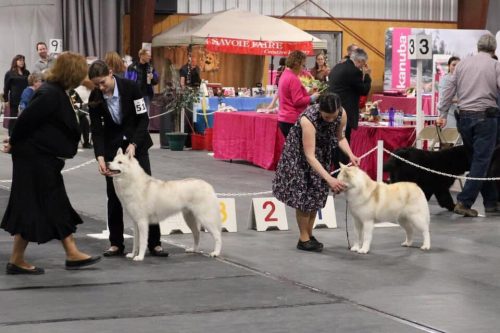 March 2019: March 22-24, 2019 – We decided last minute to attend the Battle River Canine Association dogshow in Camrose, AB after not attending since 2016. What an amazing weekend we had with the dogs, seeing some old dogshow friends and meeting new ones!! The dogs were all ROCKSTARS which was the cherry on top! There was a nice entry of 14 Siberians over the weekend! Our handsome boy 'Regal' BISS/MBPISS/BPIS Am GCHG/Can GCh. Snocrest's It's Good To Be Bad AOM took 3/3 Best of Breeds and a HUGE working Group 2 putting him ranked at #1 Siberian Husky in Canada (Breed), #2 Siberian Husky in Canada (All Breed) and #1 Owner Handled Siberian Husky in Canada his first weekend in the ring for 2019!!! Our beautiful 'Faelan' Can GCh. SnowyDreams Dance With Wolves took 3/3 Best of Opposites to finish her Canadian Grand Championship!! Our lovely 'Iceka' RBIS/BPIS/BAIS/MBVIS/MBBIS Can GCh. Nanook's Diamond Ice CGN took a nice Best Veteran in Show win putting her ranked at #1 Veteran Siberian Husky in Canada after just 1 day of showing!! Our rising stars came out to play for the first time and we couldn't be more proud, 'Gambler' SnowyDreams What Lies Ahead took 2/3 Winners Males & a Best of Winners earning a total of 4 points towards his Championship as well as getting his first 2 qualifying scores for Rally Novice, so proud of him and his co-owners!! His sister 'Aura' SnowyDreams When Stars Align won her Jr Puppy Class 3/3 shows (beating another Jr Puppy) and took Winners Female once for her 2 point major!! Yahoo! Iceka & her daughter 'Eden' BIS/RBIS/MBBIS Can GCh. SnowyDreams Heaven Sent CGN returned to the Brace rings after a year off (for Eden to whelp some pups) and did not disappoint taking Best Brace in Show!! Really could not be any more excited and proud of the SnowyDream team, so excited for our next show!!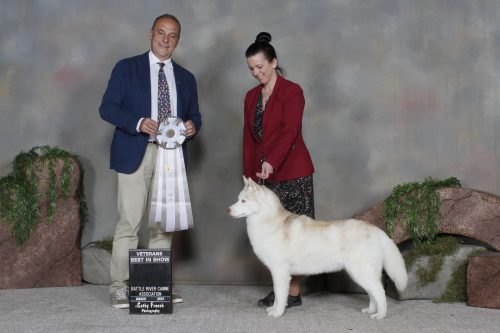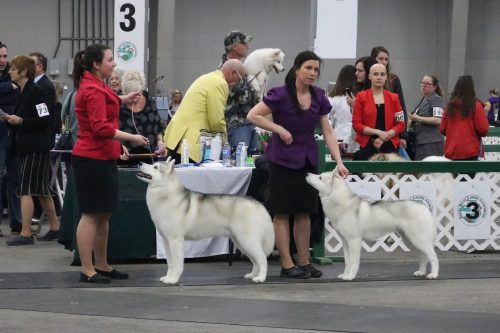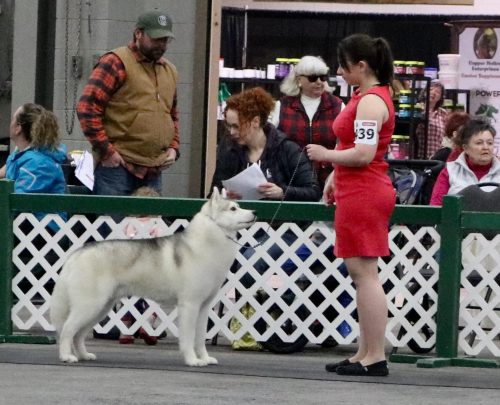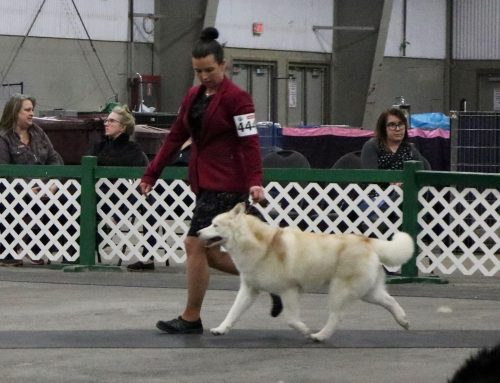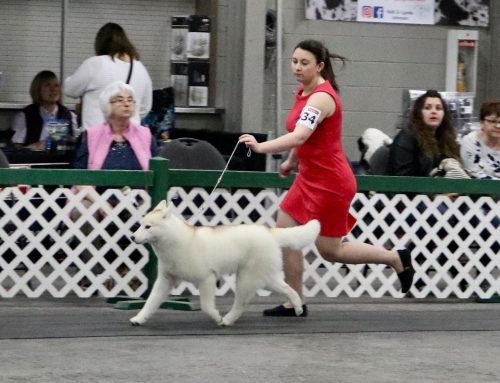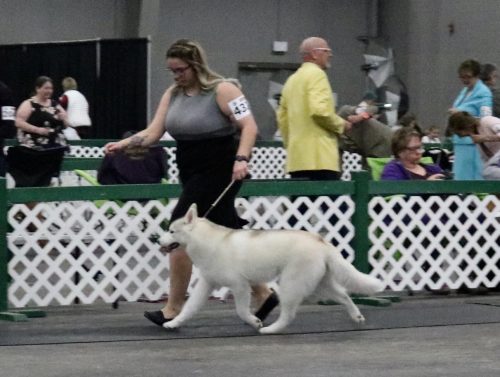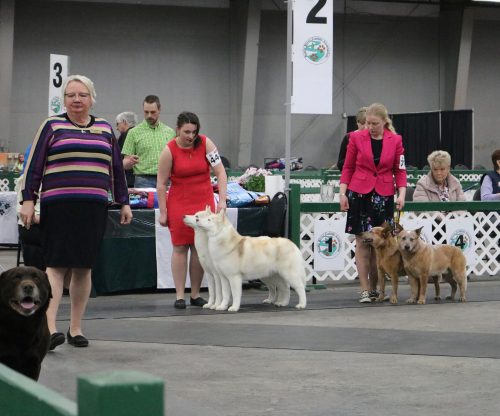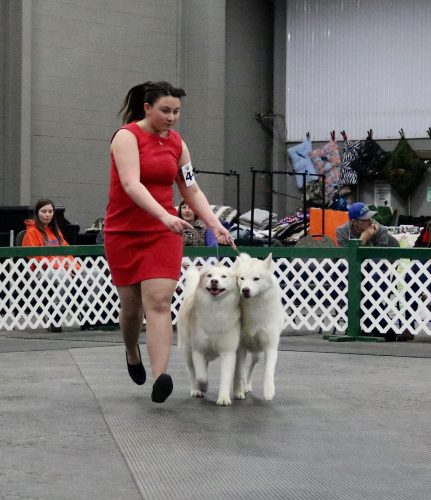 January 2019: January 1, 2019 – We spent the first day of the year with the dogs, mushing on our new trail we had made this summer!! We ran two teams of 4 and one team of 3. First team out was Zara/Dream lead & Glisten/Regal wheel. Second team was Faelan/Iceka lead & Luke/Eden wheel. Last team started off as Faelan/Flare lead & Mia/Onyx wheel but Mia decided she 'still' wasn't a sled dog so we put Flare wheel with Onyx and ran Faelan single lead (a first for us as well as the dogs!) she did AMAZING!! We had a blast and so did the dogs!! January 5, 2018 – 'Glisten' Can Ch. SnowyDreams Glisten OfThe Moon got mail!! Proud to say that Glisten's Hip's are OFA rated 'Excellent'!!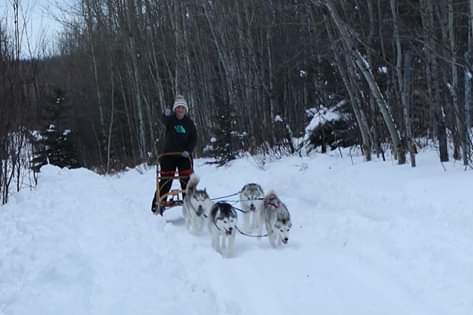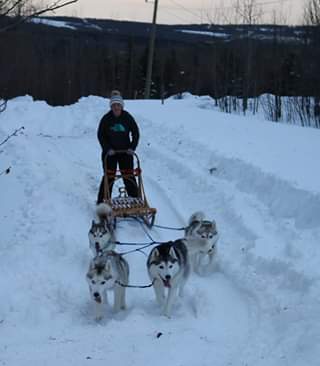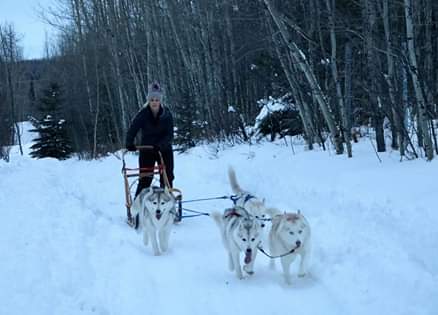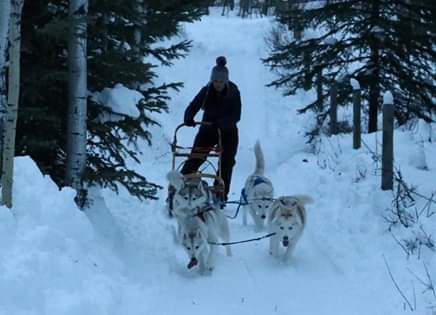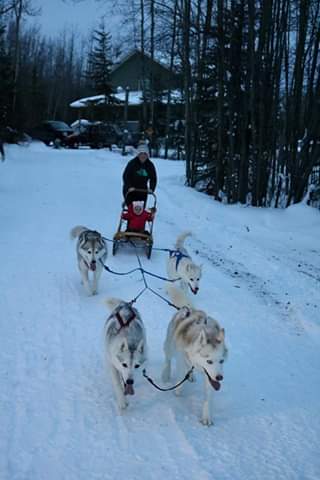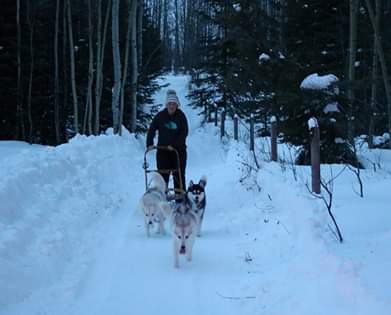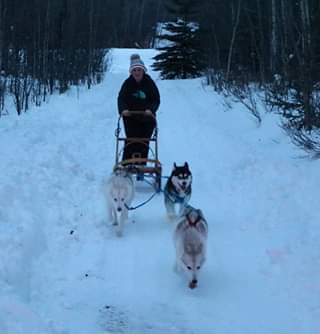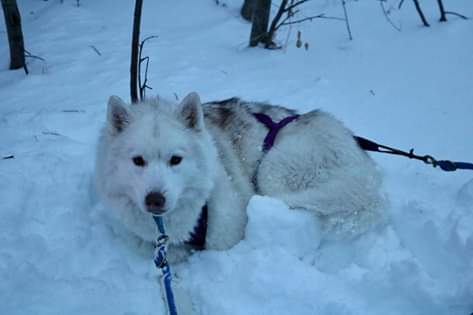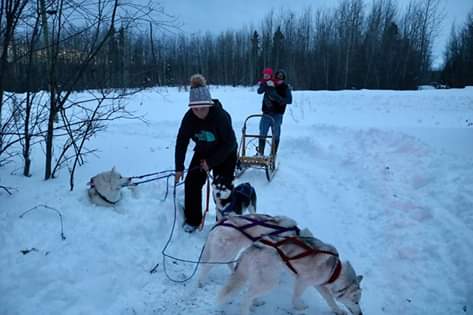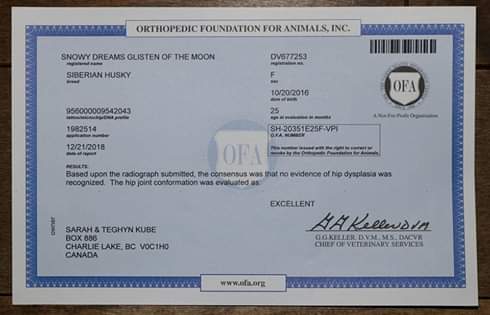 December 2018: 'Gambler' SnowyDreams What Lies Ahead went to his first dogshow for the day on December 9, 2018. He competed in the Baby Puppy class and was Best Baby Puppy in Breed (he was the only one lol!!) but he had a lot of fun and behaved very well for his first show. Super excited for what this young boy has in store!! Looking forward to 2019!! December 25, 2018 – Merry Christmas everyone!! The SnowyDream pack enjoyed Christmas morning by coming inside and opening up their special stockings!! December 28, 2018, Gambler comes for a visit for a couple weeks while his pawrents go on a vacation!! Took some family photos of daddy Regal, momma Eden and babies Gambler and Aura.. such a beautiful family!!!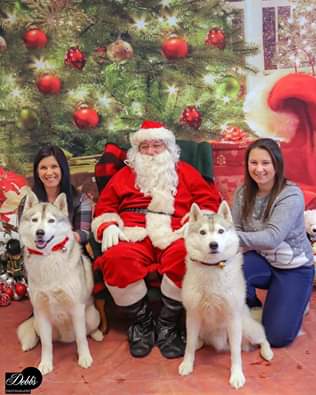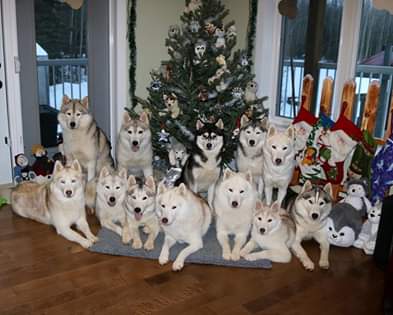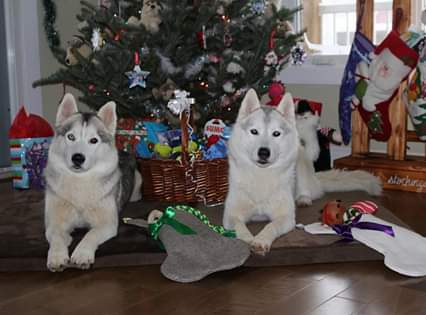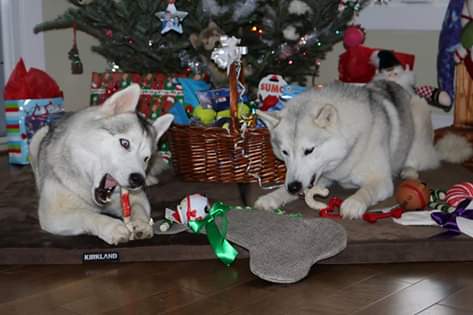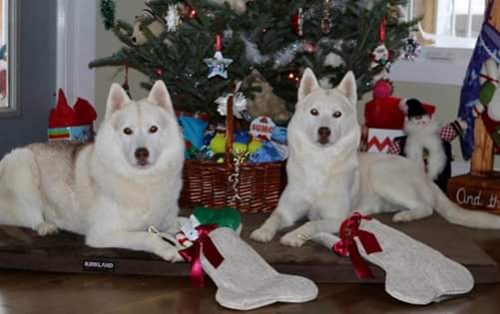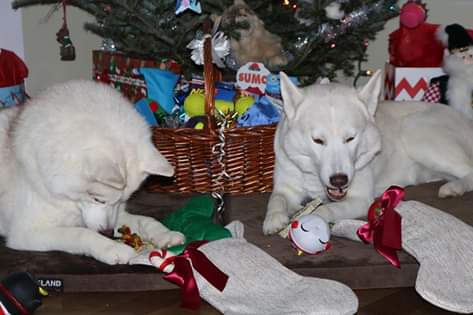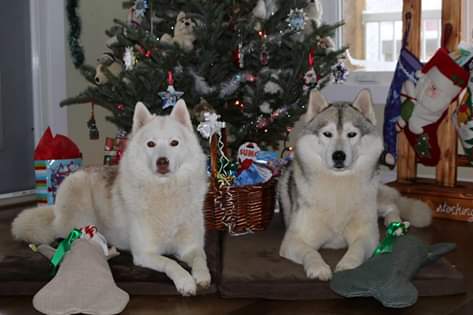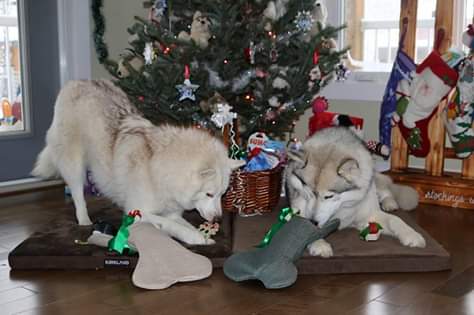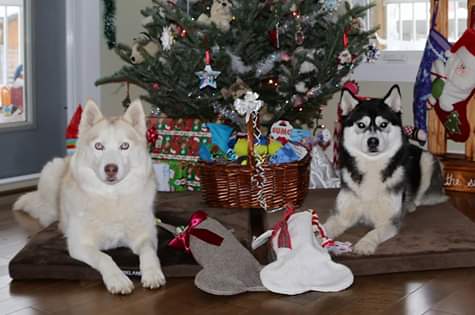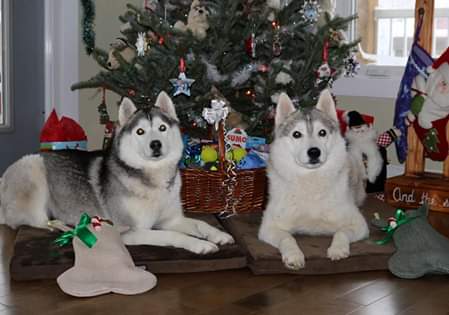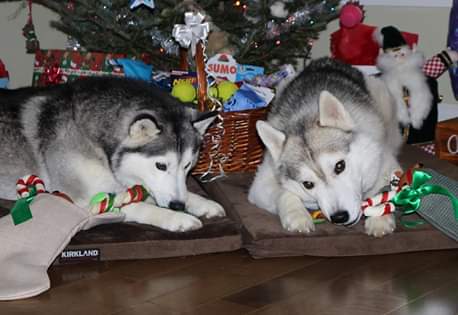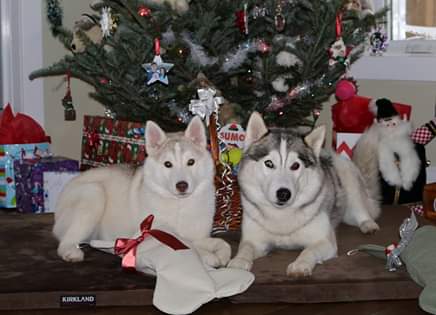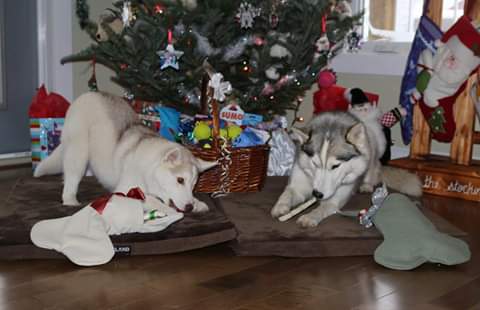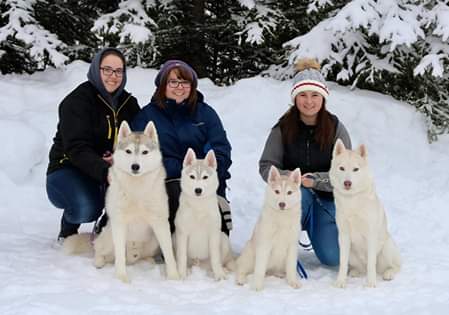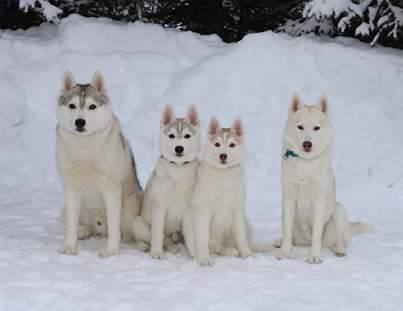 October 2018: October was an absolutely insane month for us!! Baby Reykur (SnowyDreams What're The Odds) was the first baby to leave to his new forever home on October 13, 2018. On October 19 my mom flew to Vancouver to meet Cartwright (Snocrest's Good As Gold)'s new owner and he was off to the USA with his new forever family! On October 26 I (Teghyn) set off for a very short but very 'long' trip to Toronto, Rokkvi (SnowyDreams Twisted Fate) and I hopped on a plane and headed across Canada. After 2 long plane rides, a night in a hotel & 2 days of driving Rokkvi finally made it to his forever home in the USA. Thank you to our friends who helped transport Rokkvi! Meanwhile my mom was at home while Penny (SnowyDreams Meant To Be)'s new family flew in to our house to meet the pack and fly home to Manitoba with sweet Penny. A crazy month with puppies leaving but we are so happy they are in such good homes!! On October 1, 2018 we got a call from Regal's breeder, Shira saying that she would like for Regal to stay in Canada with us on a co-ownership with her & Mark. She said we give Regal the best home and that he is so happy hear, sleeping on the bed at night, going places with us all the time, running with the whole pack, dog sledding etc. We are SO honoured and blessed to be able to share this very special boy with them <3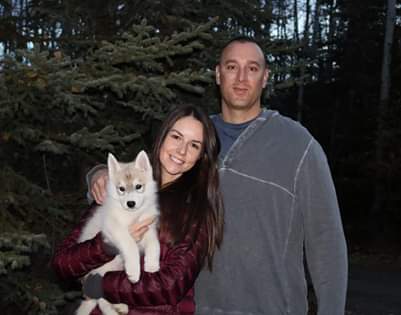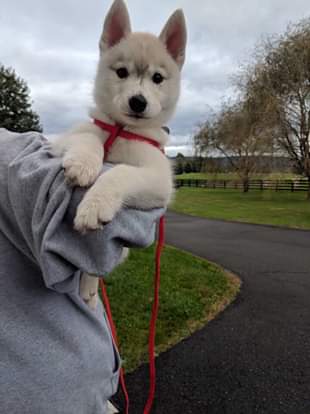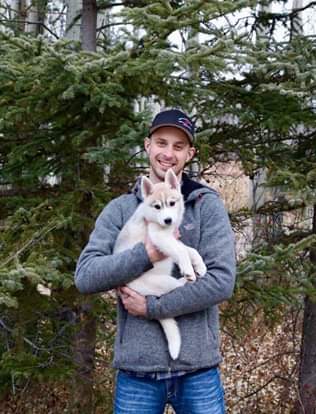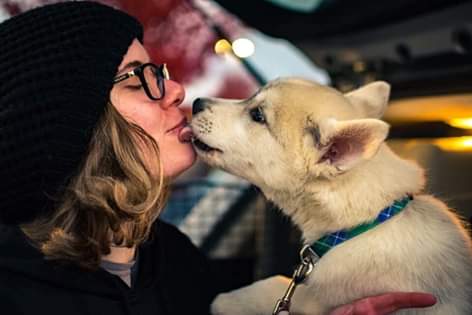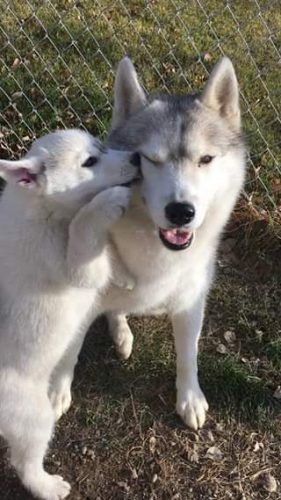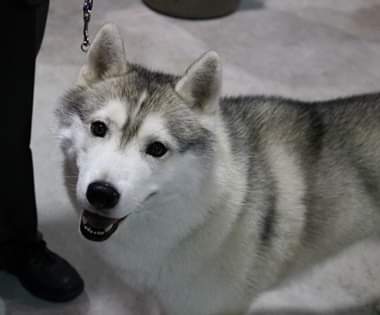 August 2018: Yay! We got 'Zara' Kamchatka Dazzle Them 's Hip score back in the mail and are VERY happy to say she was OFA rated as 'Excellent'!! On August 18, 2018 we said hello to the newest 'pack' members as we were blessed with a lovely litter of 6 babies out of our gorgeous girl 'Eden' BIS/RBIS/MBBIS Can GCh. SnowyDreams Heaven Sent CGN and sired by the handsome 'Regal' BISS Am GCHG/Can GCh. Snocrest's It's Good To Be Bad AOM. Eden & Regal are the proud parents of 2 girls (1 grey & white and 1 red & white) and 4 boys (all grey & white). We called this litter the 'Fate' litter, as it seemed appropriate with this special opportunity to have Regal here. The girls are SnowyDreams When Stars Align & SnowyDreams Meant To Be and the boys are SnowyDreams What Lies Ahead, SnowyDreams Twisted Fate, SnowyDreams What're The Odds & Snocrest's Good As Gold. We are pleased with this special litter and excited to see what their future holds!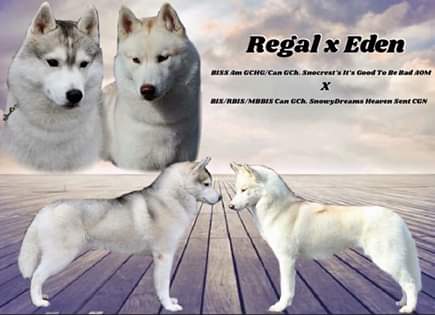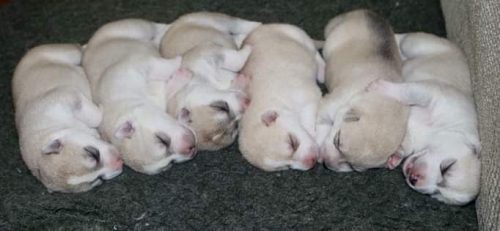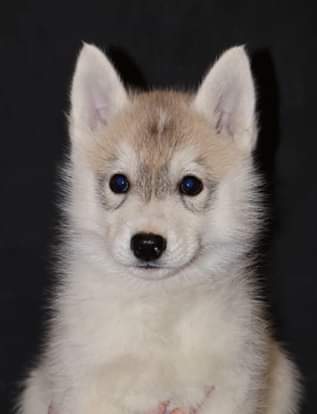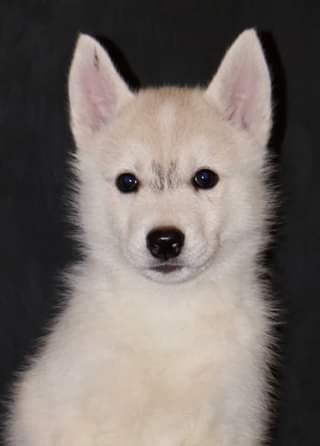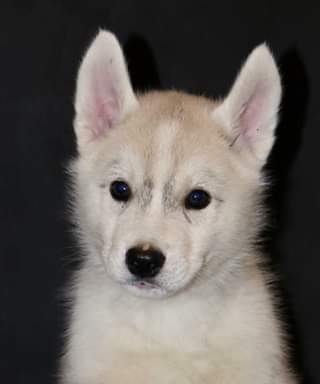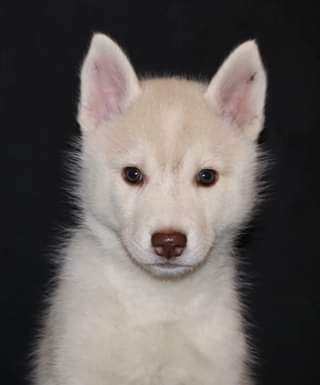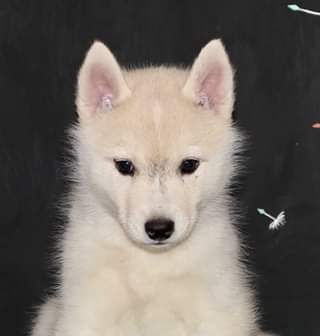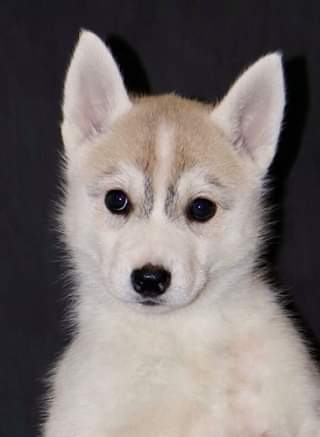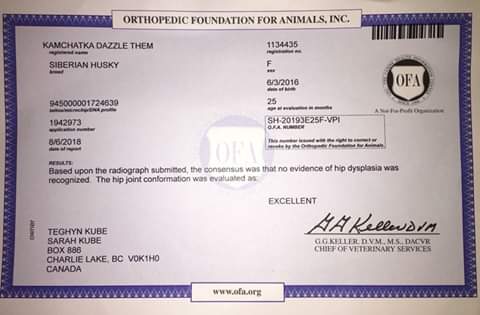 June 2018: June was a bit of a crazy month for us with my (Teghyn) prom and grad. I am a dogshow die hard so even though my grad was on June 22, I still decided we should attend the Grand Prairie, Alberta dogshow June 23 & 24, lol!! We had beautiful weather and it was great to see friends. We were also so thrilled that their was a huge entry of 15 Siberians plus the veterans and baby puppies!! 'Regal' BISS Am GCHG/Can GCh. Snocrest's It's Good To Be Bad AOM won 3 Select males & a nice Best of Breed win to finish off his Canadian Grand Championship! 'Faelan' Can Ch. SnowyDreams Dance With Wolves took 3 Select Females & a nice Best of Opposite earning 8 more points towards her Grand Championship!! 'Iceka' RBIS/BPIS/BVIS/BAIS/MBBIS Can GCh. Nanook's Diamond Ice CGN took 2 Best Veteran in Breeds and 1 Best Veteran in Group!! 'Nova' Can GCh. SnowyDreams Sparkle InThe Sky (handled by her co-owner) also took 2 Select Females & 1 Best of Opposite!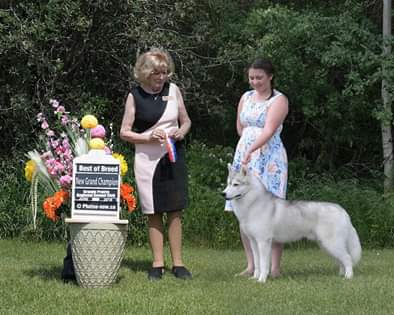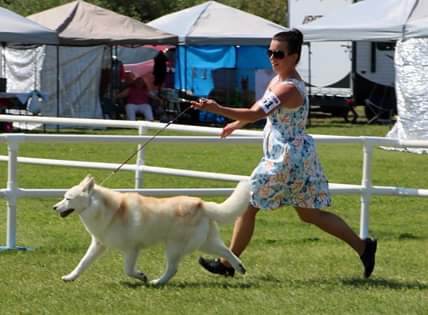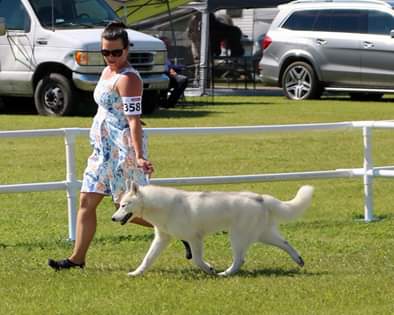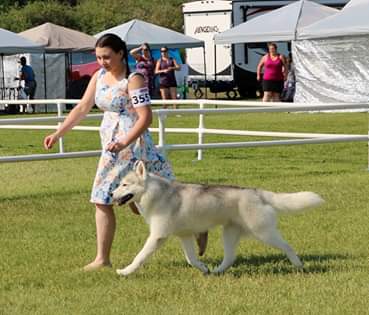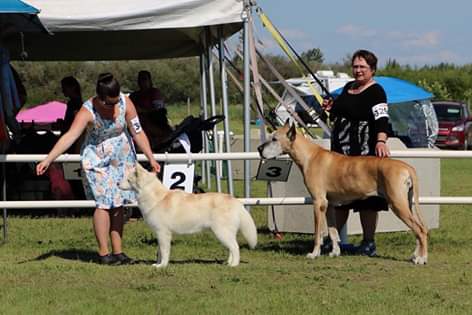 May 2018: May was a BIG month for us! May 4-6, 2018 we attended one of our favourite shows in Burns Lake, BC. We took 5 of our dogs to this show and they all came home with something!! To say our team did amazing, is to say the least! 'Faelan' SnowyDreams Dance With Wolves took 5/6 Winners females & Best of opposites, as well 4 Best of Winners!! 'Onyx' Can Ch. Winter Melody Nothing Just Trouble took a Winners Female, Best of Winners & Best of Breed to finish her Canadian Championship! 'Regal' BISS Am GCHG/Can Ch. Snocrest's It's Good To Be Bad AOM took 3 Winners Males, 1 Best of Opposite, 2 Best of Winners & 2 Best of Breeds to finish his Canadian Championship. We then bumped him up to specials and he took 3 more Best of Breeds, as well as 3 Group 4's and a Group 3!! 'Iceka' RBIS/BPIS/BVIS/BAIS/MBBIS Can GCh. Nanook's Diamond Ice CGN took 3 Best Veteran in Groups and her first Best Veteran in Show!! Baby 'Flame' MBBPIS SnowyDreams Life OfThe Party took 6 Best Baby Puppy in Groups and 3 Best Baby Puppy in Shows his very first weekend in the ring! Natalie & Faelan also took a Best Overall Junior Handler. WHAT A WEEKEND!! May 18-21 was our local dogshow (Fort St John, BC). Our local eye clinic was on the 18th, which started off another amazing weekend for us. We had 8 dogs in the eye clinic (Eden, Luke, Regal, Zara, Glisten, Faelan, Onyx & Flame) and all 8 dogs passed, yahoo!! 'Faelan' Can Ch. SnowyDreams Dance With Wolves finished her Canadian Championship with a Winners Female & Best of Winners. We bumped her up for the rest of the weekend and she was awarded 4 Select Females and a Best of Opposite (over multiple other specials including her mom, Flare) for a total of 3 points towards her Canadian Grand Championship. 'Regal' BISS Am GCHG/Can Ch. Snocrest's It's Good To Be Bad AOM took 3 Best of Breeds, two Group 3's and a Group 2!! 'Flame' MBBPIS SnowyDreams Life OfThe Party was shown by his co-owner Sky and took 2 Best Baby Puppy in Breeds as well as a Best Baby Puppy in Group, very proud of this team! 'Iceka' RBIS/BPIS/BVIS/BAIS/MBBIS Can GCh. Nanook's Diamond Ice CGN took 2 Best Veteran in Breed and 2 Best Veteran in Group! Iceka & her daughter 'Flare' MBPIS/MBBIS/BBISS Can GCh. Nanook's SnowyDream Come True took 2/3 Best Brace in Shows their first  time in brace together!! Flare also took 2 Select Females (once shown by Sky, her very first time in the ring!). Another fantastic weekend for team SnowyDream!! It was also so wonderful to finally meet Sky and spend the weekend with her before her & Flame were off! Thanks for flying across Canada to pick up your boy and meet the pack!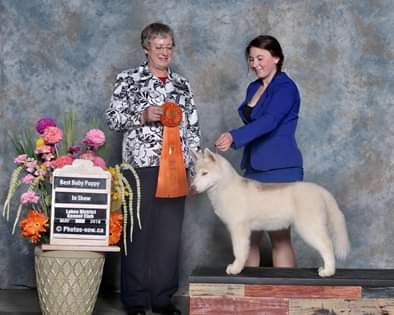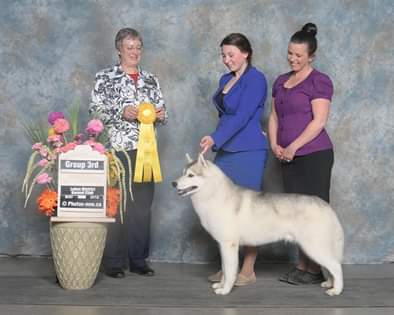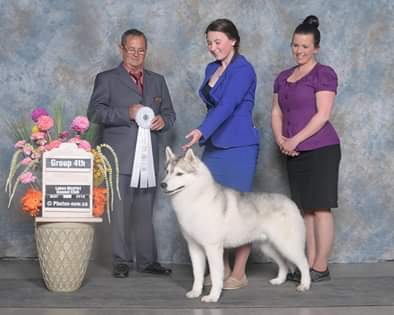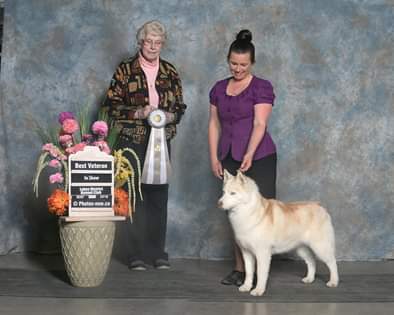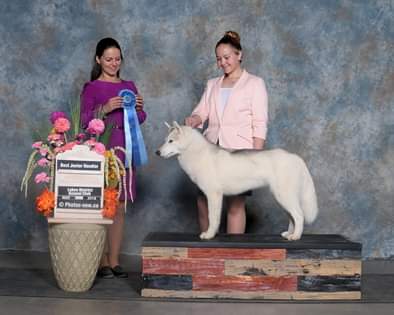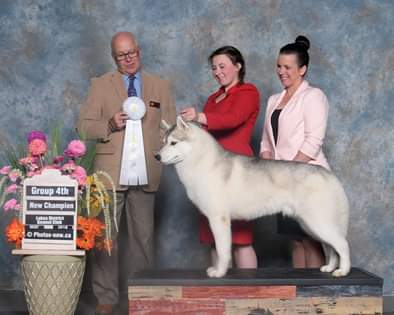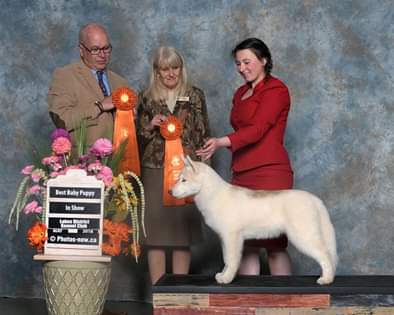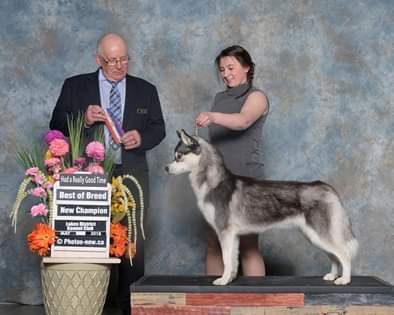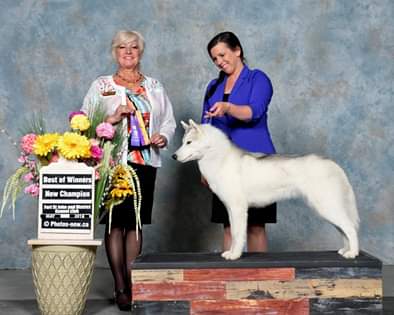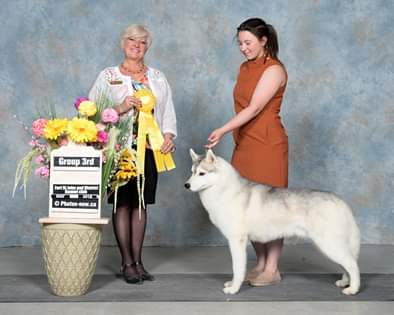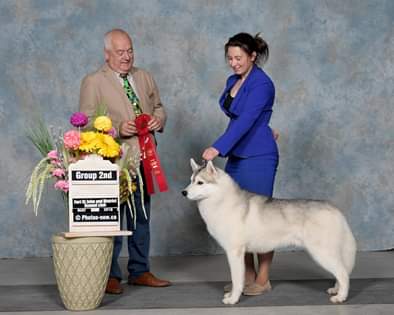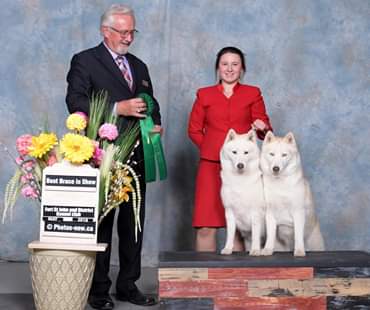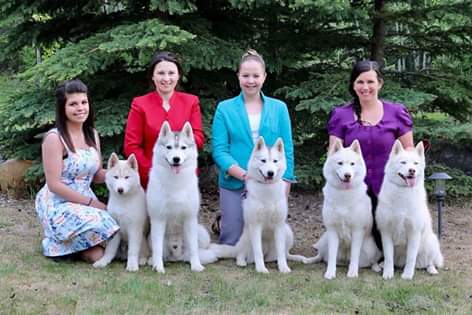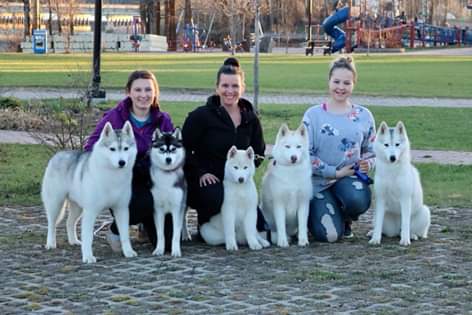 March 2018: March was an excited month for the SnowyDream team! March 9-11, 2018 we attended the Prince Albert (PA, Sask) dogshow. We took two of our girls, Faelan & Onyx, it was the first time in the ring competing for points for the both of them. Faelan took a 3rd place (out of 5) in puppy sweeps and went on to win 2 Winners females, 2 Best of Winners and 1 Best of opposite (over specials) for a total of 4 points towards her Canadian Championship! Onyx won her sweeps class (out of 5) and went on to win Best in Sweepstakes her first time in the ring ever! Onyx won a total of 4 winners females, 4 best of winners, 2 best of opposites (over specials), 1 Best of Breed (over multiple specials) and a Best Puppy in Group! I (Teghyn) placed second in juniors with Onyx and Natalie placed second in her juniors class as well with Faelan. Super proud of the entire team! On March 20, 2018 my mom, cousin Natalie, baby sister, Onyx, Faelan and I got on a plane to Winnipeg, MB to visit our good friend Angela and her Siberians Teeka & Hunter, to attend the Northwinds dogshow and also to pick up our very special visitor 'Regal' BISS Am GCHG. Snocrest's It's Good To Be Bad AOM. We had so much fun in winnipeg meeting new friends, spending time with old friends and meeting Mark of Snocrest Siberians. Thank you so much to Mark for driving all the way up to Canada to bring Regal, it was wonderful meeting you and spending time with you even if it was just for a short amount of time! Regal came away that weekend with 4 winners males, 2 Best of Winners, 4 Best of opposites for a total of 6 points towards his Canadian Championship his first weekend in Canada!  I (Teghyn) finished my Juniors career that weekend as I have now aged out, I couldn't have asked for a better dog to share my last go around the juniors ring with, Regal gave me his absolute all even though I had just met him the day before!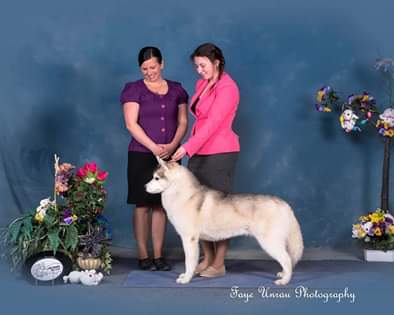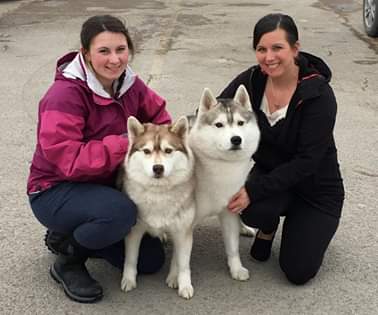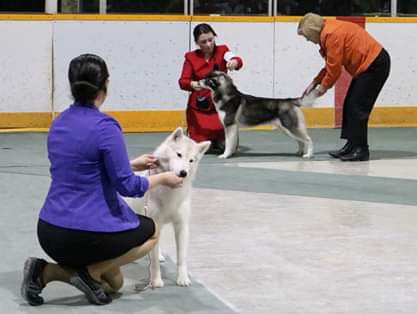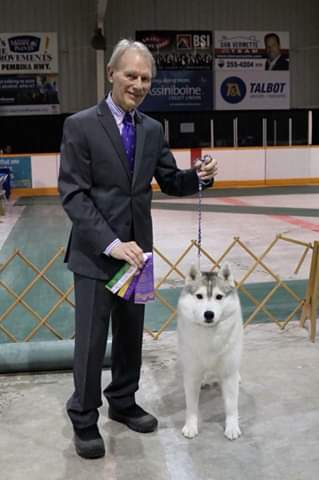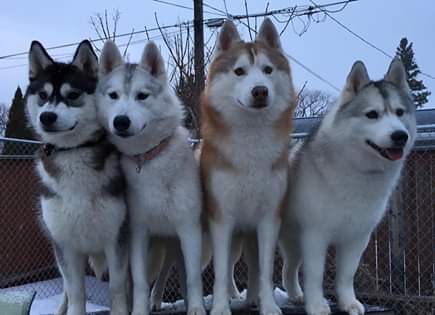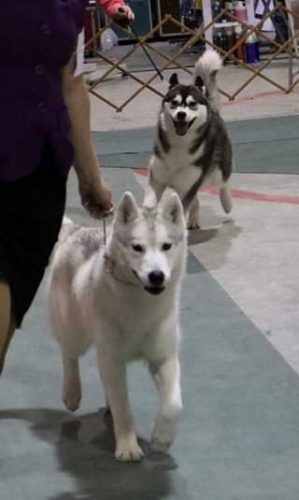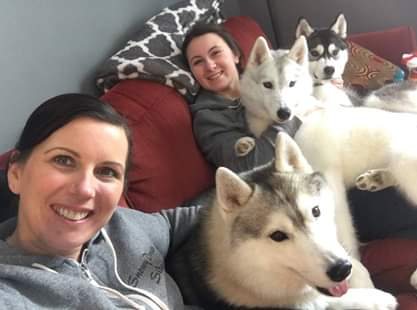 January 2018: On January 14, 2018 we were blessed with the arrival of our 'New Years Litter' out of our beautiful 'Eden' BIS/RBIS/MBBIS Can GCh. SnowyDreams Heaven Sent CGN and sired by our handsome boy 'Luke' Can GCh. Kamchatka Da Gospel Truth. Eden and Luke gave us 5 beautiful, healthy puppies – 3 boys (all red & white) and 2 girls (1 red & white and 1 silver & white). Since these sweet babies were the start of the year for SnowyDream they were named after 'New Years'. The boys are SnowyDreams Life OfThe Party, SnowyDreams New Beginnings, SnowyDreams Stroke Of Midnite and the girls are SnowyDreams Grand Finale & SnowyDreams Golden Champagne. Very excited to see these babies grow up!