SnowyDream Puppy Family Testimonials 
When you are lucky enough to own a SnowyDream dog, you become so much more than a puppy home, you become a part of our Siberian family. A big thank you to all our amazing homes for giving our dogs the life they deserve <3
'Luna' SnowyDreams Flowers In Bloom NTD
There isn't enough I can say to explain how grateful and blessed we are to have come across SnowyDream Siberians. We searched for a long time for a breeder thats main focus wasn't simply selling us a dog but rather one that looked to build and keep relationships with the families they selected for their puppies. Immediately we found that in SnowyDream. Both Teghyn and Sarah went out of their way to get to know our family and keep in contact daily! The process of getting a puppy was incredible, the puppy is chosen for you based off of the personality your family is looking for rather than physical traits, and let me tell you, Luna is literally everything we asked for and more, to a tee. They have such an extensive knowledge on their dogs and the breed, I couldn't trust anyone else with choosing a puppy for our family. They gifted us our soul dog, the best puppy and the best adult dog I have ever met, her personality and her behaviour is simply unmatched, I can't imagine ever getting a puppy through another breeder. I'm forever grateful for the work they put in their program and the passion they have toward their dogs and the breed as a whole. Thank you Teghyn and Sarah for not only being great breeders but being great friends to us!!
– Marina, Colin, Luna and Zeus <3 <3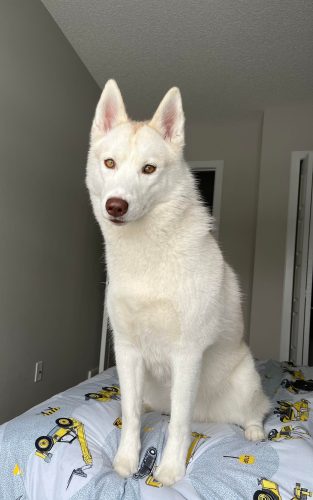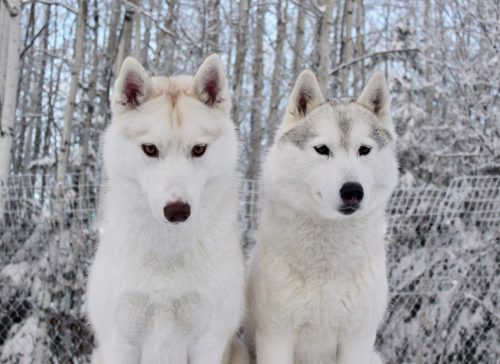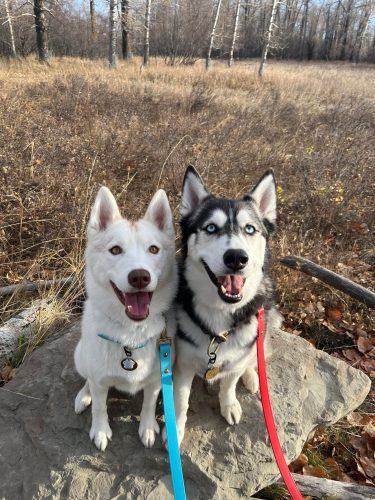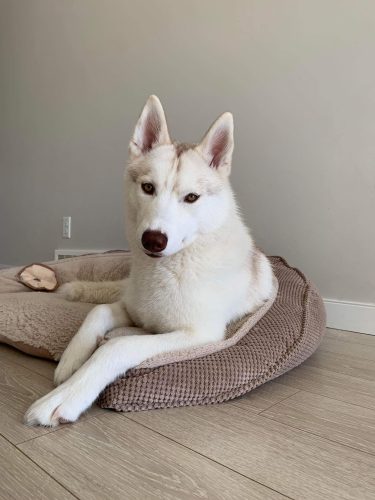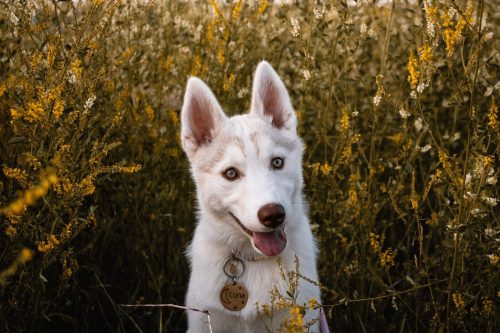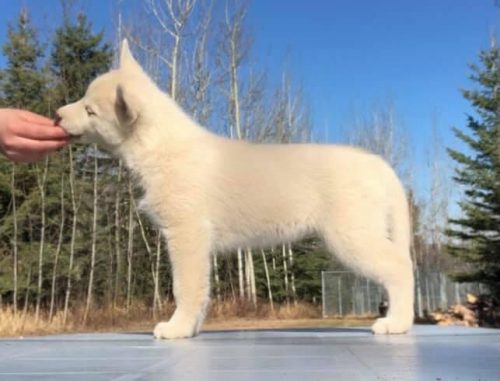 'Calyx' SnowyDreams Easter Surprise
Our experience with SnowyDream Siberians has been great from the first interview to the present day. Calyx is now just over a year old and they have been supportive throughout the whole process, welcoming any questions or concerns. We have been included in his life from the time of his birth until we welcomed him into our home. They were very generous with updates, shared photos and videos in reference to his progress and training. We were very impressed with the training and socialization the puppies have received; from potty training and crate training to music and loud noises. The lineage and health of their dogs is obviously paramount. Based on our experiences, we would definitely recommend SnowyDream Siberians.
– Giovanna & Todd Galiano Island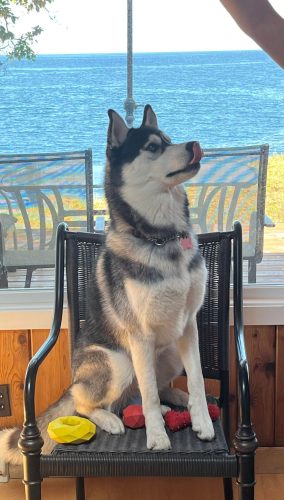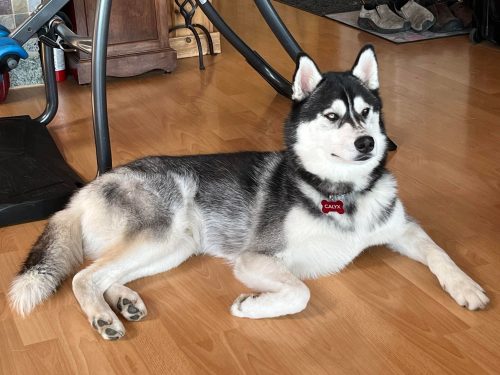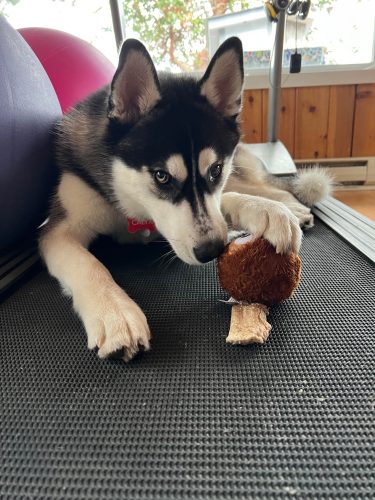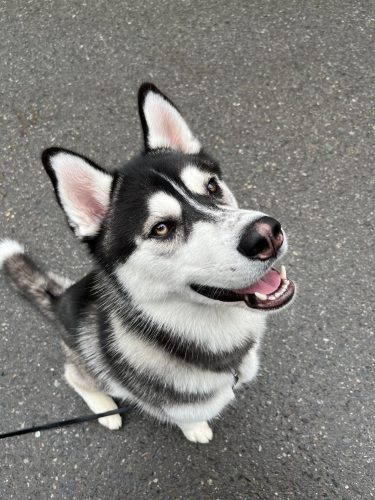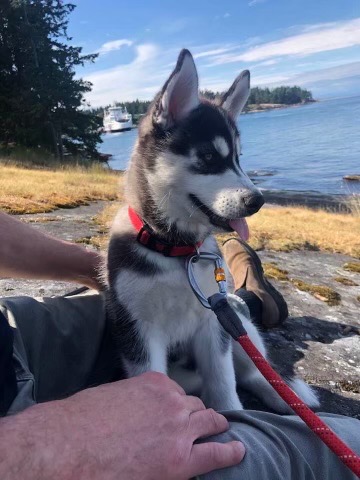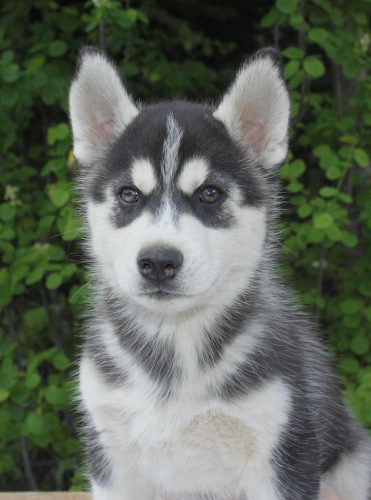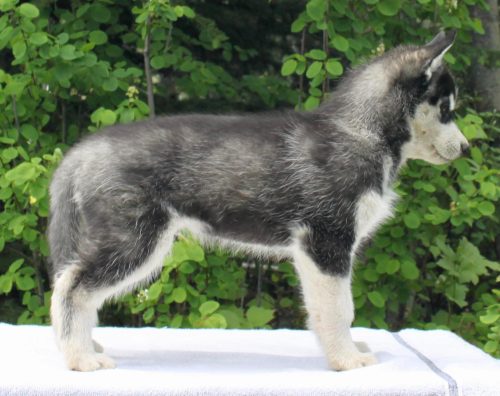 'Gadget' SnowyDreams You Are My Sunshine
A few years ago, after reading about countless breeders, and searching for 2 years before deciding. I came across Snowy Dreams Siberians I didn't just want a dog, I wanted to expand my family. I wanted to find the perfect fit for me. I don't think I could have found that anywhere else other than with Sarah and Teghyn. Not only did they give a 20 year old the chance, they gave me my best friend. I live on Vancouver island, and didn't think it would be possible, but Sarah and Teghyn asked to meet me through FaceTime. Not only did I get to meet there family, fur babies and all, they gave me a full tour of there husky paradise! It was such an amazing experience finding a Breeder who truly saw these dogs as family members. Snowy Dreams Siberians, is warm and welcoming not only do they do a wonderful job at raising there dogs. They also offer an amazing friendship (if you'd like) after the adoption. It doesn't have to be just buy and bye. They love these dogs as if they never left home. I couldn't be more thankful to have found a breeder like them.
– Jessi & Gadget <3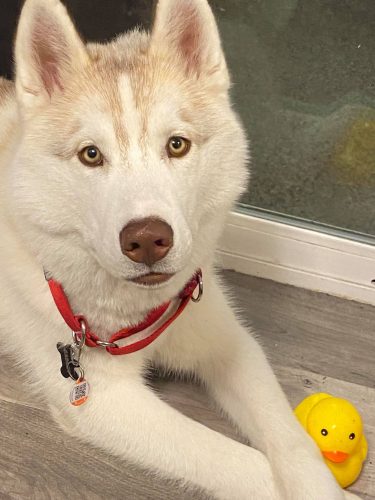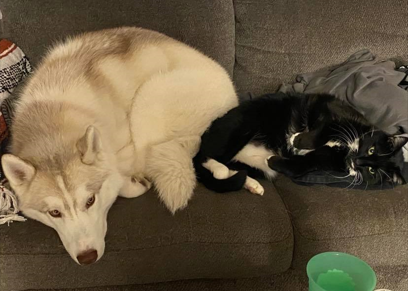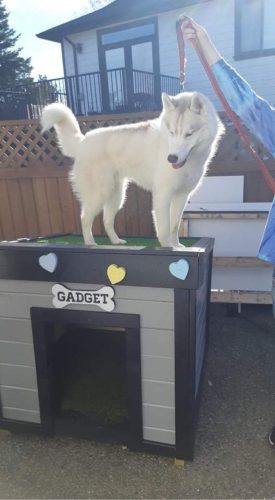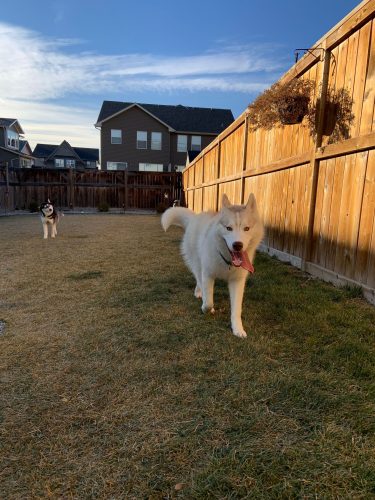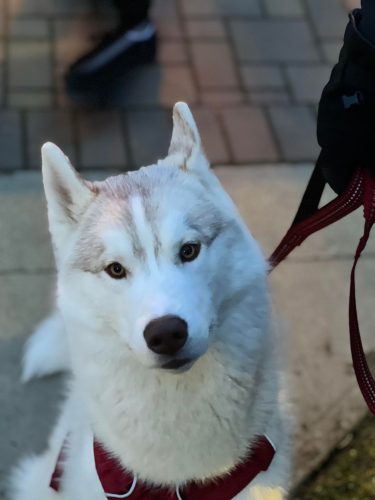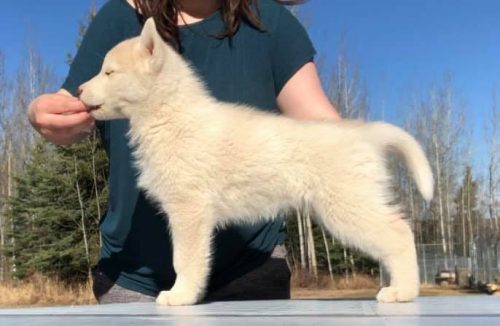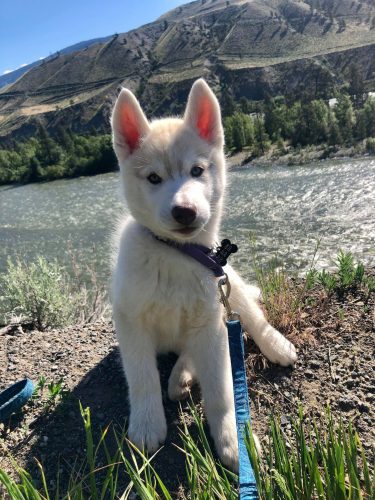 'Chinook' SnowyDreams My Kind Of Crazy
What can I say about Snowy Dreams Siberians. Growing up, my family has always had Siberian husky or malamutes for the family dogs, most had come to us as older dogs that people just couldn't take care of anymore what ever their reason was and were seeking a good home. I always told my parents one day… one day when I win the lottery. I am getting me my pure-bred Siberian puppy. Then one day, about 10 years ago, that day happened. Holding true to my word, I started going through the CKC and AKC to find a reputable breeder. Having friends in the show world who show GSD and Aussies, I knew I had to go about it the right way, that's when I stumbled upon snowy dreams. Thinking I was just going to get my name on a wait list, and have 2 years to plan etc… I shot my shot and contacted them. Sarah sent me an application and a question form, and not long after that a telephone interview I suppose, went over the expectations of a Snowy Dream puppy forever home and asked me about my expectations and what I was looking for. Snowy Dreams had the perfect puppy already waiting for me… well… for his forever home… but I think the stars had aligned and he was meant for me. With deposit down, to ensure he was held for me, and no one could swoop him up, Snowy Dreams started to send me updates of videos and photos. Him with his beautiful Mother Iceka, and all of his litter mates, I was able to watch his personality start to form and see how he was socialized from the get-go. It was amazing, even though I am hours away, I felt like I was able to be there. As soon as I settled on the name Chinook, they started to call him by it so he would learn his name. Chinook is now over 9 years old, not only have I gained an amazing, energetic crazy lovable pup with so much personality, I gained family. Sarah, Teghyn, Even Sarahs mom, I keep in touch with them all, I continue to watch in awe of the dogs they are raising. I have made friends through the community that they brought me in to. Snowy Dreams not only possesses a passion of the love of the breed, but of all nature and wildlife. I have witnessed firsthand, Snowy Dreams taking back in one of their dogs when for what ever reasons, the owner could no longer look after them. I adopted Chinook to be a companion animal, If a dog is allowed where I am going, he is with me. I wouldn't want it to be any other way. He is so loving and full of so much personality. He is stubborn… do not get me wrong… he is definitely Mr. Personality and loves to test me, but every night, he comes into the house, tells me his stories, plays with 'red ball'.. a ball from inside a kong toy.. the only ball he has not destroyed… and if he loses it under the bed, you are not sleeping until you get up and get it, then he brings 'red ball' up to bed, lays on my feet until he knows I am asleep, and goes to sleep on his bed. I fear the day he crosses that rainbow bridge, but I know my Snowy Dreams family will be right there with me, helping me and mourning as well, and when that time comes, and I heal and am ready, I will most definitely be looking to them again, for them to choose me to be a forever home for one of their amazing dogs once again. Thank you Snowy Dreams.
Love, Amber & Chinook <3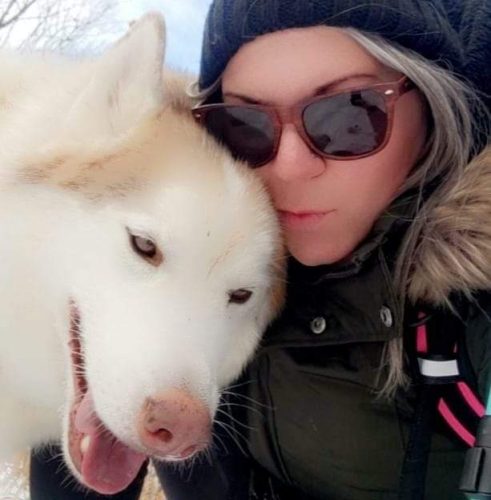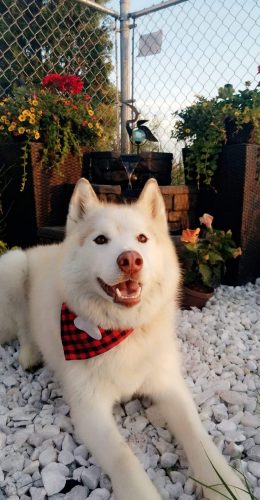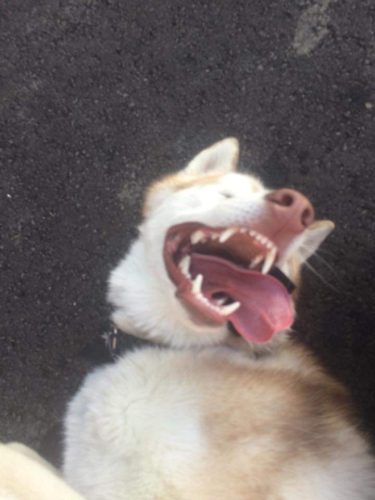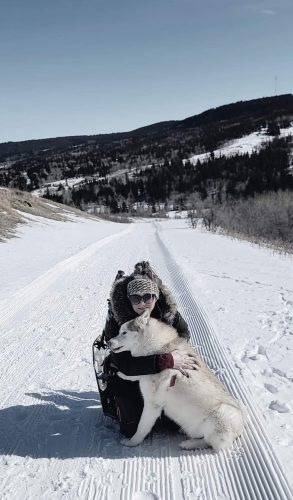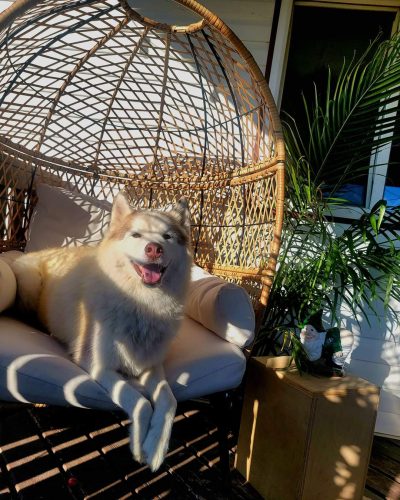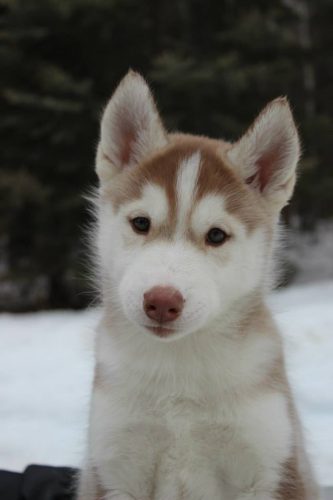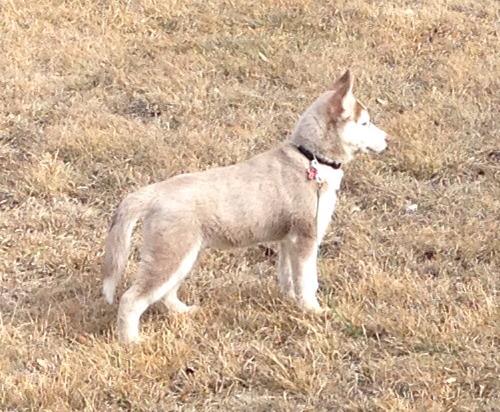 'Tsar' SnowyDreams Time Traveler
We are very grateful and very fortunate to have found Snowydreams in our search for our 2nd husky, Tsar. They are very knowledgeable about the breed and genuinely care. Their thoroughness in how they breed, how they choose families, and how they keep you updated regarding the entire journey of your puppy while in their care is nothing but stellar! Our experience was a unique one as this is when the pandemic first started. This experience was a hard one and nothing like any other. We weren't able to get Tsar when originally planned because of the border closing between the U.S. and Canada. This was so heartbreaking. Many tears were shed because of this. He had to stay an unplanned additional 3 months. For me, those 3 months were almost unbearable, stressul and at some points I was ready to give up. The ladies made the best of the situation by making sure we had multiple daily updates with pictures and videos. Fortunatly, we made it through those tough 3 months and the time finally came for us to meet our baby boy. When Tsar finally crossed the border and all was confirmed, all of us shed tears of joy! Thank you for all that you did to help make this possible for us.
– The Cooper Family <3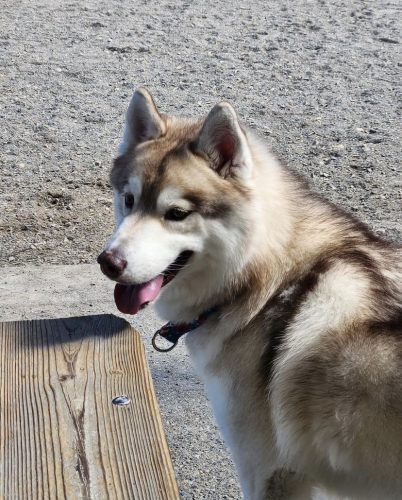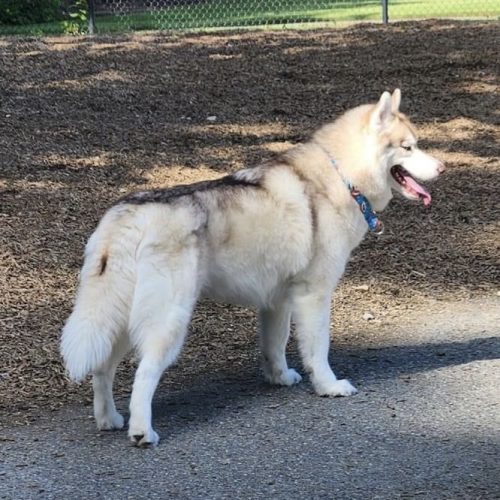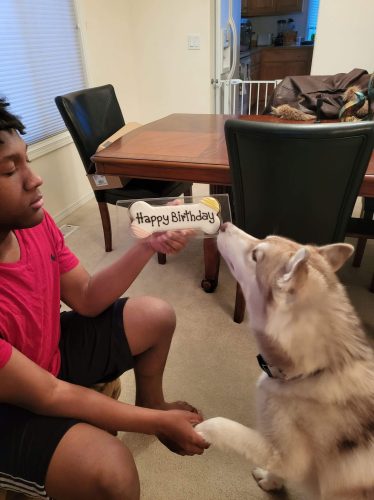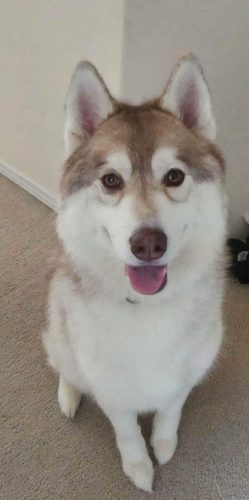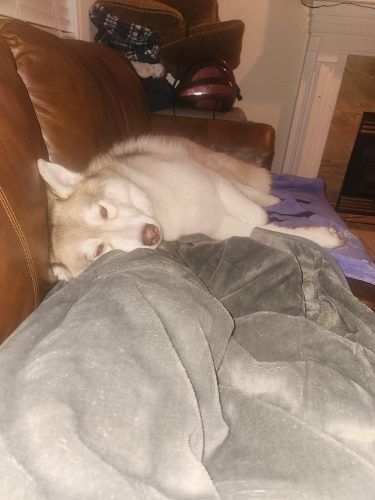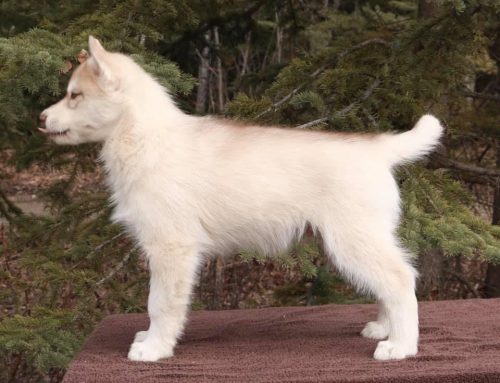 'Luka' SnowyDreams Cute As A Bunny  &  'Rocco' SnowyDreams Descended From Wolves
My prayers were answered when I received my beautiful husky puppies. My heart is filled with joy when I think of Sarah and Teghyn, how they helped me with their gentle guidance and knowledge on raising Siberian Huskies, I have two beautiful sweet huskies that only want to love our family <3
– Gianna, Bob, Luka & Rocco