Welcome to our kennel website!
SnowyDream Siberians results from a child hood DREAM that has become reality. We are a small hobby kennel located in Charlie Lake, British Columbia, Canada. We live for the Siberian Husk
y breed. Our pups have taught us many great things over the years and have shown us many great adventures.  We mush year round, sledding in the winter and using the cart and quad in the spring/summer/fall. We travel around western Canada showing our dogs in conformation events. We have been to shows in British Columbia, Alberta, Saskatchewan and Manitoba. We also do several other dog sports with our dogs as we believe it is important to get out and do as many things with them as we can, and to prove them in several different areas. Some of the other sports we train for and earn titles in are Trick Dog, Rally Obedience, Canine Good Neighbor, and 2-K9 fitness titles. We also do agility every year with the dogs and have several dogs who have passed beginner, low intermediate & intermediate agility! Our dogs are truly a part of the family and enjoy many things outside of titling and showing. We take them camping, hiking, ATVing, kayaking, do canicross and take them most places we go (even just a trip to Canadian tire!). Our dogs have large dog yards that all attach to indoor/outdoor kennels where they have their own heated dog shop with blankets and raised pallets to lay on. Our dogs come inside often and sleep inside the house with us every night! We love our dogs more than anything! 
We breed for quality not quantity, and therefore do not have many litters. We strive to produce dogs who can excel in the conformation ring, on the sled trails, in several other sports and as family companions. Each dog used in our breeding program meets breed standard, and was carefully chosen by their pedigree, structure, temperament and health. Health and temperament are top priorities for us and we strongly believe in health testing and ensuring our pups are well socialized. We show our dogs to their championships and beyond and have a lot of fun doing it. We attend annual eye clinics, and dogs used in our breeding program have their eyes checked and cleared by a Veterinary Ophthalmologist.  We test hips at age 24+ months on our breeding dogs and their hips are rated either Good or Excellent by OFA (Orthopedic Registry For Animals) or foreign registry for some of our imported dogs. We also test for SHPN1/SPS1 on all our breeding dogs, which is a recent and new test available to the Siberian Husky breed. We believe that the more information we have of our lines, the more knowledge we gain in order to help further better the breed when matching breeding pairs. We believe we are the 'Caretakers' of this beloved breed, rather than the 'Owners'. We love keeping in contact with puppy homes and enjoy getting regular updates and pictures, we are here for the life of our puppies and are always around to share knowledge and answer any questions our puppy buyers may have.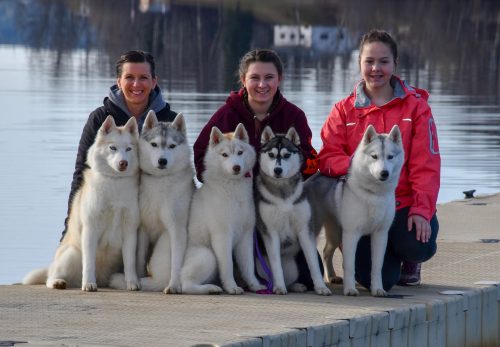 If you have any questions, please contact us and we would be happy to chat with you, we always have time to talk dogs!
We are members in good standing of: