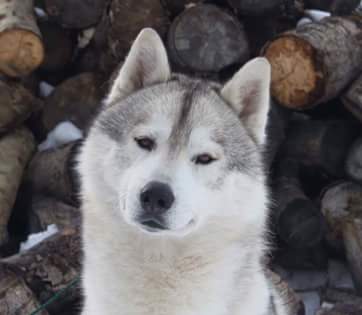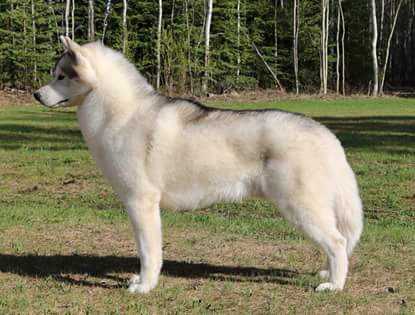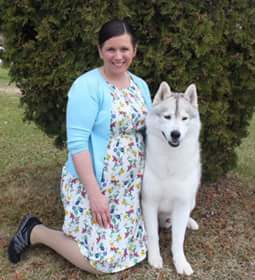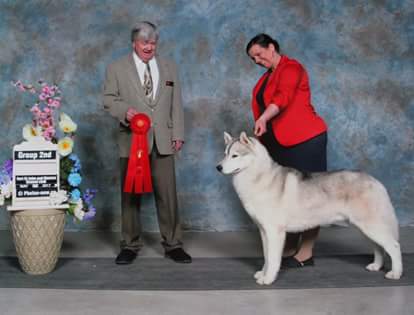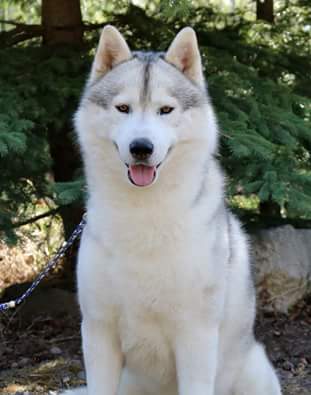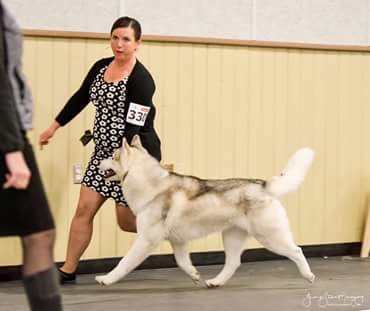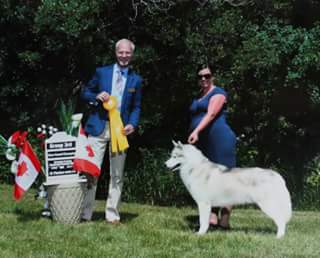 Luke
Can GCh. Kamchatka Da Gospel Truth NTD
Sire: 'Leo' Nanook's Kamchatka Pride
Dam: 'Blondie' BIS/RBIS Ch. Kamchatka Bombshell
DOB: May 14, 2014
SHOR# S-11917 (Normal Eyes) Hips: A1 Excellent (SAfr)
      Bred By: Kamchatka Siberians (South Africa)                        Owned By: SnowyDream Siberians
Height: 23.5 Inches at withers             Weight: 60 lbs.
(Luke is not available for outside stud services)
Temperament: Luke is a gentle giant, sitting at the top of the standard for Siberian Huskies. He is the sweetest dog and loves everybody and everything from cats, other dogs, babies, adults, you name it Luke loves it. This sweet boy has made his way to us all the way from Kamchatka Siberians in South Africa. He took a plane from Johannesburg SA to London England and from London all the way to Vancouver Canada where he met up with my mom to make the final flight home to FSJ. We had always said we want the 'PERFECT' male to have as our first stud dog even if it meant waiting years, and although there is no perfect dog, Luke is nearly that in our books. He lives to please, he is loyal and obedient, he wants to learn and he wants to be loved. Luke is an old soul and the best behaved boy. There is nothing bad to say about Luke, and we are truly blessed to have him here as part of our pack and our family. We can not thank Rossana enough for this special boy! He is a blessing.
Achievements: Luke attended his very first show March 2017 in Prince Albert, Saskatchewan where he made us very proud! Mr. Luke had never been in a show ring before and was a natural and loved it very much. Luke's first show, he took Best of Breed over specials and Best of Winners gaining his first 2 points towards his Canadian Championship.  He continued to amaze us by taking Best of Winners all 6 shows, 3 Best of Breeds (Over specials) and ended the show weekend by taking a Working Group 4 over a very nice line up of dogs! Luke finished his Championship in just one weekend of showing and ended on 13 points. The next show we attended, Luke entered the ring as a specials winning 2 Best of Breeds and another Working Group 4! At our local show 2 weeks later he continued to impress us, earning a Working Group 2 and a Working Group 3 over several other specials dogs!! June 2017, Luke finished his Canadian Grand Championship attaining another Working Group 3! Cool story is the judge who gave Luke his final Championship points and first Group 4, also finished his Grand Championship with a Group 3. Thank you to all the judges who have seen Luke's quality!! Luke is a wonderful wheel dog on our sled team! He knows the commands and is a great asset. Luke is an Iron Paws Race finisher! In 2020 Luke attained his Novice Trick Dog title!! We adore our king!! We can not thank Rossana enough for this Special Boy!   He is a blessing to our family.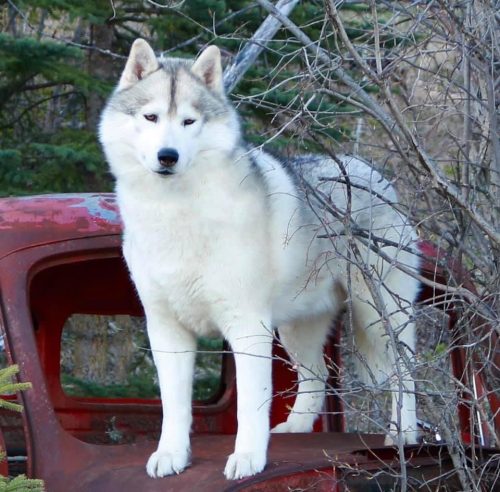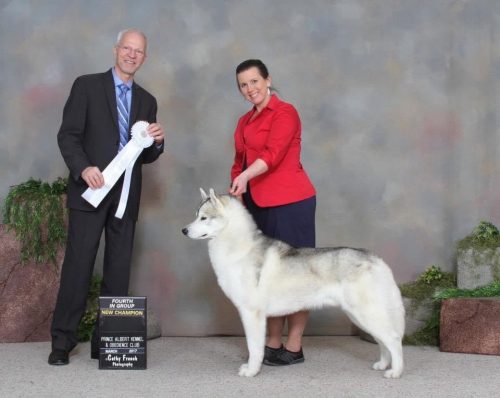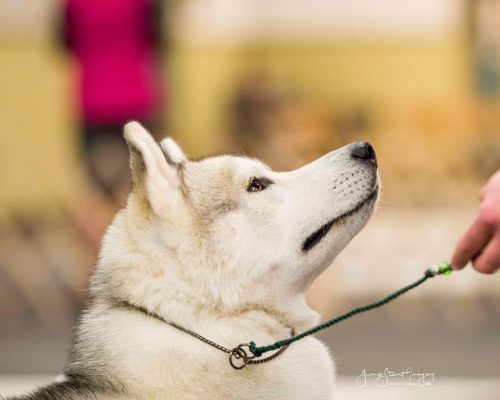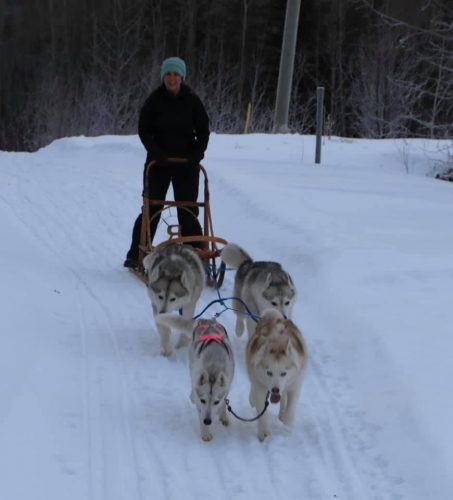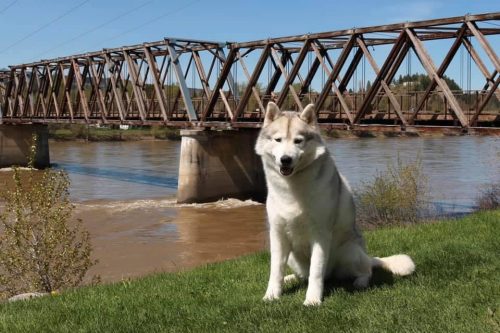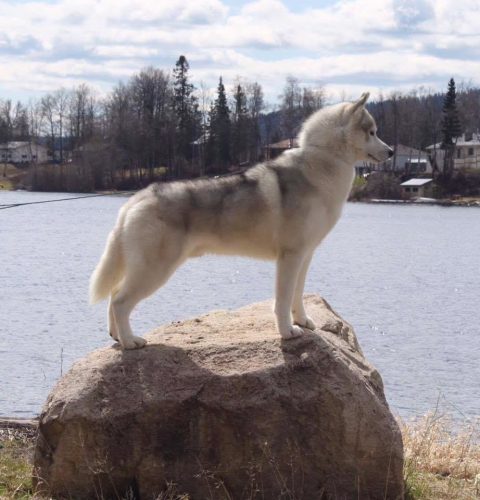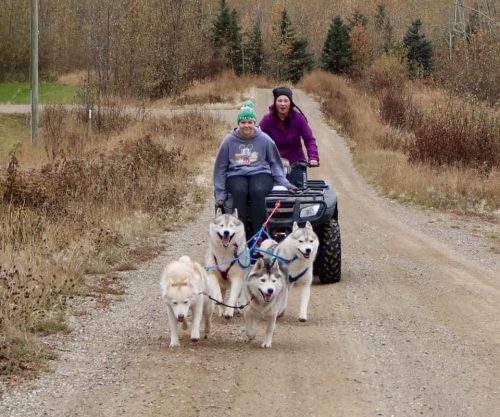 Titled Progeny:
'Faelan' Can GCh. SnowyDreams Dance With Wolves NTD 2k9
'Ashur' MBPIG Can GCh. SnowyDreams Fire Okami
'Flame' Multi Group Placing MBBPIS/MBPIG Can Ch. SnowyDreams Life OfThe Party CGN NTD RN
'Qanik' SnowyDreams New Beginnings NTD
'Iv' (Ch Pt'd) SnowyDreams Ancient Times NTD 2k9
'Majla' SnowyDreams Leap Thru Time ATD
Pedigree of 'Luke'

Parents
GrandParents
GreatGrandParents
SIRE:

Nanook's Kamchatka Pride

 Am/Can Ch. Innisfree On Credit
 Innisfree's Peacekeeper
 Ch. Dynasty JP's Cherry Muse
 Innisfree North Wind Nori
 Am/Can Ch. Innisfree's Treasure Hunt
 Can Ch. Innisfree Gold Rush Edna
DAM:

BIS/RBIS Ch. Kamchatka Bombshell

 BPISS Ch. Kamchatka Formula Won
 BIS/BISS Ch. Kamchatka Icon King HDOO
 Ch. Nanook's Juno Jubilee Of Kamchatka
 Kamchatka Starlight
 Ch. Idaho de Ciukci (At Kamchatka)
 Ch. Kamchatka Vanilla Ice